While overall sales remain steady and real estate development is on the rise due to an influx of private and public investment, businesses in the City of Carson are optimistic about the future but remain cautious, as the direction of the economy is still uncertain.
During the fourth quarter last year, which includes the holiday shopping season, overall sales tax revenue in Carson jumped 21.8 percent over the same time period the year prior, with the highest performing businesses being auto dealerships, construction supply companies and specialty stores, according to a report on the city's latest sales tax revenue figures released this month.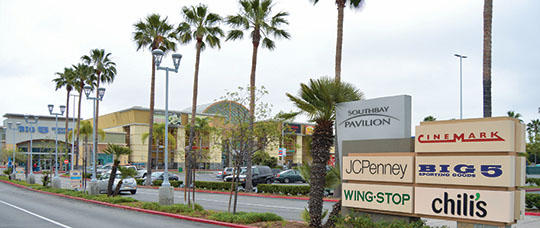 The SouthBay Pavilion is home to more than 90 stores, including Sears, JCPenney, Target and IKEA in addition to a new 13-screen Cinemark Theatres, which opened last year. (Photograph by the Business Journal's Larry Duncan)
The report notes, however, that gains were offset by the impact of declining fuel prices and the loss of a major sales tax revenue generator that city staff confirmed refers to British Petroleum (BP) West Coast Products, which sells food and other products at ARCO and AM/PM gas stations, relocating its point of sales from Carson to La Palma.
According to business representatives interviewed by the Business Journal, the industrial real estate market continues to remain tight with historically low vacancy and strong demand. At the same time, unemployment in Carson and across the region has declined.
New mixed-use developments, auto dealership expansions and a Porsche Experience Center, which is under construction and expected to open later this year, also bode well for the local economy, said Bruce Choate, CEO of Watson Land Company, a major industrial and commercial real estate developer and landowner in Carson.
"The business environment in Carson is very positive and upbeat," he said. "We're excited about all the good things going on here right now."
Carson residents will vote on a ballot measure during the June 7 election to renew the city's Utility Users Tax (UUT) for electric and gas use by residents and businesses after a similar measure failed to pass last year. The UUT generates approximately $8.8 million annually to fund city services, comprising 12 percent of the city's general fund budget, according to city officials.
While 80 percent of the UUT is paid for by businesses, some business representatives stated that, if the measure isn't passed, the city may face budget shortfalls in the coming years and the 2 percent UUT rate for Carson is still relatively low compared to other cities in Los Angeles and Orange counties. Long Beach, for example, charges a 5 percent UUT.
Retail And Restaurants
The SouthBay Pavilion, meanwhile, has seen new retail stores and restaurants that continue to experience year-over-year increases in sales activity.
Overall sales at the shopping mall, which is home to more than 90 stores, including Sears, JCPenney, Target and IKEA, increased 8 percent last year and so far are trending to be up an additional 9 percent this year, said Julie Cruz, the Pavilion's general manager.
After a new 13-screen Cinemark Theatres opened last year, new additions include Sephora, which sells beauty products inside JCPenney, Brow and Lash Studio and a 20,000-square-foot F-21 Red, an affiliate of Forever 21 expected to open in the first quarter of 2017, she said.
Additionally, four existing retailers are moving to larger, newer prototype stores, including a new 6,072-square-foot Payless Superstore, scheduled to open later this month, Cruz said, adding that Wetzel's Pretzels and two other retailers are being fully remodeled as well.
Carson has also seen an influx of new small businesses owned by African Americans, including retail shops and restaurants, in other areas of the city. In fact, nearly a dozen new black-owned small businesses have opened up at a strip mall at the corner of East University Drive and Avalon Boulevard, according to Sadie Judge-Kimbrew, CEO, president and founder of the Carson Black Chamber of Commerce, which was formed 11 years ago to provide black-owned businesses in the city with access to resources and information.
The black-owned small businesses, including My Father's Barbecue, PJ's Grill and House of Elegance & Beauty, have filled up once-vacant storefronts, improving the quality of the area, she said.
"That is a location that was very blighted for years and now it's almost filled to capacity," Judge-Kimbrew said. "When the economy went down, a lot of businesses had to fold. . . . It was so empty, and now you can't find a place to park."
She said the Carson Black Chamber of Commerce works closely with the Carson Chamber of Commerce and hopes to roll out new programs, such as the Shop Small Business promotion that was recently launched to encourage residents to spend money at local businesses every first Saturday of the month.
Hospitality/Tourism
The DoubleTree by Hilton, Carson's only full-service hotel at 2 Civic Plaza Dr. near city hall, meanwhile, is expected to see a nearly 10 percent increase in revenue this year, mainly as a result of higher room rates, said Greg Guthrie, the hotel's general manager.
While occupancy is down slightly from last year, demand is still strong enough in an improving economy for the hotel to be able to increase room rates and boost revenue, he said, adding that other hotels in the South Bay, including in Torrance and Long Beach, have also increased rates.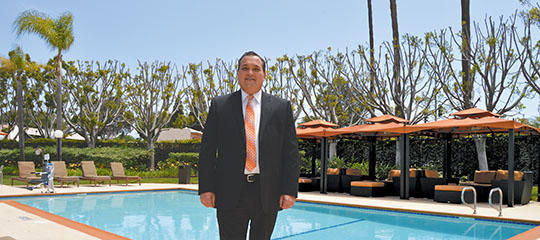 Greg Guthrie is general manager of the DoubleTree by Hilton Carson, located at 2 Civic Plaza Dr. and adjacent to the 405 freeway. The hotel's 225 guestrooms feature MP3 docking stations and flat-screen televisions. The facility also provides a 24-hour business center, conference facilities, a fitness center and much more. For more information, call 310/830-9200. (Photograph by the Business Journal's Larry Duncan)
While revenue at the Carson hotel is expected to increase slightly more than most other nearby hotels, the DoubleTree by Hilton, which mainly serves as a corporate hotel for business clients, hasn't seen as much month-to-month business as last year, Guthrie said.
"This year, we've had to work a little harder, which isn't a bad thing," he said.
Guthrie said that he expects sales to slow down in the second half of the year, particularly since it's an election year. As for the future, business opportunities in Carson are expected to remain strong, Guthrie said, adding that the new Porsche Experience Center will likely create an economic stimulus effect.
"There's a lot of excitement about the Porsche Experience," he said. "I think everyone thinks it's going to bring a good-quality type of individual to the area. There might be needs for hotel rooms, food or business that's associated with it."
Auto Dealerships
Auto dealerships are also major sales tax revenue generators for the city and last year saw double-digit increases in auto sales and leases. According to the city's recent sales tax revenue report, auto leases skyrocketed 40.3 percent in the fourth quarter last year over the same time the year prior, while sales of new motor vehicles increased 11.5 percent.
The increase in business has enabled many auto dealerships to boost hiring and move forward with expansions. WIN Chevrolet/WIN Hyundai and Car Pros Kia of Carson, for instance, both expanded and made renovations to their facilities.
Vince Nguyen, business development manager for WIN Chevrolet/WIN Hyundai, said the auto dealership last year completed the development of a new $7 million facility for its Hyundai operation and hired a wide range of new employees.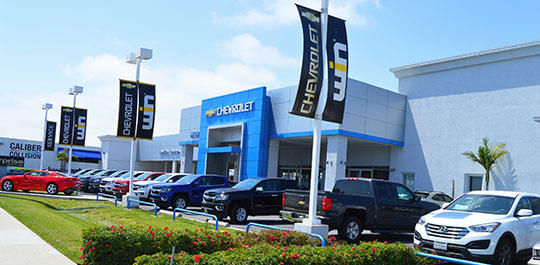 WIN Chevrolet/WIN Hyundai, one of the main auto dealerships in Carson, last year completed the development of a new $7 million facility for the auto dealer's Hyundai sales operation. (Photograph by the Business Journal's Larry Duncan)
He said the auto dealership plans to expand further and gain more market share, which will ultimately increase employment opportunities and sales tax revenue, he said, adding that both auto brands have come out with new redesigns and models.
While industry analysts predicted this year to be another growth year for automotive sales, business has begun to taper off more quickly than expected in the first quarter, Nguyen said, adding that the slowdown can be attributed to the uncertainty about who will become the next U.S. president.
"We're starting to level off sooner than we anticipated," he said. "I think a lot of it has to do with the state of the election. We're still unsure where the economy is at and where growth is going."
Car Pros Kia of Carson, meanwhile, celebrated the grand opening of its new location at 22020 Recreation Rd. earlier this month. The Car Pros Kia Group is ranked #1 in the state for sales volume, according to the auto dealer's website.
Oil Industry
As in many cities across the United States, oil production in Carson has slowed significantly due to the continued low price of oil. At the same time, oil refineries are experiencing tight margins and are cautiously moving forward with expansion projects to increase capacity while remaining profitable.
Early last year, major oil producer California Resources Corp. (CRC), a spinoff of Occidental Petroleum (Oxy), canceled plans to increase oil drilling in Carson mainly due to the low price of oil. The proposal had once called for drilling more than 200 oil wells in the Dominguez Oil Field using directional drilling techniques.
William Blair, director of security and external relations for CRC, stated in an e-mail that the company currently has no plans to pursue the project as the industry has seen a dramatic reduction in drilling activity in California and throughout the U.S. due to the low commodity price environment.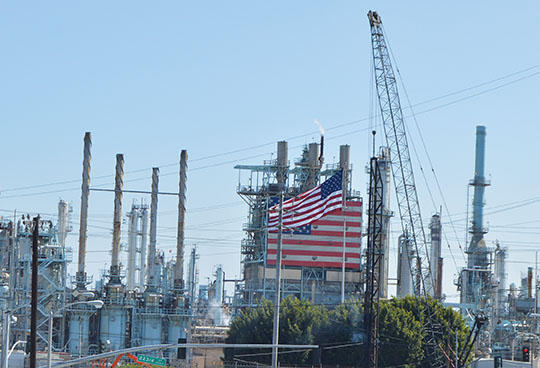 Tesoro Corporation operates a 380,000-barrels-per-day oil refinery, formerly owned by British Petroleum, in the City of Carson. Tesoro is moving forward with plans to join the oil refinery with a Wilmington oil refinery to create a single, more efficient facility. (Photograph by the Business Journal's Larry Duncan)
CRC continues to produce fewer than 100 barrels of oil per day in Carson from a small facility with two wells, and doesn't expect any change in production or investment.
Tesoro Corporation, on the other hand, is moving forward with a $460 million project to physically connect, integrate and upgrade its Carson oil refinery, formerly owned by BP, and its Wilmington oil refinery to create a single, more efficient facility.
The public comment period for a draft environmental impact report (EIR) being conducted by the South Coast Air Quality Management District (SCAQMD) on the Tesoro Los Angeles Refinery Integration and Compliance Project has been extended through June 10.
Kenneth Dami, spokesperson for Tesoro, stated in an e-mail that the project will enable the refinery to reduce local emissions, comply with federal Tier 3 gasoline standards and respond to changes in the market's transportation fuel needs more quickly.
The project allows the company to retire a piece of old equipment at the Wilmington site that generates significant emissions without changing overall transportation fuels production capability, he said.
Integrating both oil refineries will reduce local greenhouse gas emissions by more than 70,000 metric tons annually, the equivalent of removing approximately 13,500 vehicles from local roads each year, Dami said. In addition, the project will also reduce local emissions of nitrogen oxides (NOx), sulfur oxides (SOx), particulate matter (PM) and carbon monoxide (CO). Volatile organic compound (VOC) emissions are expected to increase but the increase will be largely offset, he said.
According to a study by the Los Angeles County Economic Development Corporation (LAEDC), the project is expected to create more than 4,000 direct, indirect and induced jobs, while generating more than $86 million dollars in local, state and federal tax revenue. The LAEDC also estimates that the project will generate more than $702 million in local business revenue and $264 million in local labor income in Southern California.
Another business related to the oil industry is Air Products, which operates a hydrogen plant in Carson to provide hydrogen to all six oil refineries in the South Bay area for the production of cleaner-burning transportation fuels.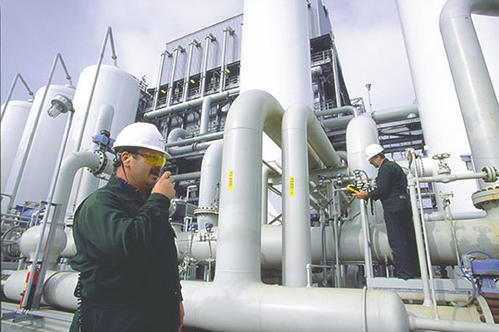 Air Products' hydrogen plant in Carson supplies high-purity hydrogen for converting heavy crude oils into cleaner burning gasoline and low-sulfur diesel. The plant is also connected to Air Products' Los Angeles Basin pipeline network to supply product to local oil refineries. (Photograph provided Air Products)
The company's Carson facility, which has been in operation since 1999, is connected via pipeline to another facility in Wilmington to ensure greater reliability to area oil refiners, according to Chris McWilliams, Air Products' Carson plant manager. He stated that the outlook for business in Carson continues to remain strong primarily due to the city's prime location to oil refineries.
"We are very happy doing business in Carson and it is a very good location for us from which to serve our refinery customers for what is now closing in on two decades," McWilliams said. "Hydrogen is required by refineries to make cleaner-burning transportation fuel specifications, so it is a necessary product for our customers to do business."
Air Products, which employs a total of 18 people in Carson and 20,000 people worldwide, made $9.9 billion in sales in fiscal year 2015 and was ranked number 284 on the Fortune 500 annual list of public companies, according to the company's website.
Manufacturing
Carson is also home to various manufacturers, including General Mills, which is celebrating its 150th anniversary this year and has operated a plant at 1055 E. Sandhill Ave. since 1979 to produce Yoplait yogurt products.
The Carson facility employs 240 people and its location allows the company to efficiently serve West Coast consumers and source an abundant supply of milk, according to the plant's manager, Jon Woodworth.
"General Mills remains committed to Carson as a great place to do business," he said. "We have a good relationship with the city and our local community partners, and we look forward to continuing this relationship as a strong business partner over the coming years."
Woodworth added that company has donated more than $430,000 to the local community through United Way, employee giving and the General Mills Foundation.
"We're proud to be a part of a company with a rich history and that values the communities [in which our employees] work and live," he said. "We look forward to what the next 150 years brings."
Industrial Real Estate
Industrial real estate, which takes up half of the land in Carson, meanwhile, is nearly completely occupied, with the South Bay vacancy rate hovering near 1 percent, according to real estate data.
According to Watson's Choate, the industrial real estate market continues to be strong with low inventory and high demand. Watson Land Company owns several million square feet of industrial real estate space in Carson, mostly occupied by companies that distribute retail products that come through the local ports.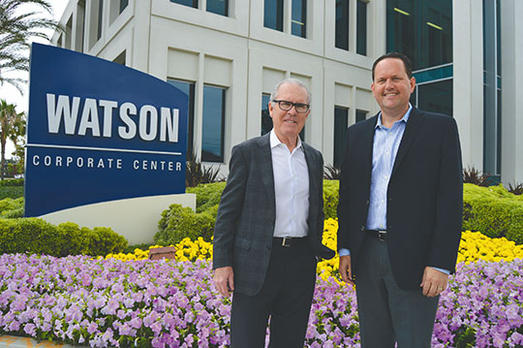 Bruce Choate, left, is chief executive officer of Watson Land Company and Jeff Jennison is president. Watson Land Company owns and manages more than 18 million square feet of industrial real estate and masterplanned centers. (Photograph by the Business Journal's Larry Duncan)
"It's hard to recall market conditions being much better," Choate said. "Right now, we literally do not have any square feet available. Certainly on the demand side, things are very strong. Of course there's not a whole lot of land in this area, so the supply has remained fixed while demand has grown."
Still, Choate said demand hasn't grown as much as in the past, noting that the United States gross domestic product (GDP) is growing slower than in previous economic recoveries while consumer spending has also been weaker than in past years.
He added, however, that retailers are starting to increase inventory to accommodate consumers for the upcoming holiday shopping season this year. In addition, Choate said a factor that has impacted the industrial real estate market is the rise of e-commerce related businesses.
He said rental rates for industrial space are expected to continue rising for at least the next one to two years as rates have not yet reached pre-recession levels.
Though the opening of the newly expanded Panama Canal might take away some demand from the ports of Long Beach and Los Angeles, the ability of the local ports to handle large, 18,000 twenty-foot equivalent container unit (TEU) vessels will replace any lost business, he said.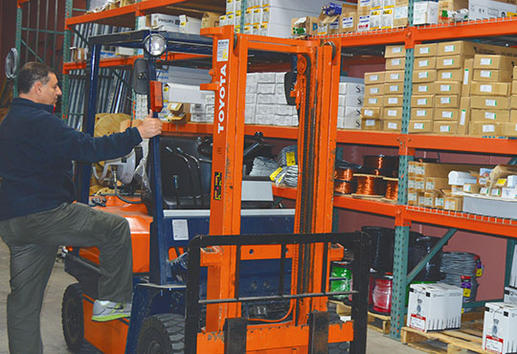 Power Wholesale Electric, a family-owned business located across from the SouthBay Pavilion, provides electrical equipment, components, tools, hydraulics, pneumatics, and many additional industrial materials for the electrical maintenance, repair and remodeling needs of business. Pictured is employee Alex Manon at the firm's 8,000-square-foot warehouse. (Photograph by the Business Journal's Larry Duncan)
The San Pedro Bay ports benefit from their relative location to Asia Pacific markets; however, they continue to see rising competition from East Coast ports that are making major capital investments, such as deepening harbors to increase capacity and to be able to handle larger cargo vessels as well, Choate said.
"We still have a competitive advantage, but the East Coast, such as the New York and New Jersey ports, are all investing billions of dollars," he said. "They are and will compete with us."
Jim Flynn, president of The Carson Companies, which has a portfolio of 3.5 million square feet of industrial real estate in Carson, including buildings in the Dominguez Technology Center, said the landowner is currently fully occupied after signing a new lease for a 183,000-square-foot vacancy left by Epson, which recently expanded into a nearly 330,000-square-foot building, which is also in Carson, for its printer and robotics division.
"The market is extremely strong," he said. "There's very little available. We are 100 percent leased in our portfolio in Carson."
Flynn also stated that the rise of e-commerce businesses, such as Amazon, has also increased demand for industrial space, as such businesses are taking up distribution centers for products bought online to be stored and shipped to local residences and businesses.