Founded in 1989, the Long Beach Education Foundation's (LBEF) contributions to local schools and education programs have grown from thousands of dollars per year to millions. Judy Seal has led this growth as the foundation's executive director since 2003, and in that time the foundation's annual donations have increased from about $11,000 per year to $2.5 million.
"From that point on, we did strategic planning and restructured the foundation to make it agile and responsive," Seal said of initial work after she joined the foundation. The Long Beach Education Foundation is the largest single contributor of donated funds to the Long Beach Unified School District (LBUSD).
But Seal is quick to direct the spotlight away from herself, emphasizing in an interview at LBUSD's headquarters with district leaders that it is truly the parents, alumni, school district employees and local businesses that have made all the difference.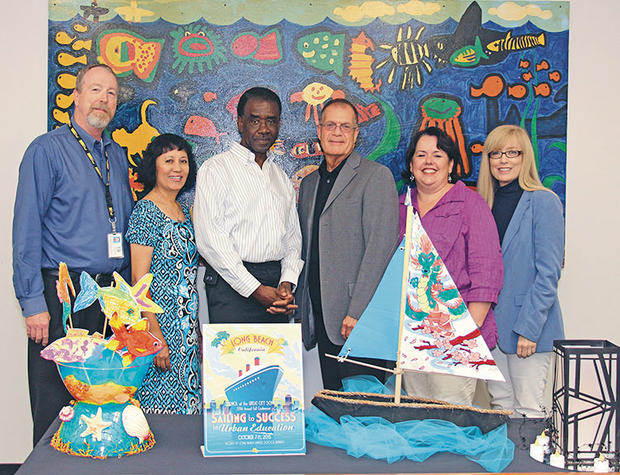 The Long Beach Education Foundation (LBEF) and Long Beach Unified School District (LBUSD) officials have teamed up to host the Council of Great City School's annual convention at the Long Beach Convention & Entertainment Center in October. Long Beach students are going to be an integral part of the event, with artwork, such as the centerpieces pictured in the foreground, and entertainment spread throughout the convention. To support the event by sponsoring a centerpiece, call LBEF Executive Director Judy Seal at 562/997-8054. Pictured, from left, are: Ray Sharp, head of LBUSD's office of multimedia services; Sharon Lazo-Nakamoto, LBUSD program specialist; Dr. Felton Williams, LBUSD Board of Education president; James Petri, LBUSD music curriculum leader; Christine Whipp, LBUSD arts curriculum leader; and Seal. (Photograph by the Business Journal's Evan Patrick Kelly)
"Parents and the community are the big fundraisers, honestly," Seal said. "They get very involved and they designate their donations to a particular school or program at a school." She noted that LBEF does not compete with Parent Teacher Association groups, but acts as an additional outlet for those groups to fundraise for activities or programs beyond their existing budgets.
"We have tried to create something that is useful for the school district and makes a positive impact [by] making sure money is managed well, and that parents feel like they're making a difference," Seal said.
The Long Beach Education Foundation functions as the nonprofit, fundraising arm of LBUSD. Through the foundation, individuals, businesses and even other nonprofit organizations can set up accounts to raise funds for a particular school, program, event or cause related to LBUSD education. There are currently about 300 accounts with the foundation, according to Seal.
One hundred percent of every dollar donated through the LBEF is used for its designated purpose, "so the donors are making a full impact with their money," Seal said.
A major donor group to the LBEF includes local businesses and corporations with operations in Long Beach. "When I came on the board in 2004, we had about 500 business partners in the district citywide," Dr. Felton Williams, president of the LBUSD Board of Education, said. "I understand that number is about 5,000 business partners right now. That is a tremendous support base for our district." That support base ranges from major corporations like Verizon and The Boeing Company to small businesses and even production companies that use school district sites for filming.
Verizon and Boeing "have funded almost every major initiative before any other entity," Seal said. "[When] the school district didn't have it in the budget, Boeing and Verizon would step up and give us seed money to start major programs like Seamless Education."
Ray Sharp, who heads up LBUSD's office of multimedia services, pointed out that Seamless Education eventually became the Long Beach College Promise, which he said has helped to increase the number of college graduates locally. In this way, the LBEF and corporate donors have had a direct impact on improving local education outcomes, he noted.
LBEF also facilitates donations of equipment and supplies. Target, for example, often calls the school district to offer donations, such as backpacks, Seal said. Every year, the Long Beach-based LBS Financial Credit Union identifies a school and donates supplies to all of its students, she pointed out.
"We truly value our partnership with the Long Beach Education Foundation," Heather Summers, senior vice president of marketing for LBS Financial, told the Business Journal in an email. "LBS Financial Credit Union was founded in 1935 by Long Beach educators and while we can now also serve the entire Long Beach community, we still focus much of our charitable support on our local schools."
Summers continued, "A great public school education benefits our entire community and the economy. Our support for the foundation is a way to globally support Long Beach schools. The foundation also gives us insight into selecting a school with the most need to be the recipient of our annual Adopt-a-School Supplies program."
Small businesses often help out by donating time and services. Recently, a Long Beach self-defense business volunteered through LBEF at a local high school to teach students how to be aware of their surroundings and walk safely to and from school, Seal said.
The school district relies on the education foundation to apply for grants for its programs and schools, according to Williams. About three years ago, for example, the school board put together an advisory committee with the goal of increasing the number of students of color in advanced placement courses, and LBEF was able to secure grant funding to meet that need. "Now that program has been mainstreamed in the district," Williams said.
James Petri, music curriculum leader for LBUSD, pointed out that the foundation was critical in keeping the arts alive at Long Beach schools when funds were cut back during the Great Recession.
"During the recession, the district saw the value of the arts. We had to scale back, but we never lost music, visual art, dance or theater within LBUSD," he said. "The foundation, seeing that arts were important, helped us set up accounts so we were able to raise funds and deposit money into them to support the different [arts] programs all around the district," he recalled.
According to Williams, LBEF and its network of community donors and supporters have been instrumental in planning for this year's Council of Great City Schools conference, which will be held at the Long Beach Convention Center from October 7 to 11, and will be hosted by LBUSD. Williams is the incoming chair of the organization, which represents the interests of 68 urban school districts around the nation.
"It was mind blowing, the things that they pointed out we needed to do to set up for a conference," Williams said of initial meetings with the Council of Great City Schools about bringing the conference to Long Beach. "We almost ran out of the room. But to Judy's credit, she picked it up and ran with it."
The last conference for the Council of Great City Schools was held in Milwaukee, and the school district there came up with $120,000 to pay for it. "We brought that budget back to the superintendent [of LBUSD, Chris Steinhauser] and he said, 'We're not going to pay outside people when we have our own brilliant student work and our own brilliant entertainers,'" Seal recalled.
At his suggestion, Christine Whipp, the leader of arts curriculum for LBUSD, and Petri teamed up to organize students to provide art and entertainment for the function. Sharp and seven other LBUSD staffers have come up with the necessary audio and visual components for the conference, while Sharon Lazo-Nakamoto, an LBUSD program specialist, has pooled 375 volunteers to staff the conference's registration area and other needs. "People want to help us. They want Long Beach Unified to look like we should on a national stage," Seal said.
This effort cut LBEF's fundraising goal from the originally suggested budget to $44,000. "For fundraising, we are encouraging people to sponsor the different centerpieces," Seal said, referring to hundreds of centerpieces crafted by LBUSD students for the conference's breakfasts, lunches and dinners. "We hope to have those sponsored so we can raise enough money to hold the conference. We are more than halfway there," she added.
Businesses have also pitched in to help cover costs and supplies. "We showed a budget at our community meeting and LBS Financial Credit Union said, 'Okay, we will cover all the costs for the volunteers,'" Seal said. The Huntington Beach-based PMFG Solar, for which former Long Beach City Manager Jim Hankla works, is donating the cost of badges for volunteers, and Verizon is paying for entertainment costs. Dignity Health St. Mary Medical Center will have its mobile care unit at the conference to attend to the medical needs of attendees.
The collective effort among students, school staff, volunteers and local businesses to put on the conference reflects strong community-wide support for LBUSD, Williams noted. Petri agreed. He reflected, "The teachers and parents know the foundation is there to support their needs, and it is a very valuable resource . . . [for] anything they want to do, whether it is music, art, science, or whatever their needs may be."