Over the past few decades, women have made great strides in business ownership. According to a report by J.P. Morgan Chase & Co., only 4.6% of small businesses, those with 500 or fewer employees, were owned by women in 1972. Fast-forward to this year, that number has climbed to 36%, the February 2019 report stated.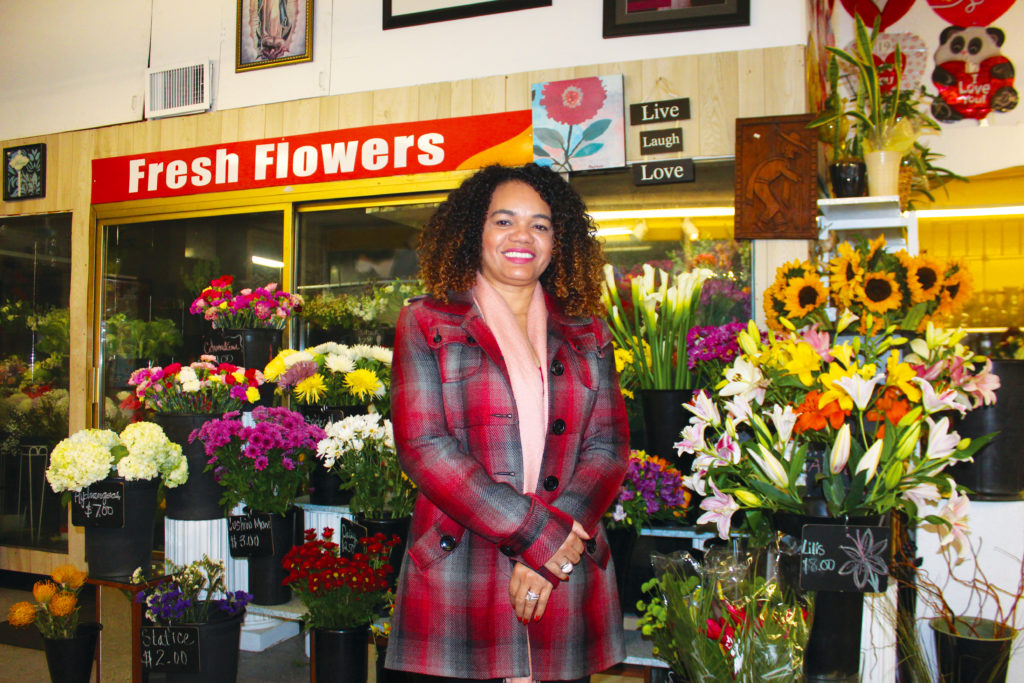 Locally, this trend is especially visible in the East Village Arts District neighborhood of Downtown Long Beach, which boasts many women-owned businesses. "There is a group of mostly women business owners in the [East Village] who are all working together, as volunteers, to help promote the neighborhood," the East Village Association's vice president of business, Amy Stock, told the Business Journal.
To promote local businesses, the group started an Instagram account with the handle @EastVillageArtsDistrict. On the account, Stock and her team share photos of storefronts as well as information on events, such as the Local Ladies Holiday Market featuring merchandise from three local women-owned businesses. Additionally, the East Village Association recently began holding quarterly meetings, aimed at connecting small businesses with resources offered by the City of Long Beach and the business improvement district, according to Stock.
"It's such a [prosperous] time right now for collaboration, not just in this neighborhood, but in this city," Stock explained. And while there's still room for the East Village to grow, she noted that its popularity is clearly on the rise. "The bones are so great here and the location is so great," Stock said. "It's harder to find retail space now, because so many businesses have been setting up and establishing their roots here."
On a sunny afternoon, it's not unlikely that you'll see Shawna Epps, owner of Shine Your Heart Healing, leaning against the doorframe of her studio on Elm Avenue. Epps said she feels particularly at home in the neighborhood, on a retail strip that happens to be rich with women-owned businesses. "I love the East Village," she enthused.
When asked why this particular area might be especially popular with female entrepreneurs, Epps credited chance. "There wasn't anyone trying to create that; I think it was serendipitous," she said. At Shine Your Heart Healing, Epps offers yoga, guided meditation and other workshops aimed at improving the physical and mental wellbeing of her clients.
As the neighborhood grows economically, so do opportunities for individual businesses to connect, Epps explained. "These systems are being created. More and more people are desiring that, and more things are being put into place where we can all share our voice or have a part in growing the East Village," she said. "I think we're just moving into that adolescent phase." A denser business network in the area, she argued, will be a positive force for the city's economic progress. "By growing that, all of Long Beach benefits," Epps said.
At the moment, there's still some room for improvement, according to Maral Malikyar, owner of Maral Designs, who has worked individually to connect with businesses and organizations in the area. Malikyar said she enjoys working with fellow female business owners like Orsa Modica of Modica's Deli next door. "As women, we have a different relationship. We're more comfortable with one another," she noted.
Her recent move to the East Village from San Pedro has brought upon mixed emotions. "Unfortunately, the foot traffic is not what I was expecting," Malikyar said. While many of the customers at her San Pedro store came from Long Beach, her new location is mostly frequented by tourists and business travelers on their way between the downtown hotels and the convention center. "I would love to see more locals," she noted.
Because of her online retail business and appointment-based services, Janet Schriever's skin care store and spa, Code of Harmony, doesn't depend entirely on foot traffic. But she agrees that there's room for growth. Still, the neighborhood's comparably affordable retail spaces are what attracted her to the East Village. "It's cool, it's hip, it's interesting. But it's [still] up-and-coming, which makes it affordable," she explained of her decision to set up shop in this part of Downtown Long Beach. "I like what's happening downtown," she added. "It's really starting to turn the corner as far as having more upscale businesses."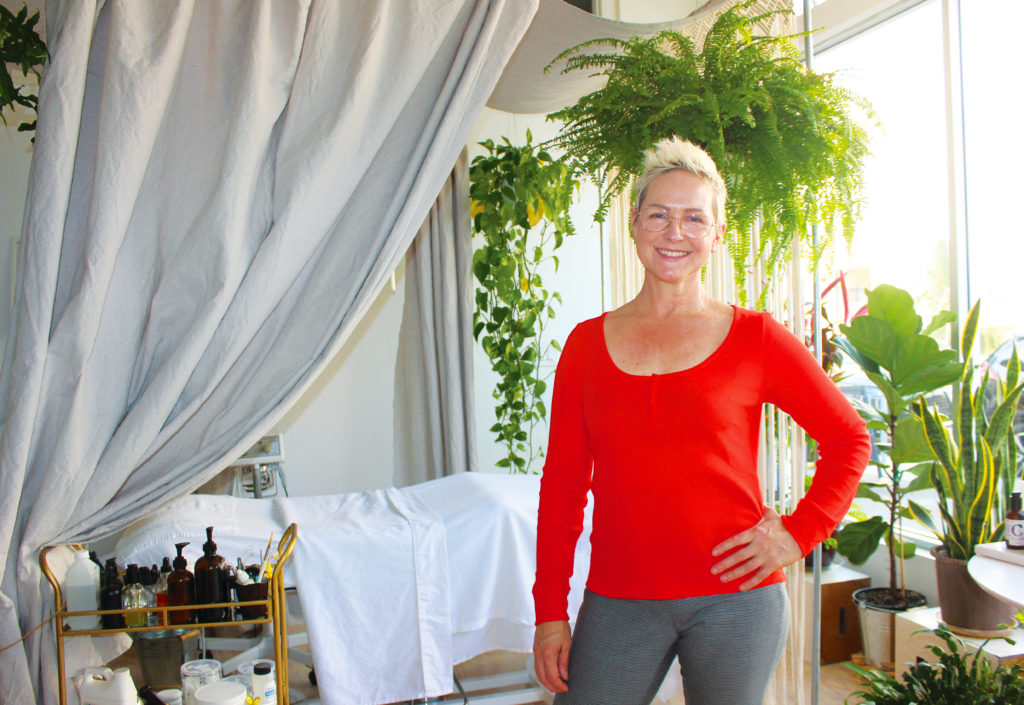 Schriever moved around L.A. County for the better part of three years before settling on her first retail location on Linden Avenue and 4th Street. "I was looking for a space that I could make my products in, sell my products in, [somewhere] I could do facials," Schriever explained.
Because her products, which are sold through her company's website and by national luxury retailer Neiman Marcus, contain the cannabis extract cannabidiol (CBD), Schriever faced significant obstacles in establishing her business prior to the 2018 Farm Bill, which legalized the use of CBD on a federal level. "We had problems with everything, from trademarks to banking and payment processing – you name it," she remembered. "It's been a challenge."
With the issue of legality out of the way, Schriever was finally able to focus on establishing a storefront location, a journey that led her to the East Village in 2018. She said she would be interested in becoming part of a more formalized network of women-owned businesses in the East Village, which could devise strategies for pulling more customers into the neighborhood. Overall, Schriever said so far she has felt welcomed by her fellow entrepreneurs. "Ever since we've moved in, the community has been extremely supportive," Schriever noted.
Josy Johnson, owner of A Beautiful California Florist, said she would love to see a more tight-knit business network in the neighborhood as well. "That's what I hope. That everybody can come together," she said.
When Johnson came to the U.S. from Brazil a little less than two decades ago, she didn't speak much English. "The only things I knew how to say when I came here were, 'Hi,' 'Good Morning,' 'Goodbye.'" she remembered. But determined to make her mark in the world of event planning, Johnson began taking classes at California State University, Dominguez Hills in 2005 and eventually developed a list of clients that allowed her to grow her business and add a retail flower shop.
"I love flowers," Johnson said. "My house has flowers everywhere you go." After noticing that the flowers she saw at events she planned for her clients were lacking in quality, she started her own retail flower business on Atlantic Avenue and 5th Street. Running a business hasn't always been easy, but her love for Long Beach has helped Johnson keep her chin up. "I feel at home here," she said.
Angela Mesna, owner of District Wine, said she too feels a personal connection to Long Beach and the East Village. When the restaurant and hospitality design firm she was working for closed its California offices in 2008, it was the push Mesna said she needed to strike out on her own. After dreaming of opening her own business for a while and eyeing a space in the East Village for two years, she decided to give it a shot.
"It just started with a love for wine, love for the community and for this neighborhood," Mesna remembered. In 2009, sensing that the area was ripe for the business she envisioned, she began the process of making her dream a reality. "It just seemed like it was growing to [the point] where it would support a wine bar," Mesna said. In April, District Wine will celebrate its 10-year anniversary.
Over the past decade, Mesna noted, the neighborhood has become safer. "A lot of times it's just women working the floor, and we feel safe," she said. The work of the Downtown Long Beach Alliance as well as the sense of camaraderie and community among businesses in the area have contributed to that sense of safety, she noted. "The community really supports each other," Mesna said. "People know you and they watch out for you."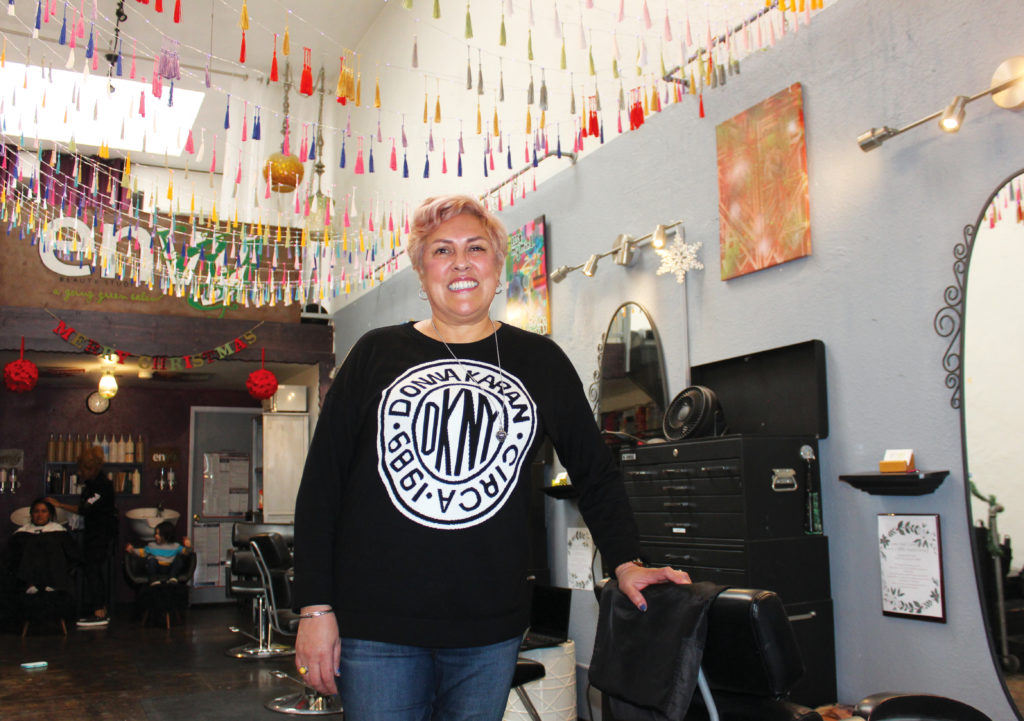 Being part of the community and connecting with the businesses around her is an important mission to Stephanie Stomp, owner of Envy Beauty Studio, and she makes a point of checking in on her fellow East Village entrepreneurs regularly. "I stop by and talk to all of my neighbors on the way home." she said.
Located in a cream and mint-colored Art Deco building on Elm Avenue, Stomp's salon is located just a few doors down from Epps' Shine Your Heart Healing, and is one of five women-owned businesses on the short block.
The number of women leading businesses in the area adds to the neighborhood's charm, Stomp explained. "It's really inspiring to me," she said. "Whenever I feel like I want to give up, I pop by one of my [neighboring] businesses." The women often share words of encouragement, a quick 'Hang in there!' or a hug to keep each other motivated. "We're just a band of sisters here who are trying to support each other," Stomp noted.