Starting a business can be a difficult endeavor, but a group of local women entrepreneurs are leveraging the support from coworking spaces to expand their companies and get them off the ground. Coworking facilities provide shared office spaces, at a cost, for freelancers and entrepreneurs. These spaces often provide amenities, such as Wi-Fi or general office resources.
Long Beach women entrepreneurs, some of whom have used coworking spaces for years, told the Business Journal that these office settings have played a critical role in promoting their brands. Some examples include having access to a network of professionals, operating inside an affordable office space and collaborating with fellow coworking entrepreneurs.
Work Evolution Laboratories, 235 E. Broadway
As a licensed independent agent of the U.S. Department of Veterans Affairs, Veronica Lira founded the nonprofit Alternatives for Vets in November 2015 to deliver legal and mental health services to local veterans. "Our nonprofit specializes in providing education and information," she said. "We created a model by which we assist the veteran, or their family members, applying for Department of Veterans Affairs benefits." Lira said the nonprofit provides pro bono legal services for veterans, as well as free talk therapy for clients experiencing anxiety or depression. The sessions are supervised by a licensed social worker.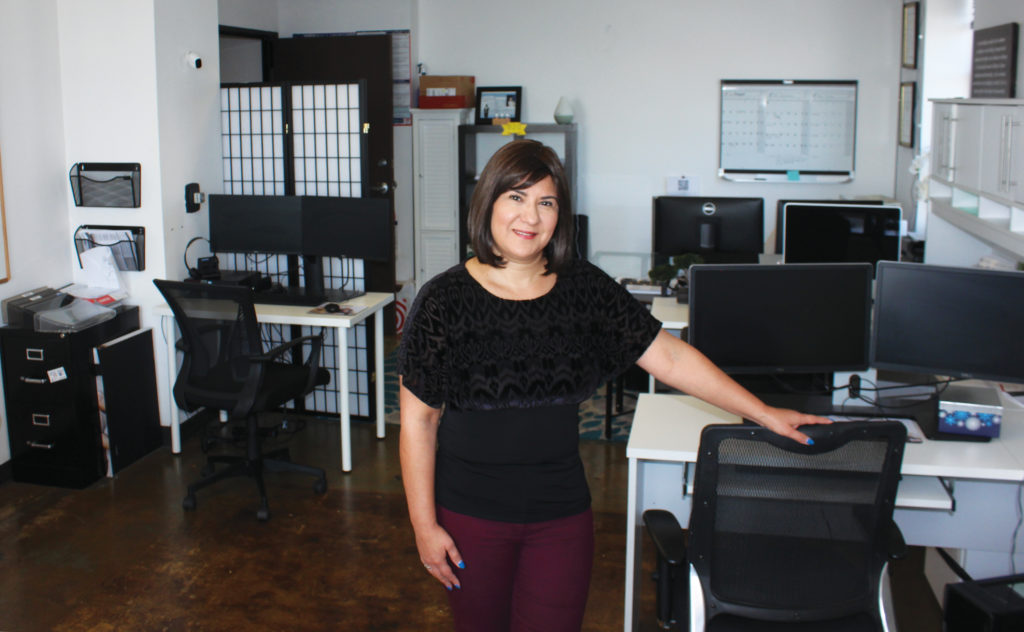 Previously operating at a public facility in Lakewood, Alternatives for Vets relocated to Work Evolution Laboratories in June 2017. Lira said the main benefit of the coworking space is being able to network and benefit from other professionals who are operating their businesses at the same facility. For instance, a business at Work Evolution Laboratories specializing in online design assisted in developing the website for Alternatives for Vets. "Having accessibility to other professionals saves time," she said.
Megan Papageorge is owner of Sweet Peach Planning, a wedding and event planning business. She has used Work Evolution Laboratories' coworking spaces since 2015. Living blocks away from the site, Papageorge walks to work every day to run her wedding business.
Sweet Peach Planning offers a full-service wedding package, which includes coordinating ceremonies and receptions and providing a list of vendors. As her business has grown, Papageorge said she has moved to different and bigger coworking spaces within Work Evolution to accommodate her expansion. "It's a nice balance where you can be collaborative in a social way and a business way," she said.
The next step in Sweet Peach Planning's growth is to finalize the launch of Peachprint, a yearlong subscription box for brides that will include beauty and wellness products. "We believe that you should not just enjoy the one day of your wedding, but the year leading up to it," she said. Papageorge aims to debut the box by the end of this year.
WeWork, 100 W. Broadway
Lisa Mae Brunson founded Wonder Women Tech in 2015. Located at WeWork in Downtown Long Beach, Wonder Women Tech is a nonprofit organization that seeks to educate, network and inspire women to pursue the disciplines of science, technology, engineering, arts and math (STEAM). Wonder Women Tech hosts workshops and events on a global scale, including Manaus, Brazil, Washington, D.C. and London. The organization hosts an annual convention at the Long Beach Convention & Entertainment Center, which takes place this year from November 7 to November 9.
Brunson, who is a Long Beach resident, said the organization first started in her living room with a group of five individuals. After two years of working from home, Brunson said she learned about WeWork Long Beach in 2017. WeWork has multiple coworking locations in the world, including New York, Melbourne and Tokyo. Eventually, Wonder Women Tech leased a coworking space at WeWork.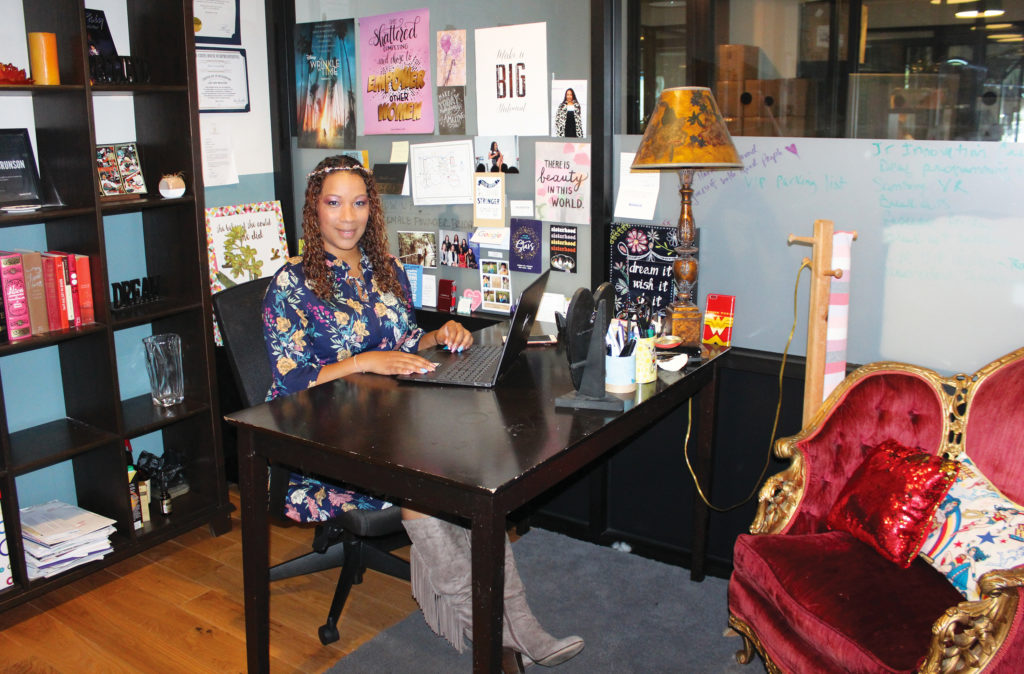 "Being . . . in a coworking environment has really helped us to expand our network to collaborate and to have bartering . . . and partnership opportunities with other companies that have been inside the WeWork ecosystem locally, nationally and globally," she said. "That's been one of the greatest benefits for us here in Long Beach."
Boasting a master's degree in public health and two decades of consulting experience, Lara Vu launched Alfabet Soup Consulting with her husband, Brett Dickstein, in April 2017. After working with entities like WebMD and UNICEF, Vu said she had a desire to start her own consulting firm. With the advent of Alfabet Soup Consulting, Vu and Dickstein offer various clients advisory services, which includes helping potential entrepreneurs start a small business and providing organizational development to nonprofit organizations.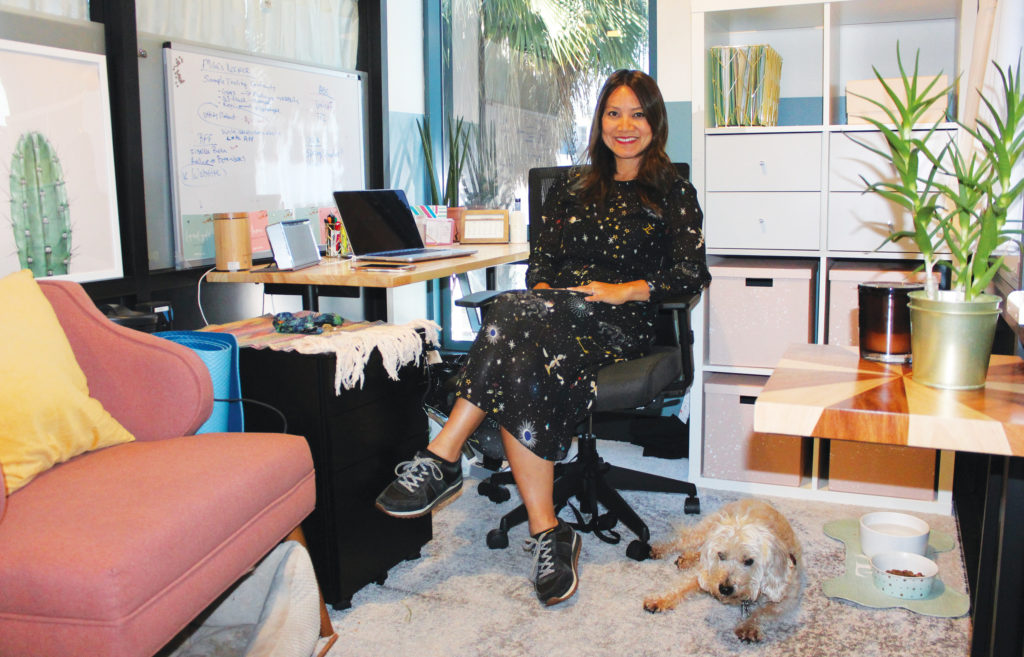 After running the day-to-day operations of Alfabet Soup Consulting from home for three months, Vu said she quickly decided to find an office space. "It drove me crazy [working from home], mostly because I was very much used to working in an office," she said. Vu and Dickstein selected WeWork for their office location. "Having this coworking space really helped me to get out of the house and focus better, Vu added. "I needed some privacy, and I was really able to establish myself here."
In addition to her consulting work, Vu is in the preliminary stages of publicly launching Mila's Keeper, which is a consumer products business that focuses on women and breastfeeding. She developed the Mila's Keeper concept in March 2018 and is outsourcing work for a prototype device that keeps breastmilk cold in a portable apparatus.
Vu said she wanted to create a simple device for on-the-go, breastfeeding moms to keep their milk cold for their children. "If you look in the market, there are a zillion little devices to help keep your beer cold," she said. "And yet, for breast milk – there's probably no liquid more important – there is not enough out there to make sure the milk stays cool." Vu, who is a mom, said a prototype device is expected to launch later this year.
Ironfire, 4195 N. Viking Wy.
Nancy Woo has been a freelance writer for the past eight years. She created Imaginaria Visionary Services last November to provide what she calls "visionary consulting" for those seeking to bring their creative ideas to life. Ironfire provides a coworking space for Woo to offer Imaginaria's services, which include coaching, organizational development and marketing consulting.
Woo said Ironfire's private meeting spaces help her convene with clients. She uses a general, shared office space at the facility to handle work for her business.
"I definitely have an artistic and creative motivation to help people in our Long Beach community," Woo said. "Ironfire has been so completely transformative for me. As a writer, I have been working from home, and it has been hit or miss. . . . This has allowed me to see myself more as a business instead of just an individual working here and there on different projects."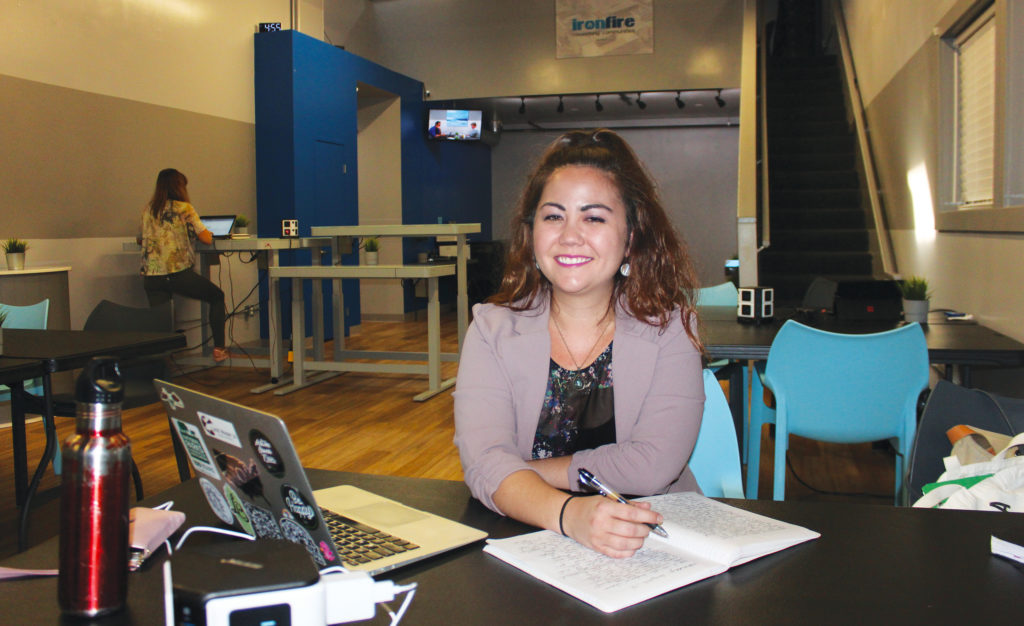 Josh Rencher, CEO and founder of Ironfire, said the coworking facility has unreserved seating and common spaces for all of its members. Rencher said Ironfire's facility is 2,100 square feet in size.
Stephanie Terronez is co-founder of Cow Hugger, an online boutique that sells vegan apparel. When Terronez and her partner, Patrick, met in college, they both bonded over their love of animals. Committed to doing their part in treating animals ethically, the couple made the decision to go vegan in 2004.
"We all collectively have enormous power to make positive changes in the world," she said. "And it all starts with compassion and the idea that we should be aware of the effect we are having on all other living beings. That is what is behind Cow Hugger."
The concept of Cow Hugger began in 2014, but the website did not launch until 2016. Terronez began working at Ironfire in late 2018. She said she needed a location to manage her website, as opposed to doing work from home. Terronez said Ironfire is a comfortable and welcoming space that allows her to concentrate on her job. "Everybody is open and ready to answer questions for fellow coworkers," she said.
CommonGrounds Workplace, 145 W. Broadway
Corrie Dolman said her passion for architecture began when she was eight years old. As a child, she told her family she wanted to build and create things when she was older. "I actually really like the hands-on side of architecture," she said. "I like that it's very artistic, but it's also very technical. Every project brings new challenges to keep you on your toes." She founded Dolman Architecture in 2015. As a licensed architect in the state, Dolman said that she and her team have assisted in crafting interior designs in places like Santa Ana, Northridge, Westminster and Long Beach
Dolman said she chose to operate her architecture firm at CommonGrounds over other coworking spaces in the area because of the "more personalized" feel of the facility. "I didn't want it to be too corporate, and I felt like CommonGrounds reflected my personal design taste," she said. Dolman said the site allowed her to have a professional office space, as opposed to running her business from home.
Working in a field primarily dominated by men, she advises other women pursuing similar career paths to maintain discipline and a competitive spirit. "As long as you have the dedication and drive, you can get anything done," she said. "I think it's funny, because my husband is actually a teacher, which is a very female-dominated role. . . . "We can't let another person's personal ideals prevent us from doing what we love."
Hannah Peaslee, who also operates out of CommonGrounds, founded her business management firm, HP & Co. LLC, earlier this year. Peaslee said her firm focuses on strategic financial planning for clients. "I am kind of the puppet master behind the scenes," she said. "Whether our clients are making a life decision, or they want to invest or grow their wealth, we want to make sure they're making the best and most well-informed decisions. We want to make sure they have professionals on their team who are helping them achieve their goals."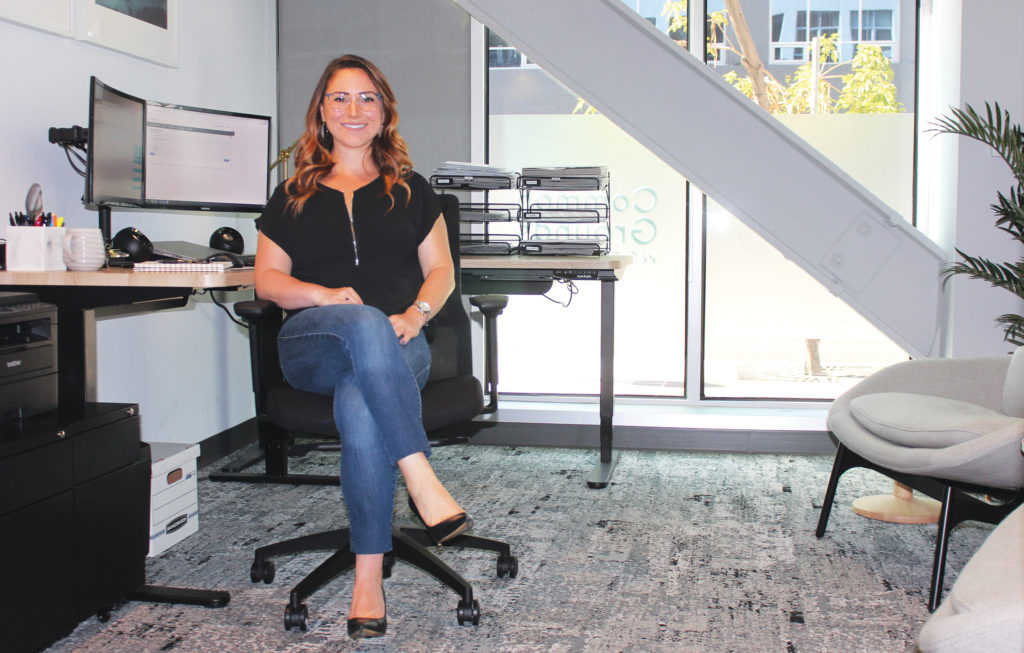 A Long Beach resident with more than a decade of experience in business finances and management, Peaslee said she began searching for office spaces around the same time she started her business. When she found CommonGrounds and settled on an agreement for a space, she said the employees were accommodating. She also said the interior design of CommonGrounds facility also helped her achieve a level of professionalism that she was looking for.
"In terms of the aesthetics of how my brand is put out there, I actually feel like CommonGrounds helped me achieve that [professionalism]," she said. "If I had a client come to CommonGrounds, we could have the board room. We have somebody providing coffee. It's a certain level of service that my clientele are used to. This space actually allowed me to develop my brand even further."
Peaslee said CommonGrounds' resources, such as reception services, mail sorting and distribution and office equipment, have provided many cost benefits in starting her business. "If I had chosen to go with a free-standing office space, I would not have had any of these things," she said. "By joining a coworking space, I was able to launch my business as an efficient, well-functioning office from day one."