Sheri Baughman
A.P. Fischer
1601 Caspian Ave. • 562/436-7251 • apfischer.com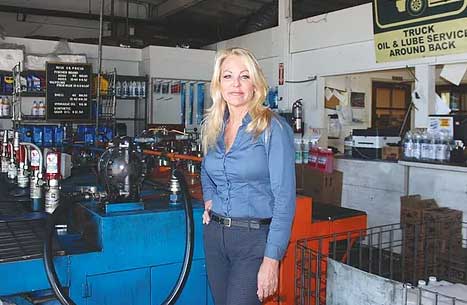 Sheri Baughman never expected she would become the president and owner of a business. But when her husband, Ray, died three years ago, Baughman had to quickly step in to fill his place as the president of A.P. Fischer, a motor oil and filters provider that has been operating in the Westside since about 1960.
Baughman's husband had purchased the business from his father, who had bought it from the founder, Al Fischer, in 1965. It has long operated as a family-owned business. According to Baughman, Ray diversified the business by expanding its offerings from products sold by the caseload to include retail sales and bulk loads, as well. He added a self-service "oil bar" to the businesses' interior, and creating a lube station for truckers behind the building, she said.
"I stayed at home at the time, raised the kids. Never had anything to do with the business," Baughman recalled. "Probably four months before he passed away, he came in and kind of taught me the basic stuff – what to do, the banking and pricing and inventory and very small things to learn about the business."
Stepping in to run the company full-time after her husband's death was "very overwhelming," Baughman said, noting that she had been married for 29 years. At the same time, she reflected, running the business saved her by giving her something to do other than grieve. "That's when I learned, you do what you got to do. It's like sink or swim type mentality," she said.
Although Baughman had 15 years of sales experience prior to her marriage, she had to teach herself the ropes of running a business. But she had support from her staff, many of whom had been with the company for several years. "I kept the people who were very valuable to me, and very loyal and knowledgeable. They are my resource," she said.
A.P. Fischer's retail shop services truck drivers visiting the nearby ports, maritime clients and even individuals looking for oil and filters for their cars. The company also contracts with larger companies in all sorts of industries, including the auto repair field, aviation, and even education, according to Baughman.
The biggest challenge for Baughman is keeping up with state regulations. "Running a business, especially in the oil industry, you have to have everything done to state standards," she said. In addition to keeping up with regulations herself, she noted that her neighbors, such as those at long-time Westside company Amber Resources, give her tips.
Baughman said her business is profitable, and it is growing. She attributed the growth to the company's reputation for good customer service. "Everybody is equal here. Every customer is important. Even a guy that just comes in once every three months and buys a filter or a pail of something; he is still important."
– By Editor Samantha Mehlinger
Dr. Emily Dodds
Dodds Dental
5580 E. 2nd St. • 562/439-0754 • doddsdental.com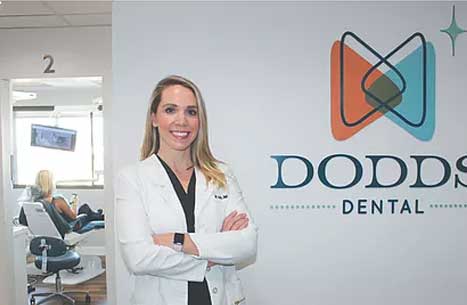 Dr. Emily Dodds, owner of Dodds Dental, did not always know she wanted to be a dentist. After shadowing different types of physicians and dentists, Dodds discovered how a career in dentistry would suit her.
"All the dentists who I shadowed just seemed happier," she said. "They had more regular business hours. They could leave and go and pick up their kids from school. They were small business owners."
Dodds and her husband, Dr. Dustin Dodds, who is also a dentist, established Dodds Dental in 2016 after both of them spent five years in the army treating active duty soldiers. The location of the business holds a great significance for Dodds, as it has been home to dental practices over the course of three generations.
"We bought a retiring dentist's practice. He had been here for over 30 years. And there was actually an original owner [before him]," Dodds said. "We have the original patients who came to the original owner 40 or 50 years ago, and we are [also] getting new patients all the time."
Most of the staff from the former practices stayed in their positions after the Dodds took over. "When we bought the practice, all of the staff was original. The newest staff member, when we bought the practice, had been here for 12 years," she said. Apart from the Dodds, there is only one new staff member working at the office.
Dodds finds it difficult to manage the dental practice with no business background. "I would say it is challenging in particular for a dentist being a small business owner. . . . because no one teaches a dentist anything about business. We do not learn anything about business in dental school," she said. "We had to teach ourselves everything we needed to do. Some of it is our staff teaching us things, because our staff has been here longer than we have."
As a mother of three who is pursuing a graduate degree on her days off, Dodds also faces challenges with time management. "Our biggest priority is taking care of our patients, but we also have the business tasks," she said. "Time management is tough. . . . if something comes up at school or if someone gets sick, I have to step away and take care of my family and also help take care of this business."
The office is currently under construction to enhance the space for patients and workers. It has already gone through long overdue changes to give it a new look, according to Dodds.
"We have been working toward this [construction] . . . to have the latest and greatest technology and modern amenities for our patients," she said. "Looking toward the future, I hope we continue to grow."
– By Staff Writer Annette Semerdjian
Sara Jane Martini
HoboJane Boutique
412 Cherry Ave. • 714/234-8741 • hobojaneboutique.com
Three years ago, Long Beach resident Sara Jane Martini left a successful career in the corporate fashion world to pursue a more fulfilling path – going into business on her own.
"I did visual merchandising and store design for mostly the action sports industry: Quicksilver, Roxy, DC Shoes, et cetera," Martini said in an interview at her shop, HoboJane Boutique, located in the Retro Row area of Long Beach. Eventually, Martini longed to escape an unsatisfying corporate culture and a lengthy commute to Los Angeles. She began selling vintage clothing and furniture on the side at the monthly Long Beach Antique Market.
"I did that for two years and that was enough. Then my friends all said, 'Just open your own store, just do it. . . . You're driving yourself insane.' So I did," Martini said.
It took Martini about a year to find her boutique's first location on 7th Street, just off of Redondo Avenue. It was 2015. She noted that the intersection there had potential, with a popular bar, a Starbucks, a UPS Store and sushi restaurant. "It was supposed to be up and coming. Didn't pan out," she said. So, when her three-year lease was up, she decided to relocate.
"I needed to be around like-minded people that support each other. . . . and this is the perfect spot," Martini said of her location at 412 Cherry Ave., which she opened this July. A 30-year resident of Long Beach, the Detroit native said she had always liked the area. Being a part of that community, and of the 4th Street Property & Business Improvement District, has been "fantastic" so far, she said.
"I do all my buying in L.A., and I restock usually every two weeks versus a typical retailer who will restock every three months," Martini said. "I try to keep it fresh all the time, so every time my repeat customers come in they are seeing something new."
Martini develops a "color story" or theme around which to base her inventory purchases. "Then I create the little stories and vignettes and bring in patterns and complementary pieces," she said, gesturing around her store. The shop features several areas that could be described as vignettes – a vintage coat and hat hung above an antique painting, for instance. About 10% of her stock is vintage, she added.
As a business owner, a major challenge is the need to constantly post on social media in order to stay relevant, Martini said. The best thing about owning her own business is having the freedom to do what she wants. In summation, she concluded, "I have two kids. They are 19 and 20. I love Long Beach. I love what I do. . . . I couldn't be happier."
– By Editor Samantha Mehlinger
Diana Vu McDonough
Lacquered
3632 E. Broadway • 562/881-8105  • lacquered-restaurant.business.site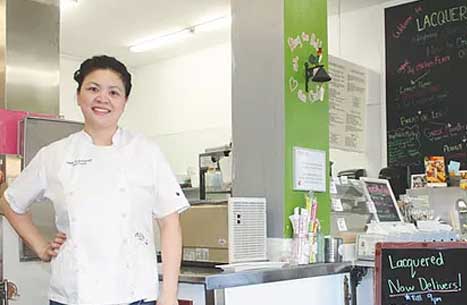 Local chef and California State University, Long Beach alumna Diana Vu McDonough recently opened the Belmont Heights restaurant Lacquered with her husband and co-owner, Scott McDonough. The restaurant debuted three months ago after about a year of preparation.
A challenge in opening the restaurant was that the site was previously home to an eatery that had operated without a license, according to McDonough. "It all just kind of fell into our laps, and all of the responsibilities became ours. So, it has been a little bit of a whirlwind trying to get open," she said.
Everything from the flooring to the walls to the decorations were built by McDonough and her husband to create a "real-deal mom and pop's shop."
"I did not have any investors. I did not have thousands and thousands of dollars," she said. "We have just been building this place ourselves. . . . trying to figure it all out on our own."
Before opening Lacquered, McDonough and her husband began a catering company, Le Petite Spoon, in Harbor City. The catering company offers French-inspired eats from the couple's French training from culinary school Le Cordon Bleu.
McDonough recalled the experience she faced as a woman chef before taking the helm at Lacquered, her first restaurant. "Being in the restaurant industry, I've been pushed around my whole life by men. . . . And I'm just so proud to be in this [position]," she said. "This is really my ultimate American dream. And the fact that I'm living it in my hometown is just a really awesome feeling."
McDonough described the restaurant as serving "clean-California comfort food" that is "Vietnamese-Canadian meets French farmhouse." The menu incorporates her cultural background as well as her husband's, and is also influenced by their French culinary training. Along with organic rotisserie chickens, the menu includes items such as organic chicken pho and poutine. All of the protein items on the menu are smothered in Lacquered's homemade sauces.
The menu's soy lacquered chicken inspired the restaurant's name. "All of our sauces are made in-house, from-scratch. So every protein has their own lacquered sauce that they get finished with," McDonough said. Lacquered's signature chicken is soaked in a secret 20-ingredient brine. "I [can] comfortably say, it's the juiciest chicken in Long Beach," she said.
The restaurant's interior also matches its name, with lacquered decor in parts of the dining area.
Currently, McDonough and her husband do all of the prep work and cooking, which is why the restaurant does not open for a couple days during the week. "The magic has to happen with just the two of us," she said. "We're still trying to find the staff and train the staff right now. That's a really big step for us and we're really excited to have people to help us."
– By Staff Writer Annette Semerdjian
Silvia Quinones
National Cleaners & Laundry
3304 Cherry Ave. • 562/595-7093 • nationalcleanerslb.com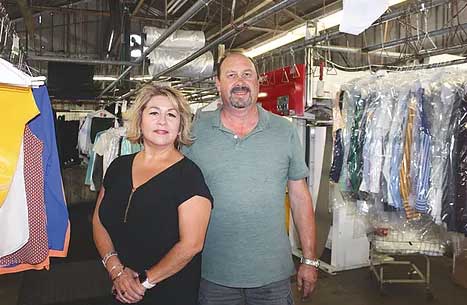 Silvia Quinones bought her father's business, National Cleaners & Laundry, in 1991 with her husband, Ruben Quinones. In 1983, Quinones's father created the chain of dry cleaning establishments in Long Beach and the surrounding areas. Each of Quinones's siblings also bought National Cleaners locations.
"We did not even own a washer and dryer because all our summers were spent here in the drying and cleaning store. . . . but I didn't know how to manage it," Quinones said. "So, my husband and I enrolled in [business] classes at Cerritos College. . . . Nothing was going to stop us. We were going to be successful."
Quinones is also the owner of Salon Medusa in Bixby Knolls. She began working there part-time as a stylist before buying the salon in 2008. "For about six years I worked seven days a week because I had to build that [salon] clientele and do what I wanted to do," she said.
Hairstyling came more naturally to Quinones than the dry cleaning business. "I am more of the artistic kind of person, so it was a bit of a challenge for me," she said. Quinones found that her strength lied in organizing data on the computer instead of by hand, which was how the business was originally managed.
As Quinones began to see the business grow, she, along with her husband, decided to open a location in North Long Beach for people to drop-off their clothes to then be cleaned at the main location.
Some of the local uniform and tuxedo companies soon began sending their clothes to Quinones's business as well, which allowed her to expand the store's space.
Despite the growing business, Quinones still faced some challenges as an owner. "Pricing and keeping your customers still coming in and satisfied – I think that is the biggest challenge," she said. Complying with clean water regulations, as well as buying new equipment, are other challenges she has encountered. "The machinery is not cheap. . . . Those [heavy-duty washing] machines are $55,000," she said.
Another challenge is that the dry cleaning industry is primarily operated by men, according to Quinones. Most of the clientele at National Cleaners & Laundry are men, and they still ask to speak to 'the man in charge,' she said. Quinones's manager, a woman, has also faced gender discrimination. "But she has done a great job," Quinones said. "Women have come a long way."
Now that the business has reached the potential she envisioned, Quinones looks forward to the business remaining stable after years of working to see it thrive. "I love being a business owner because you do get your freedoms," she said. "Right now, we are not growing it [anymore]. . . . We are doing well. . . . We want to step back and enjoy a little."
– By Staff Writer Annette Semerdjian