Picturing the inside of a hospital, most people would imagine stethoscopes and needles, doctors in white lab coats and conversations between doctors and patients about their health issues. At MemorialCare Long Beach Medical Center, patients can also be seen meditating in a rooftop garden, heard laughing or talking about their lives – not their illness – with Erin Sommerville, a mind-body oncology coach at the hospital.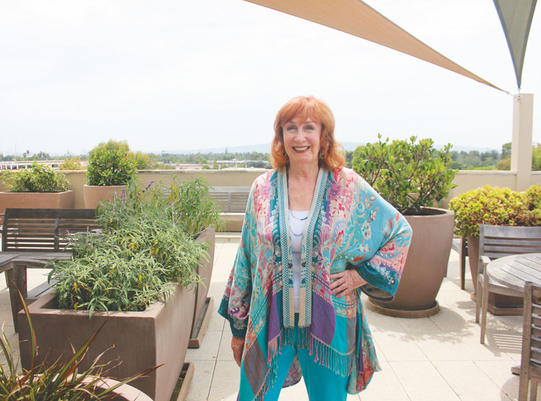 (Photograph by the Business Journal's Brandon Richardson)
Over the last eight and a half years, Sommerville established and developed one of the country's first in-hospital Mind-Body Cancer Coaching Programs at the MemorialCare Todd Cancer Institute in Long Beach.
"We created it. There are mind-body departments or something along those lines in big hospitals now because people are demanding it – mindfulness and meditation – because we can see its effects," Sommerville said. "To have someone [working] full-time as a coach here, that did not exist before I came."
For more than 30 years, Sommerville has educated people about the importance of mind-body wellness. In the 1980s, she launched a conference called "The Healing Power of Laughter and Play" aboard the Queen Mary. The conference ran for 15 years across the country and parts of Canada, where Sommerville is originally from.
"It was really on how laughter and play support your immune system," Sommerville said. "Not only that, but you have a better quality of life. [The conference] was for doctors."
Through her work, Sommerville met Dr. O. Carl Simonton, a radiation oncologist who helped popularize the mind-body connection when treating cancer in the late 1970s and 1980s. They worked together for 25 years hosting professional training retreats on mind-body medicine around the world.
Throughout her time in the field, Sommerville said she has had many mind-body wellness teachers, including a Lakota-Sioux shaman in South Dakota and healers in Thailand. The focus of her work is not the illness, but rather the patient's life.
"Our ability to play and create are instinctual. That's how I coach people – with a sense of humor and lightheartedness. I want to empower you to believe that you have possibility. Right now, with your challenges, you've got to live fully each and every day and focus on that," Sommerville said. "If you talk to the oncologists, they will say that, after a patient sees me, often their chemotherapy will go better, or they'll have less pain or their attitude is really different. It's exciting."
There is science to support her work, Sommerville said. She explained that feelings of love, gratitude and happiness cause cortisol (a hormone the body releases in response to stress) levels to decrease and endorphins (a hormone that activates opiate receptors and relieves pain) to increase. These chemical changes affect the mind in a positive way, which has a direct impact on the immune system, Sommerville said.
At the American Cancer Society's 43rd Annual Long Beach Cancer League Gala in June, Sommerville was recognized as a "Star" for her leadership in the fight against cancer. She described receiving the award as a "beautiful, perfect moment in time," noting that some people work their entire lives without receiving recognition. Next month, Sommerville is speaking at a TEDx salon. She said she is nervous but that it is a great opportunity to further put mind-body wellness in the spotlight.
Sommerville's ultimate goal is to see her ideals integrated fully into modern medicine, including being taught at medical schools. "I think it's happening," she said. "You can see it in all the books on happiness, you can see it in hospitals – we will become more and more aware of how very important the mind and emotions are to health and well-being in general."
Outside of the hospital, Sommerville offers private and group coaching. She said she has hosted a seminar on stress and its impacts on health and happiness for Long Beach-based tech company Laserfiche. She also gives a presentation called "Growing Young" at senior centers. She encourages more individuals, companies and groups in Long Beach and the surrounding area to visit her website at happinessheals.com to see if they can benefit from her experiences.
"It is a passion and a purpose for me. When I get the letters sometimes that [say] I have really changed someone's life, that is such a gift," Sommerville said. "It was pretty tough at first, but now there are oncologists who send patients to me because they see the change. I feel like this is my destiny."