After its fourth year, 73 large, colorful works of art cover otherwise empty and wasted wall space throughout the city thanks to the POW! WOW! Long Beach festival. The history of the art festival in Long Beach can be traced back to a single individual with an idea – Julia Huang.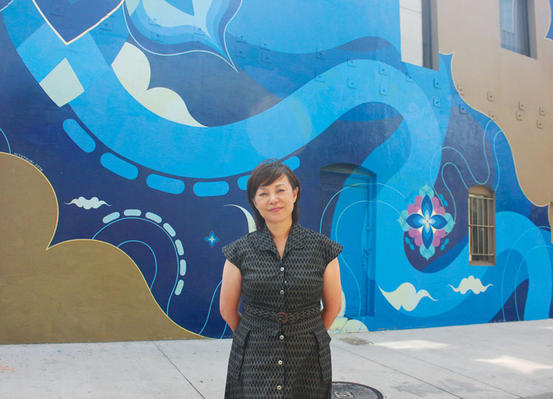 (Photograph by the Business Journal's Brandon Richardson)
President and CEO of Long Beach-based interTrend Communications, Huang knew POW! WOW! founder Jasper Wong and experienced the art festival in Hawaii and East Asia. After seeing the transformative ability of the festival in the Kakaʻako area in Honolulu and in Taiwan, she believed it could have a positive impact in Long Beach.
"I saw firsthand how the artists got together and revitalized art," Huang said. "The energy of art was just pure magic in the places that POW! WOW! went."
At the time, interTrend was doing work in support of the Long Beach Art Museum, so Huang brought her notion to Ron Nelson, the museum's executive director. Nelson liked the idea and introduced Huang to Steve Goodling, president and CEO of the Long Beach Area Convention & Visitors Bureau, who also got on board.
With the help of Nelson and Goodling, Huang was able to bring her idea to Mayor Robert Garcia, who she said loved it. Huang explained that having city support made it much easier to navigate the process of bringing the festival to Long Beach. Without Nelson, Goodling and Garcia, she said the festival would not have reached its current scale.
interTrend, which works with companies such as Toyota and State Farm, was founded in Torrance in 1991. It moved onto the ninth floor of a Long Beach office building on Ocean Boulevard more than 15 years ago. Huang said that she is slightly embarrassed to say that for the first 11 years in Long Beach the company did not interact with the city, but rather was just an "office dweller." However, in 2012, the company purchased a historic building at 228 E. Broadway in an attempt to engage more with the community. After spending millions to renovate the property, interTrend's approximately 80 staff members have occupied the space for several years.
"Placemaking is just so important. We saw firsthand, coming from the ninth floor to street level, how interaction at the street level is so important. We thought that by bringing a street art festival like POW! WOW! we would . . . make it easier for people to interact with art," Huang said. "Art isn't just for consumption in a gallery or museum. It should be public in that people should be able to consume it and enjoy it at the street level for free."
In addition to her community-centered POW! WOW! work, Huang has served on the Downtown Long Beach Alliance board and was appointed to the Queen Mary Land Development Task Force in 2015. The task force made recommendations for the development of land surrounding the ship to Los Angeles-based Urban Commons, which holds the lease for the site. Huang and her company also focus on social issues affecting the city, primarily homelessness and mental health.
"Rather than taking a board seat, we have a tendency to support whatever comes to our attention. It's easiest to write a check . . . but we have an organization called IT Cares within the company that is staff driven," Huang said. "They get together and do a lot of volunteer work. We have been doing work with a couple of organizations within Long Beach."
The firm's community service mentality starts from the top down, Huang said. She tries to lead by example and works to create an environment that allows her employees to engage in these activities. Part of that environment is inclusiveness. Huang explained that, when it comes to supporting organizations and movements, those related to women, Asian Americans and the LGBT community are always at the top of the list.
"Long Beach is self-contained in a sense that people don't know what a cosmopolitan or international city it is. Long Beach should be a city that is known around the world. It has to live up to its potential," Huang said. "I think that I should work to make people understand that Long Beach is a great place to live, a great place to work, it supports business, it supports art, and it shouldn't be just a best-kept secret."