Sheer coincidence led to the establishment of the 4th Street staple, Portfolio Coffeehouse. Born in northwestern Germany, Kerstin Kansteiner moved to Nuremberg for college and then landed a six-month internship in 1989 with a shipping company based in Long Beach.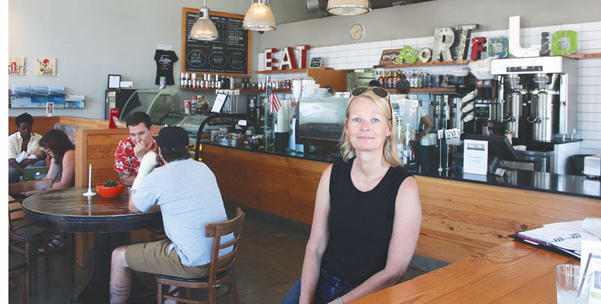 (Photograph by the Business Journal's Brandon Richardson)
"It was not love at first sight. I came here, I didn't own a car, I had a crappy internship and I did not like it, honestly," Kansteiner said.  "In Europe, a café is the first place you go to because that's where you meet people. . . . The whole European thing just didn't exist here. Then through meeting people at Midnight Espresso [a former coffeehouse in Belmont Shore], I thought this is kind of cool, kind of interesting and then I really felt like all of a sudden I was able to integrate myself into Long Beach."
By late 1990, Kansteiner had met and married her first husband, and the pair opened Portfolio. By 1992, the couple decided marriage and a business partnership wasn't for them. He moved to San Francisco and she decided to stick it out with Portfolio for the sake of her employees.
In the early days, Kansteiner noted that there were only two other coffeehouses operating nearby, both owned by women. The three owners would meet at Portfolio once a month and began doing cleanups of the area, now known as Retro Row, on their own.
"That is kind of what attracted me to Long Beach – there are like-minded people who are interested in improving the community. It was cool," Kansteiner said. "It was rough around the edges at the time but there was something there, so I felt like there was a genuine heart – people were here and had a passion."
That passion ultimately led to the formation of the 4th Street Parking and Business Improvement District (BID), for which Kansteiner served as president for more than 15 years. Even after the formation of the BID, she said the business owners did all the investment and work without city assistance. She explained that this allowed for the area to develop in the direction the businesses wanted – namely avoiding commercial influences that have impacted Belmont Shore and the downtown area. This strengthened the bond between businesses, she added.
Today, Kansteiner also owns and operates Berlin Bistro, a coffeehouse and café adjoining Fingerprints record store, and Portfolio Fit, a small coffee shop inside Olympix Fitness. With all her businesses, Kansteiner is an environmental leader when it comes to operations. Her facilities have not used Styrofoam packaging in years – well before the city instituted a ban on the product – opting for compostable alternatives, including straws. Additionally, all coffee grounds are gathered and made available as compost for local farmers. Kansteiner also participated in a pilot program with the city to collect kitchen waste to be used as compost.
"It comes from my family background and growing up in Europe. In Europe you just grow up with a lot more environmental causes," Kansteiner said. "I came here and saw that it didn't exist. I always felt strongly about it and the argument that a small business can't afford it – sometimes someone has to just step up and do it."
In order to bring the prices of eco-friendly products down, they must be used, Kansteiner said. She explained that these products today cost mere pennies more than their plastic counterparts, which can be rolled into product prices with little notice by the customer. Kansteiner added that she is willing to help other businesses make the transition.
Kansteiner married her second husband, a local developer and builder who had previously purchased the Art Theatre, which was renovated and reopened in 2008. Since reopening, the pair have transitioned the business into a nonprofit, which Kansteiner said allows it to better serve the community. As a nonprofit, the theater can negotiate discounts for newly released films, leverage additional funding, act as a community meeting space, show municipal debates and build a more customizable entertainment program for residents, Kansteiner explained.
"Ten or 15 years ago, I never would have thought that I would sit outside of the Art Theatre at 9 p.m. and have a glass of wine. I would have been scared for my life. It was not a safe area," Kansteiner said. "[The theater] just really changed things by having people out and about. It's a huge transformation. It's great to see people interact and go to dinner and talk about a film."