The Long Beach City Council approved a $2.8 million contract to begin the buildout of two more beach concession stands as the city continues its push to activate its shoreline.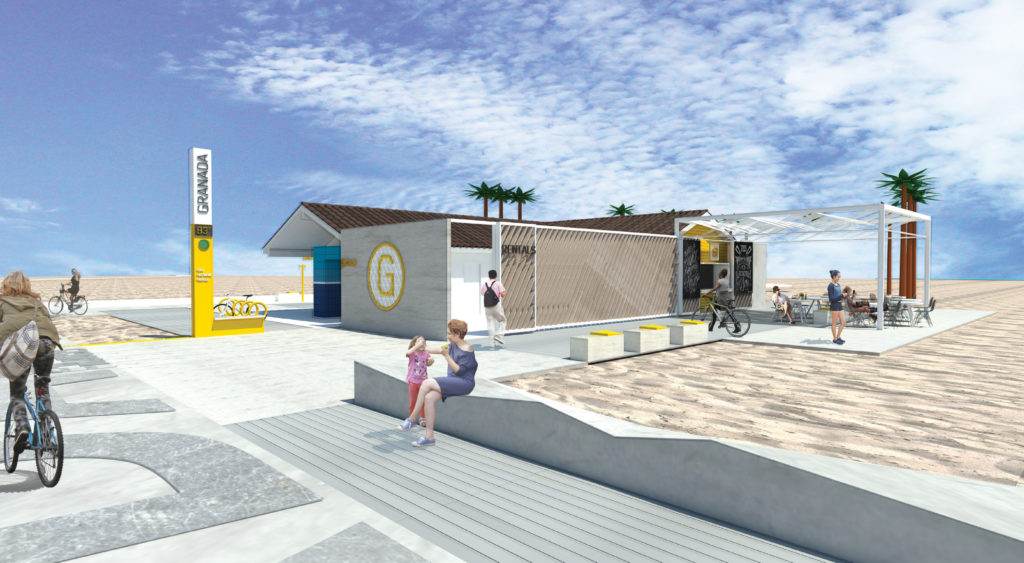 The council's vote on Tuesday, Feb. 11, will allow work to proceed on the Junipero and Granada Avenue sites, which, like the Alamitos location, will include a play area and new vendors that the city has yet to name.
In total the contract could be worth as much as $5 million with cost overruns but will be paid out of the city's Tidelands Fund. (Tidelands funds are designated solely for the space at marinas, beaches and waterways, including the Convention Center, the Queen Mary and adjacent properties such as the Aquarium of the Pacific and Rainbow Harbor.)
Construction began in August on a much larger $9 million project just south of the Villa Riviera, where a 4,240 square-foot concession project expected to replace Alfredo's Beach Club was supposed open by this summer. That date has now been pushed back to at least the fall.
The Junipero location is expected to include a playground and cafe area in addition to the concession stand. A full and half-court basketball court and fitness station have already been completed and will be part of the footprint of the Junipero concession project.
The Granada location will also have a fitness station element in addition to the food and dining area but will also include a water play area and a dog washing station. The Granada concession stand is located near the city's only dog beach.
Construction of the two sites is expected to be completed by summer, but the council must first approve tenants to operate them. The city has tried to fill the Alamitos location with local business operators but has yet to announce tenants for that location either.
While the city end of the construction is expected to finish by the summer, a separate process by the tenants to build out the interiors to their specifications would still need to be completed before the concession stands could open.
Mayor Robert Garcia advised city management that if it needs to revise the search parameters to ease the search process that it shouldn't hesitate to request revisions from the City Council. He said it was imperative for these concession stands to have quality operators, especially with their expected prominence during the upcoming 2028 Olympics.
"These are home run sites and they deserve home run food and beverage," Garcia said.