A  portion of the proposed Harbor Performance Enhancement Center (HPEC) will begin operating as a container staging area within the next couple months, where containers will be stored for fast, easy pickup at a later time for the ports of Long Beach and Los Angeles, according to HPEC founder and CEO Jonathan Rosenthal.
"We have a pilot program [already approved by Los Angeles Board of Harbor Commissioners] and there is an exemption from CEQA [California Environmental Quality Act] for pilot programs," Rosenthal explained. "So we will start operating in the next couple of months with about 400 spaces."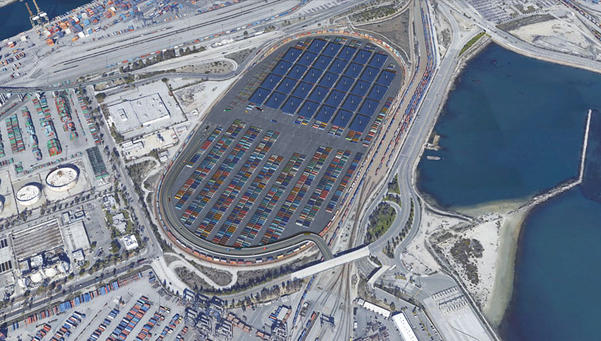 Located on 110 acres of Terminal Island, the Harbor Performance Enhancement Center will begin operating as a container staging area in the next couple months as part of a scaled-down pilot program, according the founder and CEO Jonathan Rosenthal. The full project would consist of 3,500 spaces for container storage and is currently in the environmental impact report phase. (Rendering courtesy of HPEC)
Rosenthal's proposal is to create a 5.5-million-square-foot container staging facility on 110 acres on Terminal Island at the Port of Los Angeles. In total, the completed facility will have 3,500 spaces for customers to store cargo containers already on chassis, wheeled frames used by truckers to haul cargo, to be transported at their leisure.
Rosenthal said there are much smaller facilities that stage cargo containers in a similar fashion but are controlled by and exclusive to specific shipping lines. HPEC on the other hand will be open to all terminal operators, trucking companies, shipping lines and beneficial cargo owners (BCOs) at both ports, he explained. Additionally, HPEC will give its customers 100% control over the movement of their inventory by remaining open 24 hours per day. Having assigned storage spaces with containers already on wheels will mean that draymen will not have to search for containers or wait for them to be loaded.
The purpose of HPEC is to increase truck velocity through port terminals, Rosenthal explained. At the San Pedro Bay ports, containers are stacked on top of each other when they are offloaded from vessels. Other ports operate as "wheeled ports," where containers are placed on chassis to await pickup by truck drivers, a more time-efficient method than stacking.
With ever-increasing container numbers passing through the ports on a monthly basis, Rosenthal said the stacking method has become the norm. Truckers are often assigned one specific container, which means the random stacking of containers at port terminals increases the time searching for and unstacking containers.
"The stacking of containers is inherently inefficient because you have to stack them and unstack them. When a driver shows up for a container, he never wants the one on the top; he always wants the one on the bottom," Rosenthal said. "The average container moves four times before it ever leaves the terminal."
To reduce container moves and increase trucking velocity through the port, Rosenthal explained that "free piles," a large grouping of containers with the same destination stacked together, could be formed at terminals through agreements with the BCOs. By doing this, trucks could line up and receive the first available container rather than searching through and rearranging stacks, a process referred to as a peel-off model. The containers would then be transported to HPEC. Currently, the average truck spends 45 to 110 minutes in a terminal, according to Rosenthal. He said studies show HPEC could increase velocity between 20% and 30%.
Increased truck velocity through terminals would have positive impacts economically and environmentally, Rosenthal explained. Economically, drivers and trucks would be utilized more efficiently because less time spent in terminals would result in shorter lines waiting to get into the terminal. This would also translate to less fuel being burned while trucks are idling at the terminal, which would reduce emissions.
"This is not for everybody. It's not as though everyone wants to control their inventory with that sort of precision," Rosenthal said. "Some people don't care very much because their inventory is not that time sensitive. But we believe that there is a segment of the freight ecosystem that does want a lot more control over their inventory."
The project is currently engaged in the CEQA process, which Rosenthal said should be completed in the next eight to 12 months. However, he said he does not expect any issues or pushback considering the project's location is far from any urban or residential environments. The project also includes environmentally friendly features such as solar panels and amenities to facilitate the use of hydrogen, liquefied natural gas, electric and hybrid trucks onsite.
Once the CEQA process is completed, development of the project's infrastructure, including bridge work, will be done in phases, according to Rosenthal, who added that construction would take a couple years to complete. Macquarie Capital, a division of Macquarie Group, the largest infrastructure investor in the world, has partnered with HPEC on a 50-year deal to bring the $130 million facility to fruition.
"They have opportunity to invest anywhere in the world. This is their first principal investment in the San Pedro Bay. That's a big deal – to get on their radar screen and attract their capital," Rosenthal said. "A company like Macquarie would not be doing this unless they saw opportunity and saw that San Pedro Bay was going to grow."