A  growing U.S. economy is likely to translate to a good year for the ports of Long Beach and Los Angeles, according to Economist John Husing, who owns Irvine-based Economics & Politics, Inc.
"The key thing here is that the American economy appears to be picking up speed. And as a consequence, or along with it, consumer spending is picking up speed," Husing said. Increased consumer spending is likely to translate to another record year for imports passing through the San Pedro Bay ports, he noted. In 2017, both ports broke their all-time record for imported cargo, last set in 2006.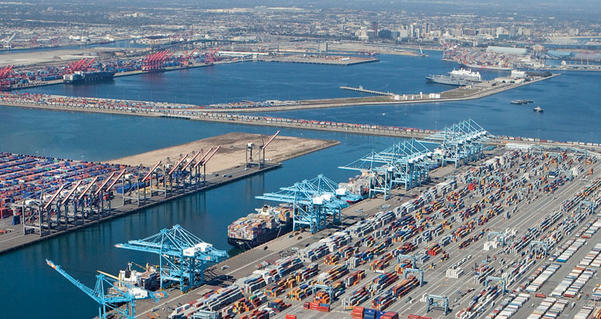 The Port of Los Angeles (foreground) and the Port of Long Beach (top) continue to break-cargo handling records while working together to reduce emissions at both facilities. (Port of L.A. photograph)
The amount of U.S. exports leaving through the ports is likely to increase this year, although not dramatically, according to Husing. "Exports may be a little stronger than last year because the dollar weakened quite a bit toward the end of the year, which makes all our goods cheaper to clients around the world," he explained.
The San Pedro Bay ports are losing some of their market share – the amount of U.S. trade they handle compared to other ports in the nation. Until recently, they handled about 40% of all goods entering and leaving the U.S. through ports, but that figure has declined to about 38%, according to Husing. "I suspect they are going to continue to lose market share, even as they increase volume," he said, adding that the expansion of the Panama is in part to blame.
Last year, trade and logistics industry organizations expressed concern that goals to convert the ports' operations to zero emissions by 2035 would further impact their market share. Some groups, such as the Pacific Merchant Shipping Association, objected that the goals outlined in a newly passed version of the ports' joint Clean Air Action Plan relied upon the adoption of technology that has not been created yet. They also argued that early indicators showed that the batteries required to operate electrified equipment would be cost prohibitive.
However, in a recent interview with the Business Journal, Port of Long Beach Chief Executive Mario Cordero pointed out that there have already been advancements in zero emissions technology since the plan was adopted in November, and that some analysts have indicated that costs might not be as much as previously thought. Time will tell, but Cordero is optimistic. "I think this year is going to be very telling in terms of not only seeing the technology coming into place but the projection that the technology will be less expensive than what people thought," he said.
Overall, economic factors influencing international trade are positive, Husing said. "I guess if there is a potential fly in the ointment, it is the stupidity coming out of the White House and the Congress," he added. "And I don't mind being quoted that way."
Editor's note: The following are guest perspectives from industry executives on the outlook for international trade in 2018.
Mario Cordero
Executive Director, Port of Long Beach
The outlook is very positive. Nationwide, we have a projected growth of the economy of 4.3%. The projected growth of containerized trade is at 4.9%. Going back to the period of the presidential election and thereafter, people questioned whether there would be any growth. There was the whole question about isolationism and protectionism that came into play as it relates to international trade. When I look at these numbers from that perspective, they give me a sense of great optimism in terms of continued growth of trade in this particular port.
The good news is that the shipping industry now sees some optimism in terms of their rates. If we go back 10 years to the beginning of the great global recession in 2008, since that time the carriers have had extreme difficulty in sustaining rates. Last year, they were in a profit mode. So that gives them a little bit of optimism that in the year to come. The profitability may be better for them, and the rates more sustainable. Although we're not there yet, as compared to a year or two ago I think we're seeing some light at the end of the tunnel here.
On the west coast, the dependency has been upon the Asian market and will continue to be. And, frankly, that's an advantage for the Port of Long Beach because of our proximity to that market. A year or year and a half ago, people were questioning where the economy in China was going. But now, they are looking at 6% to 7% growth. That's a very positive number, which equates to our import capability here. The consumer confidence here in the United States is also promising. We had a holiday season for 2017 that superseded 2016 somewhere to the tune of a 4.9% increase in consumer spending.
We are going to shortly announce that 2017, in terms of containerized trade movement at the Port of Long Beach will in fact be a very historic year in our 106 years. We will have the best container throughput year in the port's history. It will be in excess of 7.4 TEUs (twenty-foot equivalent units).
2018 is exciting because it's going to put operational issues at the forefront. We talked a lot about the Clean Air Action Plan in 2017 and what that is going to bring forward: the green port of the future. In fact, if you visit the port today, you seem some of that future already in the form of Long Beach Container Terminal. But what also is as important and parallel to that discussion are operational improvements. More specifically, the quest to reduce truck turn times. The quest to increase night gates. And I am talking about in a predictable and efficient manner. Those are very key operational issues that will receive greater attention this year.
Thomas O'Brien
Executive Director, Center for International Trade and Transportation,
California State University, Long Beach
2017 was a year of uncertainty for the trade and transportation sector, both globally and locally.  The end of 2016 saw the Hanjin bankruptcy, which ushered in a period of industry realignment and consolidation. Expect that to continue in 2018 with the discussion now incorporating the potential for consolidation in the marine terminal sector.
Political uncertainty also remains. The first year of the Trump administration has seen record stock markets here in the U.S.; and while projections for GDP growth for the coming year are consistently favorable, there are still plenty of disruptions ahead that could impact the environment for trade. The outcome of NAFTA renegotiations will determine the look of trade with two of the U.S.' largest economic partners, Canada and Mexico.
Locally, policy debates will be dominated by the implementation of the Clean Air Action Plan adopted by the San Pedro Bay ports in 2017. The plan's objectives are clear, but the costs of implementation – and who will ultimately bear those costs – are less certain. So are the impacts on broader supply chains, including what the plan means for the total cost of moving goods.
Finally, there is the ever-present impact of changing technology on the trade and transport sector. Expect blockchain, one of 2017's hot topics, to become the focus of conversations on how to facilitate the secure and efficient transfer of data and resources between the various stakeholders involved in moving goods. The need for new tools comes in the wake of the latest rounds of cyber-attacks, which last year hit ocean carrier Maersk. The rest of the trade sector will also continue to respond to technology-driven disruptions that will take many forms including expanded e-commerce and m-commerce (mobile commerce) platforms, the launch of Uber Freight in the U.S. market and the deployment of electronic driving monitors for the trucking community.
Gene Seroka
Executive Director, Port of Los Angeles
The Port of Los Angeles, the nation's busiest container port, is coming off of back-to-back record-breaking years. In 2017, the Port will have moved approximately 9.3 million twenty-foot equivalent Units (TEUs), a 5.5% improvement over 2016's record year and more than any port in the Western Hemisphere.
We've had an extraordinary run these last two years, and we are optimistic about 2018. While it is difficult to predict consumer confidence and spending, as well as other factors that influence international trade, we are forecasting growth of about 2% to 3% over the next 12 months.
Our cargo growth has been a direct result of a concerted effort over the last three years focusing on supply chain optimization. This unprecedented collaboration with the cargo stakeholder community has paid off in significant ways.
Record cargo numbers are providing us the opportunity to invest more in our port infrastructure, from both brick-and-mortar and technology standpoints. Our "Digital Infrastructure" efforts include a game-changing partnership with GE Transportation to digitize critical data that will help cargo owners, rail and trucking companies track their containers and more effectively plan for land-side transport. Combined with ongoing terminal upgrades, we are making great strides in efficient cargo movement across our port supply chain.
Having new level of insight via data will help port industry stakeholders meet ever-growing marketplace demands for smoother cargo flow through higher levels of planning and coordination. The ability to harness "big data" and enable stakeholders to track their cargo from port of origin to final destination will be a key factor in our 2018 strategy as shipping lines continue to merge operations and cut costs through complex vessel-sharing alliances.
Elizabeth Warren
Executive Director, FuturePorts
The year behind us was wrought with change. There are many types of change: technological, operational, economic and political. Change is inevitable and can be very good for business and for our economy.
One of the biggest changes we've seen at our ports is the increase in the size of ships calling on a regular basis. Larger vessels of 14,000 TEUs (twenty-foot equivalents) are the "new normal," and in 2017, two of our local tenants, MSC and CMA CGM, ordered a total of twenty 22,000 TEU mega-ships.
These mega-ships have instigated changes to the supply chain and how the industry maximizes productivity and efficiency. Both ports, along with industry, labor and other stakeholders, have taken steps to ensure our ports are ready to handle their volume in 2018, and in years to come.
By all accounts, consumer confidence in the U.S. is high and is reflected in our container volumes. Last year, the Port of Long Beach handled more 7 million TEUs, and the Port of Los Angeles will report its highest volumes ever recorded, with approximately 9.3 million TEUs. Many analysts are predicting continued and steady growth for the long-term in container volume with around 4.5% growth predicted for 2018.
As the ports and their related businesses continue to grow, they are investing in more technology, equipment and efficient operations to also be "green," as growing and greening our ports is critical to a strong economy and our ability to maintain our competitive advantage as the gateway to the Pacific Rim.
While there are potential threats to our market share that need to be monitored, such as shipping overcapacity, competition from Gulf and East Coast ports, trade wars and the uncertainty associated with NAFTA, there is a lot of good news for 2018. Oxford Economics reminds us "there is strong trade growth, low inflation, robust emerging markets and resilience to political uncertainty."
All good news for 2018 indeed.