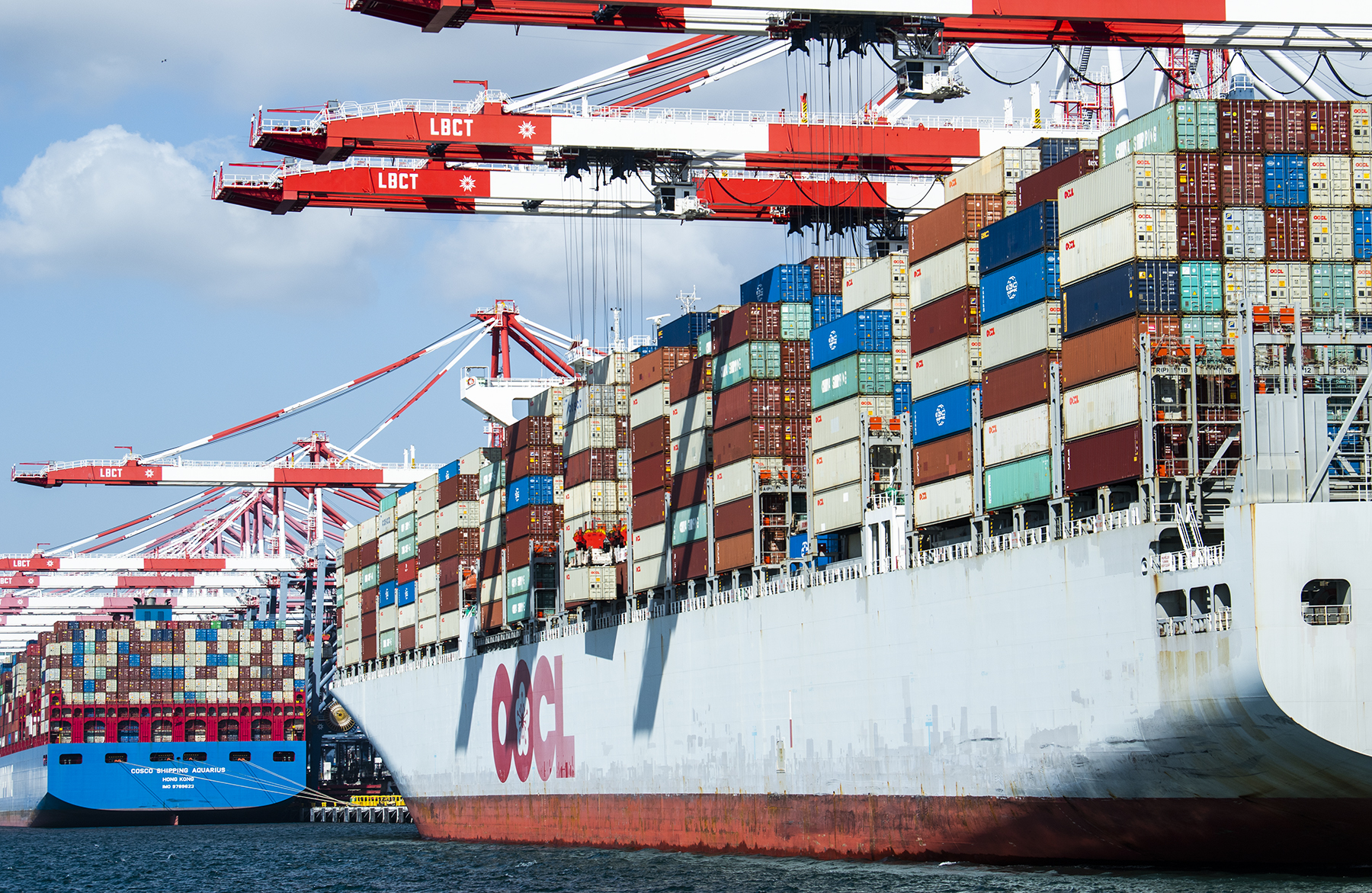 During a press conference from the East Room of the White House Wednesday, President Joe Biden announced the ports of Long Beach and Los Angeles have transitioned to 24/7 operations as a means to alleviate the severe bottleneck at the Southern California ports.
While the ports are indeed working to speed up the flow of goods, the reality is that it will take time for the busiest port complex in the country to significantly ramp up cargo movement, port officials said after the speech, adding that no terminal operates 24/7.
"It's a bit of a process, it's not an overnight thing," Port of Long Beach spokesman Lee Peterson said in a phone call following the president's remarks.
During his comments, Biden repeated a claim made earlier in the day by Press Secretary Jen Psaki that the Port of Long Beach began 24/7 operations "weeks ago." However, no terminal at the Long Beach port currently offers 24/7 operations.
On Sept. 21, four days after the San Pedro Bay ports announced a joint move toward 24/7 operations, Long Beach unveiled a pilot program in which Total Terminal International container terminal on Pier T would expand hours of operations. Monday through Thursday, the terminal operates around the clock. Hours on other days of operation remain limited.
No other terminal at Long Beach has announced any 24-hour operations, Peterson confirmed.
"After weeks of negotiations and working with my team and with the major union retailers and freight movers, the Port of Los Angeles announced today that it's going to begin operating 24 hours a day, seven days a week," Biden said during his speech.
The operational details of transitioning to a 24/7 model are still being discussed and worked out, Port of LA Executive Director Gene Seroka said in an email after Biden's remarks. The port did announce expanded hours on Sept. 17, but systemic change of this magnitude takes the many branches of the supply chain to work in tandem, a point that Biden acknowledged in his speech.
"The significance of today's announcement is the commitment from industry leaders responsible for moving goods on behalf of American consumers and businesses to open up the capacity needed to deliver," Seroka said. "It's a call to action for others to follow."
Port of Long Beach Executive Director Mario Cordero, meanwhile, acknowledged the importance of moving toward 24/7 operations.
"Before this unprecedented cargo surge began, we believed 24/7 operations were the future," Cordero said in a statement. "After all, consumers can shop online at any time, whether it's at 4 p.m. or 4 a.m., and 24/7 is already the standard at our partner ports in Asia. The supply chain truly never stops now."
Biden announced that Walmart, the nation's largest retailer, has committed to going "all in" on moving its products 24/7. In the coming weeks, Walmart is expected to increase off peak hour goods movement by 50%, Biden said.
Target, Home Depot and Samsung have made similar commitments, Biden added.
FedEx and UPS, which combined move 40% of packages, are also on board with the move to round-the-clock goods movement at all levels—corporate, small business and individual—Biden said.
"Their commitment to go all in on 24/7 operations means businesses of all sizes will get their goods on sale faster and more reliably," Biden said. It's "a sign of major progress."
When the Port of LA does successfully transition to 24/7 operations, the facility will be open an additional 60 hours per week, Biden said. With nearly double the number of operational hours, Biden said cargo will leave the port 25% faster.
Biden used his speech as an opportunity to promote his landmark infrastructure bill, which has been tied up in Congress for months. The bill includes $17 billion for port infrastructure, representing the "biggest investment in our ports in our history," according to Biden.
In an Oct. 8 interview, Seroka said West Coast ports have experienced more than a decade of underinvestment by the federal government, adding that infrastructure improvements are needed to address the influx of cargo. For months, a backlog of ships has sat idle off the California coast waiting for their turn to dock.
On Tuesday, 58 container ships were at anchor or adrift off the coast, according to the Marine Exchange of Southern California.
Ship report 10/12: 144 total ships inport LA/LB includes 80 at anchor or drift areas & 64 at berths. Of the 144, 86 are container ships including 58 at anchor or in drift areas & 28 at berth. 30 vessels in drift areas; 23 container ships, 4 tankers, 2 bulk, 1 heavy lift ship. pic.twitter.com/egQrvXx07h

— Marine Exchange (@MXSOCAL) October 12, 2021
"This is a big first step in speeding up the movement of materials and goods through our supply chain," Biden said of today's announcement. "But now we need the rest of the private sector chain to step up as well.
"We've seen the cost of inaction."