The comment period on the San Pedro Bay Ports Clean Air Action Plan (CAAP) draft update has closed, and the vote on the final version – slated for a joint meeting of the ports' harbor commissions on November 2 – is looming ever closer. Heather Tomley, director of environmental planning for the Port of Long Beach, estimated that a final document will be available for the commissioners and the public to review just 10 days before the vote, a timeline she acknowledged is "compressed."
According to Tomley, this timeline was dictated by Los Angeles Mayor Eric Garcetti and Long Beach Mayor Robert Garcia, who in June signed a commitment stating that both ports would achieve zero-emissions operations for cargo handling equipment by 2030 and for trucks by 2035.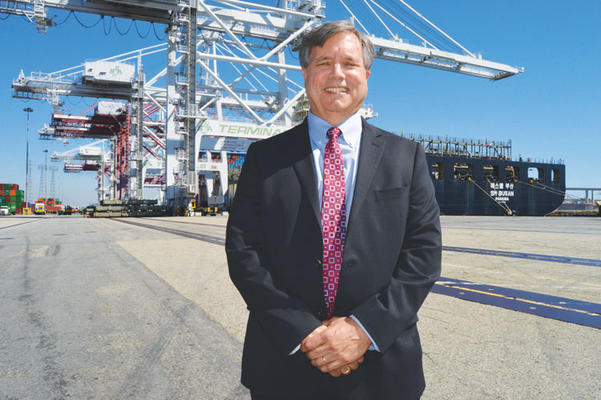 John McLaurin, president of the Pacific Merchant Shipping Association, is concerned about potential impacts to the San Pedro Bay ports' market share if the Clean Air Action Plan passes as-is. (Photograph by the Business Journal's Larry Duncan)
Main points of concern among the 900 pages of public comments received on the draft CAAP included the timeline for transitioning to near-zero and zero emissions technologies, the cost-effectiveness of proposed guidelines and whether the ports would be able to retain their market share, according to Tomley.
"A lot of the things that we have been hearing from the community stakeholders, the environmental groups, the technology vendors and the business port operators about costs, timeline and all of these different things can be summed up in the debate between transitioning to near zero [emissions] or transforming to zero [emissions]," she said.
Some respondents want to see implementation dates for the use of near-zero emission technologies required sooner than is outlined in the draft CAAP. The document would require new trucks entering the ports' truck registry to comply with the state's near-zero emission standard beginning in 2023. Trucks already on the registry that do not meet the standard would be charged a fee to enter the port. The California Air Resources Board is currently in the process of creating this standard. In 2035, trucks would have to meet a zero-emission standard to avoid the fee.
Cargo-handling equipment would have to operate at zero emissions by 2030. The document states that technology feasibility assessments, which would be conducted every three years beginning in 2018, would guide the implementation of new technologies in the interim.
"Some folks think that they need to happen sooner because we have critical community health needs – that we have to get these reductions as soon as possible," Tomley said of these timelines. "And then on the other side, we're hearing from folks that these technologies don't exist yet and, in many cases, there are not even prototypes available."
The CAAP's reliance upon the development of near-zero and zero emission technologies that do not yet exist is one of the primary concerns of the Pacific Merchant Shipping Association (PMSA), which represents terminal operators and shipping lines doing business at West Coast ports. "It assumes a variety of things. Its cost estimates are based on technology that doesn't exist," John McLaurin, PMSA president, told the Business Journal in an interview with PMSA vice presidents Michele Grubbs and Thomas Jelenic.
The ports' cost estimate for the cost to implement the CAAP's goals is between $7 billion and $14 billion. These estimates rely upon an assumption of one-for-one replacement – that one piece of near-zero or zero emission equipment would be sufficient to replace existing technology, according to Tomley.
"That's all part of what we think it's going to take to be feasible. For these technologies to be incorporated into actual operations, the technologies need to be able to do the same work that the existing technologies can," Tomley said of why the one-for-one assumption was made in the draft document.
"We have had a lot of outreach to manufacturers and technology developers. We have done research about these types of technologies and what the anticipated price points are," Tomley said of how the ports arrived at their cost conclusions.
Jelenic, who was previously employed at the Port of Long Beach and was a principal author on the original 2006 CAAP, took issue with the draft document's reliance upon technology that is not yet commercially available. Asked if the original version relied upon such an assumption, he said, "The simple answer is no, because everything in the CAAP relied on existing technology backed by existing regulation." He added, "When you look at the original CAAP, the original clean trucks program and the clean cargo handling equipment, all that was based on regulations that have already been passed."
Jelenic noted that the California Air Resources Board is currently crafting regulations for zero-emission equipment at marine terminals and emissions rules for ships at berth. The board is also developing a near-zero emission engine standard.
"The problem for us as an industry and for the rest of the ports in California is that once the port commissions adopt this on November 2, assuming that they do that, CARB will then in turn probably look at it and say, 'Well, the two largest ports in the nation have done this, so let's make it a statewide rule,'" Jelenic said. Smaller ports in California would not be able to afford the cost of CAAP-like regulations, he argued. "We are talking about billions here to implement these measures. . . . Some of these ports make a couple million a year. How do they pay for it?"
McLaurin noted that many of the PMSA's members are expanding their services to the Gulf and East Coasts and that global manufacturing trends may eventually put the San Pedro Bay ports at a disadvantage. "We are slowly seeing manufacturing from China move to Vietnam, move to India. And eventually, people think it will move to Africa," he said. "And so, the West Coast ports then become more at a disadvantage given the proximity of those manufacturing sites vis-a-vis the Suez Canal."
These pressures, combined with the CAAP, have PMSA members considering making major changes. "This is the first time in my career where I have heard people in the industry actually talk about being worried about whether they can continue to do business at the ports from a terminal standpoint and that one option that they may explore is giving up their leases," McLaurin said.
The California Air Resources Board has already made some indications as to how its regulations will pan out, and these are reflected in the draft CAAP. For example, the CAAP states that in March 2017, the board directed its staff to develop a regulation requiring cargo handling equipment to "achieve up to 100% compliance with zero-emission vehicles by 2030" in the San Pedro Bay ports and "other ports near environmental justice communities." The board's near-zero nitrogen oxide (NOx) emission standard is expected to fall somewhere between 0.02 and 0.05 grams per brake horsepower hour (g/bhp-hr).
The California Natural Gas Vehicle Coalition is advocating for the 0.02 g/bhp-hr NOx standard because it contends that the technology to operate natural gas powered heavy-duty trucks at this standard already exists today. Greg Roche, vice president at Clean Energy Fuels and a member of the coalition, speculated that the more relaxed standard would only be put in place to allow diesel-powered trucks to continue operating.
"When you think about it that way, the CAAP would be designed around what diesel engines can do rather than what ultimately should be the gold standard of clean emissions," Roche said.
The only near-zero engines currently available are powered by natural gas, according to the CAAP. However, near-zero emission diesel powered engines are expected to become available by 2020, the document states.
Roche and the coalition believe near-zero emission trucks should be required sooner than the CAAP's 2023 implementation date, which was structured to align with CARB's rulemaking timeline. He would like to see a fee implemented on non-near-zero emission compliant trucks by 2018. "You can actually total up to about $1 billion of transportation incentive funding throughout the state that is available over this next year to help replace vehicles," he said.
The Diesel Technology Forum, a nonprofit group dedicated to educating the public about diesel technology, is advocating that the draft CAAP require 2010 or newer model year engines beginning in 2018, rather than its suggested 2014 model year requirement.
"For the truck sector, anything that is newer than 2010 is the newest generation of diesel technology," Allen Schaeffer, the group's executive director, told the Business Journal. In 2007, standards were put in place that manufacturers must reduce the amount of NOx and particulate matter (PM) emissions in diesel truck engines. Schaeffer argued that 2014 model year trucks do not meet a cleaner standard but have a better fuel economy, which translates to fewer greenhouse gas emissions. "But that's a separate standard. That doesn't deal with NOx and PM," he said.
Schaeffer noted that emissions reductions achieved by the ports since the first iteration of the CAAP was passed in 2006 are largely due to cleaner diesel trucks visiting the ports.
"The success that they have achieved to date has largely not been because of electric trucks – and not even because of alternative fuel and natural gas trucks – but because of the turnover from old technology diesel to new technology diesel," Schaeffer said. He also noted that new diesel trucks are the cheapest, while also offering emissions reductions.
The CAAP explains that a portion of trucks manufactured in 2010 to 2014 do not actually meet emissions requirements set by the U.S. Environmental Protection Agency due to cap-and-trade credits manufacturers received to make those engines. Additionally, 2014 model year trucks "are equipped with on-board diagnostics that will assist with engine testing and maintenance compliance going forward," the document states.
Technology Development
Although there are no zero-emission heavy-duty trucks available that can perform the same duties as existing truck technologies for a similar cost, there are zero-emission trucks currently available – and the technology is advancing.
"The technology is advancing really quickly. Battery technology is coming along really rapidly," Tomley said, specifically referencing electric-powered cargo handling equipment. "We're already seeing through some of these prototype demonstrations really significant progress for these types of technologies to be able to do the work." She added, "We need to evaluate how these new technologies can be integrated into operations and what their limitations are, what their strengths are, and assess all of that as we are making the determination about the transition into bringing them in and [if] they are feasible to do the work."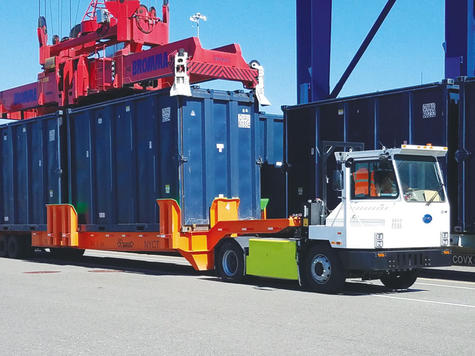 There are currently a number of battery-powered, zero-emission yard trucks manufactured by BYD in operation on local terminals. (Photograph provided by BYD)
The Diesel Technology Forum represents manufacturers that also produce engines powered by other fuel sources. One such manufacturer, Mack Trucks, has created a truck that blends zero-emission technology with diesel, according to Schaeffer. The truck combines battery with a downsized diesel engine. Geofencing technology automatically switches between the power sources depending on where the truck is located. "So when it is . . . on the grounds of the port property moving containers, it is able to operate for a limited distance and time on full electric," Schaeffer explained. When it leaves the port area, its engine power could switch to diesel.
BYD is one of the leading manufacturers of battery-powered vehicles. The firm has built a fleet of electric buses for Long Beach Transit at its plant in Lancaster and is now expanding that plant in part to accommodate manufacturing zero-emission heavy-duty trucks, according to Andy Swanton, vice president of sales for BYD's trucking division.
Swanton said he believes the timelines laid out in the CAAP are feasible. "I think they could be even more pressing, but I think that as currently laid out it is a sensible plan that on the long-term horizon sends a strong signal to the manufacturers to develop the technology," he said. "And from a manufacturer level, we believe we could achieve those even earlier. That's not to say it's going to be easy."
BYD currently offers an all-electric powered heavy-duty truck capable of handling a payload similar to existing diesel and natural gas trucks, according to Swanton. However, its range is only about 100 miles. "That's the state of the technology for us today. There are other providers who either have more battery on board and can travel farther distances or who use a different fuel source to achieve zero emission with fuel cells that are closer to about 200 miles of range today," he noted.
"We are fully cognizant of the fact that that does not address all of the needs for drayage at the ports," Swanton said of existing electric truck technology. However, he estimated that in three to five years, BYD will have developed a cost-effective truck with a 200-mile range on one charge, with the ability to charge quickly or swap out batteries to travel as many as 400 miles. "That would satisfy the vast majority of the drayage routes," he said.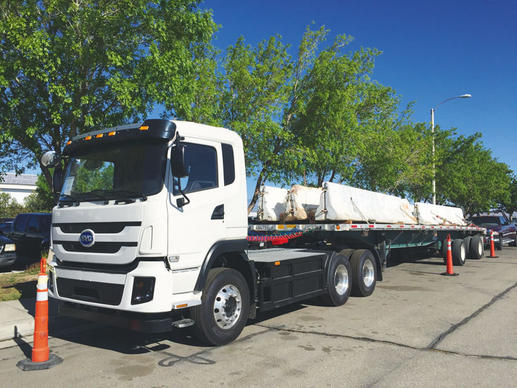 BYD offers an electric, zero-emission heavy duty truck capable of handling payloads similar to those of traditionally-fueled trucks calling the port. BYD's truck only has a range of about 100 miles, but the company is working on another model that would double this range. (Photograph provided by BYD)
As it stands today, existing electric technology both for trucks and cargo handling equipment is expensive, according to Swanton. "There is a long list of reasons for that. One is that the batteries constitute about two-thirds of the cost of the vehicle. But batteries are coming down in price very rapidly," he said. "And then the other reason that they are really expensive is that we are not making large volumes of vehicles right now. You know, most of our orders are for one to five vehicles." Manufacturing in larger, commercial-scale volumes would bring the cost down, he explained.
BYD also currently produces a zero-emission yard truck – a piece of equipment that transports containers around on terminals. These battery-powered trucks are able to charge between terminal shifts to accommodate the operational needs of terminals, according to Swanton.
"And then the other kind of lynchpin technology that's really critical are the top handlers. The top handlers are what grab the containers from the yard trucks and from the drayage trucks and basically stack them," Swanton said. BYD has partnered with Taylor Machine Works, a well-known provider of cargo handling equipment, to create an electric top handler. "We will provide the actual batteries, the electric motors and all the high-voltage components, and then Taylor is going to integrate them into their standard shell top handler," he explained. "We will be demonstrating a couple of those in Los Angeles in 2018. If we can solve that vehicle, then we basically have the critical vehicles between the drayage trucks, the yard trucks and the top handlers to meet the Clean Air Action Plan goals," Swanton said.
"You know, down the line, there will come a day when battery electric vehicles are less expensive to purchase and significantly less expensive to operate than diesel and natural gas," Swanton said. "And for that reason, it is important that we are advancing the market and helping work towards that future state."
Swanton acknowledged that the current cost of zero-emission technology is significantly more than technologies currently in use on a widespread level and that it might be difficult to sway all parties toward the CAAP's goals due to corresponding concerns about the ports' competitiveness. "Because you don't want to see a drop in any of the freight that is coming through L.A./Long Beach," he said. "I think this is a nice balance for both sides to be working towards this. And we think it certainly can be done."
Next Steps
During a September 25 meeting of the Long Beach Board of Harbor Commissioners, Board Secretary Lori Ann Guzman said she was not comfortable moving forward with the CAAP without "meaningful dialogue" about maintaining the ports' market share. "I don't want zero emissions at all costs if I can get zero emissions for cheaper. . . . Costs matter and the industry is struggling," she said. She indicated that she would like some dialogue and analysis regarding the ports' competitiveness as it related to the draft CAAP to take place on a parallel track as the document is being finalized. She also asked staff to provide her with information about the ports' success in obtaining grants and incentives for the previous iteration of the CAAP.
Public comment at the harbor commission meeting reflected two sides – those seeking more aggressive timelines for implementing near-zero and zero emission technologies and those concerned about the impact to business.
Christopher Cannon, director of environmental management for the Port of Los Angeles, said that the two ports' staffs talk at least three times a week as they work on the document. "The key thing I think that I wanted to mention . . . is that the CAAP is a high-level document that establishes goals and direction for what we want to do with the Clean Air Action Plan. But the details will be worked out as part of CAAP implementation in the coming year," he told the Business Journal.
Following the anticipated passage of the CAAP on November 2, the ports intend to form an advisory committee of industry, environmental and community stakeholders as they create details of programs, such as a trucking program, around the CAAP's goals. "We will actually be getting into the details about how those programs would be implemented, what particular steps needs to be taken, what kind of actions need to be brought before our board," Cannon said.
"We're very excited about taking the next steps in furthering our success with the Clean Air Action Plan," Cannon said. "We have had a lot of success over the last 11 years, but we can't rest on our laurels. We have to keep pushing to reduce emissions further, to reduce impacts on the community, especially the environmental justice communities that are located in areas around the ports. And we take all of this work very seriously."
Tomley said port staff is reviewing comments on the CAAP to determine where changes are "appropriate and necessary."
"We recognize that what we're laying out here, these strategies, will be challenging," Tomley said. "But we also recognize that there is a need to continue to move forward with this effort. I know from discussions that we had . . . everybody takes what we're doing very seriously, and the comments that we have received have been really valuable for us to understand where everyone's concerns are. And what we are trying to do is balance all of that right now as we come up with the final document."