Noelia Rodríguez's recent arrival at the Port of Long Beach comes at a time when there are some big "firsts" for women in the harbor department: the port is being led by a female-majority board of harbor commissioners, and, for the first time in its history, the board has all female officers. Then there is Rodríguez herself, who as the first managing director of communications is also the only woman who has an office behind the glass doors of the harbor department's 8th floor executive suite.
Rodríguez has been a "first" on more than one occasion. But to her, breaking the glass ceiling – or in this case, the glass doors – is not nearly as important as ensuring those doors stay open behind her.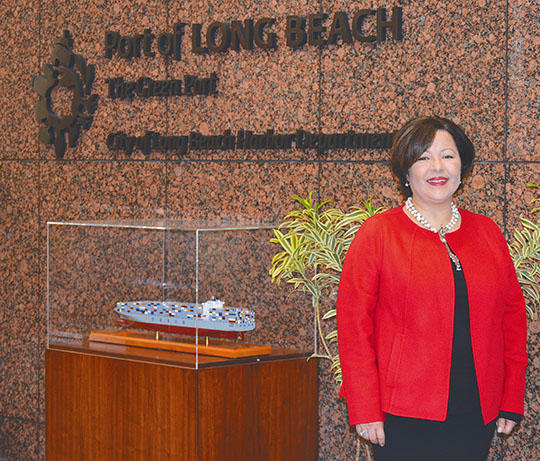 Noelia Rodríguez assumed the newly created position of managing director of communications for the Port of Long Beach about six months ago. In her career, she has served in such capacities as press secretary to First Lady Laura Bush and, most recently, chief communications officer for Metro Los Angeles. (Photograph by the Business Journal's Larry Duncan)
"I have been in my career, a number of times, the first fill-in-the-blank. And of course, I have been very proud of that," Rodríguez told the Business Journal in an interview at her office. "But to me, my personal measure of success for myself is not that I was the first, but what I did to make sure that there was a second and a third and a fourth."
After six months at the port, Rodríguez hasn't quite finished unpacking her photos and other memorabilia, but the pictures that do adorn her office give a glimpse into her varied career in communications. As the first and longest-serving press secretary for First Lady Laura Bush, it's no wonder there are a number of framed photos labeled with the words "compliments of the President" in Rodríguez's office. Casually propped on a chair against a wall is quite possibly the most striking of these photos, in which, in the center of the oval office, President George W. Bush embraces her.
Prior to her service at the White House, Rodríguez began her career at Southern California Edison as a corporate spokesperson. From there, then-Los Angeles Mayor Richard Riordan took her on as his press secretary, and later bumped her up to the position of deputy mayor overseeing communications and scheduling. In 2000, Riordan appointed her to the position of president and CEO of the L.A. Convention 2000, which hosted the Democratic National Convention.
Riordan impressed upon Rodríguez the understanding that she is no less important than anyone else, no matter what that person's position, she recalled, adding that the former mayor's guidance helped build her confidence. "He always said to me, 'Don't call him Mr. So-and-so. He's John,'" she said. "As a woman, I think we need to remember that. Don't give away your power," she continued. "Even by a simple gesture like saying to somebody, 'Yes sir.' You know, in our society there is a connotation when you say something like that, that you're basically telling someone they're more important than you are."
In 2001, Rodríguez moved on to the White House to work for the First Lady. "The White House is an experience in and of itself. It's something that is a very small club, of course," she said. Some of the most memorable moments of her career and life took place there, such as being introduced to Pope John Paul II at his summer residence in Italy by President Bush (another framed photo she has in a box somewhere, she added), or being part of a White House luncheon for famed baseball players like Sandy Koufax and Hank Aaron.
"Of course the No. 1 experience was 9/11. That changed the course of history," Rodríguez said. "It changed all of our lives individually, and it really was a time when we lost our innocence as a nation. And I was there front row and center for that experience. It just really changes you," she reflected.
"Every day since, I have always felt so fortunate to be an American," Rodríguez continued. "The unity that we saw in the days and months after that was amazing. I wish that we could get back to that feeling as a nation." The unity and bipartisanship that prevailed in America following 9/11 reflects her own values and worth ethic. "I really miss the days of bipartisanship. I lived it; I have been a lifelong Democrat working for Republicans, even at the White House," she said. "I am very proud of that, because I am able to see both sides. And not everybody has either that ability or desire."
Following her time at the White House, Rodríguez's positions have included chief of staff for the Broad Foundation, vice president of corporate communications for Univision, director of communications for the City of Irvine and director of Harvard University's John F. Kennedy Jr. Forum for political speech and debate. Immediately prior to joining the port, she was the chief communications officer for Metro Los Angeles.
A dedication to public service, a love for international matters and the persistence of Port of Long Beach Chief Executive Jon Slangerup are what brought Rodríguez to her current position. "I have to give kudos to Jon Slangerup, because he was very gracious and persistent in asking me to join the team. It wasn't something I sought," she said.
As managing director of communications, Rodríguez oversees the port's government relations and communications bureaus. "The priority is to really integrate the two so that they are working hand in glove," she said. "It's one thing to have the government relations team out advancing our legislative agenda on behalf of the port and working with the mayor's office on behalf of the city, but if we're not coordinating with the communications team, including community relations, so we can maximize our impact not only here in Long Beach but [also] across the country, then I don't think we're doing the job the best way possible."
Rodríguez's first day on the job at the Port of Long Beach was the same day Harbor Commissioners Lori Ann Farrell, Lou Anne Bynum and Tracy Egoscue became the president, vice president and secretary of the board. "I thought, wow, this is going to be a 'chicks rule' kind of a place," she recalled.
Chief Executive Slangerup has appointed and promoted women to high-level positions since he joined the port in 2014, Rodríguez noted. "I am not saying it's enough. More needs to be done and more will be done. But the important message is that there is forward motion, and that's a good thing." The harbor department's efforts to encourage and promote women aren't limited to its own ranks, she noted. The port sponsors a yearly event called the Women In Trade luncheon, in which high school girls are able to talk to women working in the field of international trade and learn about career opportunities.
While Rodríguez acknowledged that women, including herself, have faced and continue to face challenges in the business world, she said she has chosen to look beyond that as she has moved through her career. "It's a great time for women in business, and I think the limits are your own imagination. I know that's my limitation," she reflected.
"My advice is, don't limit yourself," Rodríguez said. "Look at where the opportunities are, because they might come in shapes and sizes and colors that you never would have expected for yourself."