Downtown Economic Profile Reveals Business Optimism, Housing Concerns
The Downtown Long Beach Alliance released its 2018 Downtown Economic Profile today, an annual report analyzing the business climate of the area. Some highlights from this year's report: 81% of downtown businesses are confident that the Long Beach economy will expand next year, 43% intend to hire more employees, and nearly half said that their employees who wish to live in the area are unable to find affordable housing. Click here for the full report.
CalChamber Releases 2018 Job Creator List
The California Chamber of Commerce today released its 2018 Job Creator List of proposed state legislation. The list includes 11 bills that the chamber indicates would keep taxes on new investment and operations low, revive economic development tools, reduce regulatory and litigation costs, create investments in public and private works, and ensure the availability of skilled employees. The bills are related to employer and employee sexual harassment protections, promoting career education and training, flexible work hours, and extending film tax credits.
Committee Kills Controversial Housing Bill
The California Senate Transportation and Housing Committee voted 9-4 against Senate Bill 827, which would have required local governments to build five-story residential buildings near major transit hubs, even if not zoned for such heights, when proposed by developers. The bill was introduced by Senator Scott Wiener on January 3. Wiener and other supporters of the bill claimed it would aid in the state's housing and homeless crisis, as well as have environmental benefits. Opponents of the bill claimed it would take power away from local governments, destroy neighborhoods through gentrification and displace low-income residents.
Clean Air Technology Proposals Wanted At San Pedro Bay Ports
The San Pedro Bay ports are offering seed money for the development of goods-movement technology to improve air quality as part of the Clean Air Action Plan, which was updated late last year. Released today, the 2018 Call for Projects seeks proposals that would reduce emissions from vessels, trucks, trains, terminal equipment and harbor craft. Funding will come from the ports' Technology Advancement Program, which has already distributed $21 million for green technology development. Applications are due May 22.
League of Women Voters To Host Event On Participatory Democracy
The League of Women Voters of Long Beach Area is holding a discussion, "Participatory Democracy: How To Make Ourselves Heard," on April 21 from 10 a.m. to noon at the Los Altos Library, 5614 E. Britton Dr. The chiefs of staff for local representatives will be present to discuss how to reach out to legislators.
Port of Los Angeles Announces New
Deputy Stakeholder Engagement Executive Director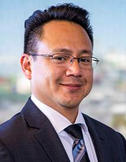 The Port of Los Angeles promoted David Libatique to deputy executive director of stakeholder engagement. In his new position, Libatique will oversee outreach to the government, media and the community as well as trade and workforce development. Libatique previously served as senior director of government affairs for the port, where he also worked with stakeholders to help the port meet its objectives in infrastructure, environmental and supply chain policy.