Trump Imposes Tariffs On China
President Trump signed an action today imposing tariffs on Chinese imports in an effort to address the country's practice of stealing U.S. intellectual property. The decision comes on the heels of a federal study that found that "China uses foreign ownership restrictions, including joint venture requirements, equity limitations, and other investment restrictions, to require or pressure technology transfer from U.S. companies to Chinese entities," as stated in a White House memorandum.
International Port Leaders Convene To Discuss Cleaner Air
The Port of Los Angeles hosted representatives from ports around the Pacific Rim, Asia, the Americas and Europe this week at its Pacific Ports Clean Air Collaborative conference to discuss best practices for reducing emissions. Representatives from shipping and cruise lines, terminal operators, regulatory agencies, trucking and logistics companies and universities also attended the conference, which was co-hosted by the Commission for Environmental Cooperation and the US-China Green Ports and Vessels Initiatives. The collaborative conference was formed by the ports of Los Angeles and Shanghai, the U.S. Environmental Protection Agency and the U.S. Maritime Administration in 2006 to share information about air and environmental issues.
Long Beach College Promise Report Reveals Gains In Student Achievement
The 10-year anniversary report for the Long Beach College Promise was released today and illustrated that "students now have far greater access to college and are better prepared for higher education than they were 10 years ago," according to a statement from California State University, Long Beach (CSULB). Among the findings: enrollment of Long Beach Unified School District graduates at CSULB has increased by 71% since the promise program was implemented; enrollment by Long Beach City College students at four-year universities has increased; record numbers of local high school students are taking Advanced Placement courses and exams; and more.
New CEO Of Regional Medical Group Announced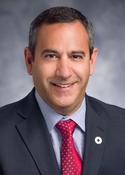 Dr. Mark Schafer has been named the new chief executive officer of Greater Newport Physicians (GNP), which includes nearly 1,000 physicians in Long Beach and Orange County. Schafer will continue serving as CEO of the MemorialCare Medical Foundation. The foundation includes two divisions, the Independent Practice Association and MemorialCare Medical Group's employed physician division. Together they include more than 2,000 physicians serving 700,000 patients in Long Beach, Orange County, the South Bay and Southern Los Angeles County. Schafer is taking over the position from GNP founder Diane Laird, who announced her retirement after 33 years as CEO.
Summit To Cover Health Issues Of Veterans From Underserved Groups
The Native Americans Veterans Association is hosting a summit on veterans' mental health and wellness on March 29, 8:30 a.m. to 4 p.m., at the Tibor Ruben VA Medical Center, 5901 E. 7th St., in the Pantages Theater, Bldg. 2. The discussion is intended for service providers of underserved populations, Native Americans in particular. Panelists from Veterans Affairs, UCLA and the California Employment Development Department will attend. The program is free for veterans and their families. Click here for registration.
New Greenbelt To Open In 3rd District
The City of Long Beach is hosting the grand opening of the Red Car Greenbelt Park at the northwest corner of 4th Street and Park Avenue this Saturday, March 24, at noon. The new park includes a pedestrian path that extends to Ximeno Avenue just south of 7th Street.