Planning Commission Approves Land Use Element
During a special meeting last night, the Long Beach Planning Commission voted unanimously to advance the Land Use and Urban Design Elements to the city council, which city officials said would likely occur early next year. The final planning commission motion included the incorporation of five amendments made by the commission and five suggested by 6th District Councilmember Dee Andrews. The commission recommended no changes for Districts 1, 3, 7, 8 and 9. Most of the six-hour meeting consisted of public comment, with nearly all speakers voicing opposition to the proposal. For more information, see the January 16 issue of the Business Journal.
San Pedro Bay Ports Report Cargo Growth
In November, the Port of Los Angeles broke its record for the amount of cargo passing through its facilities in a single month, the port announced today. The port moved 924,225 twenty-foot equivalent units (TEUs) of containerized cargo last month, the most ever in its 110 year history. The last record was set in November 2016, with 877,564 moved. Through November, cargo volumes through the port have increased by 6.3% compared to last year.
The Port of Long Beach (POLB) has already beaten out its overall cargo volumes in 2016 as of the end of this November, the port announced today. The total amount of cargo moved through POLB this year – 6,847,598 TEUs – is a 10% increase over 2016 totals. In November, 612,659 TEUs moved through the port, a 14.7% increase from the same month in 2016.
Los Angeles City Council Seeks Options
To Combat Trucking Industry Labor Violations
The Los Angeles City Council has directed the city attorney to recommend state legislation or city regulations to "improve the conditions of truckers and warehouse workers at the port." The council's directions also included investigating options for the city to "mandate fair wages and working conditions for employees working for companies operating on property owned by the city" and to determine whether city land use laws allow for the denial of access to Port of Los Angeles property by "companies which repeatedly violate state and employment laws."
Small Business Optimism Hits Near All-Time High
Not since the roaring Reagan economy has small business optimism been as high nationally as it was in November, according to the National Federation of Independent Business (NFIB) Index of Small Business Optimism, released today. "On the national level, we haven't seen this kind of optimism in 34 years, and we've seen it only once in the 44 years that NFIB has been conducting this research," said NFIB California Communications Director Shawn Lewis. "Small business owners across the country are exuberant about the economy, and they are ready to lead the U.S. economy in a period of robust growth." Lewis added, "This news is almost bittersweet for California. As reform at the federal level benefits small businesses across the country, our job creators have even less incentive to remain or grow in California with our incredibly high state taxes and labor regulations."
California Democrats Temporarily Lose Assembly Supermajority
The Associated Press reported today that California Democrats will be without a supermajority in the Assembly for months and risk losing the two-thirds edge needed to pass tax and fee increases in the Senate. When lawmakers return in January, they will have two vacant Assembly seats that won't be filled until at least April after Los Angeles members resigned amid sexual misconduct allegations. In the Senate, a member in a competitive district is facing a recall over his support for a gas tax increase and another could face pressure to resign depending on the results of a misconduct allegation.
Former Port Executive Director Knatz Joins Dewberry Board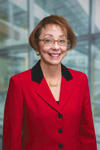 Geraldine Knatz, former executive director of the Port of Los Angeles and a former managing director with the Port of Long Beach, has been elected to the Dewberry Board of Directors. Headquartered in Fairfax, Virginia, with offices in more than 50 locations including Long Beach, Dewberry provides professional services to a variety of public and private sector clients. The firm was established in 1956.