Google Awards Grant To CSULB And Three UC Campuses
To Encourage Women To Pursue Careers In Computer Science
California State University, Long Beach (CSULB) is partnering with Google and three University of California (UC) campuses to offer a workshop aimed at encouraging women to pursue careers in computer science. Faculty from CSULB, UCLA, UC Irvine and UC San Diego were awarded a $35,000 grant from Google to implement a research-focused program to help young women interested in computer science learn about the field and its career opportunities. The program is meant to address a gender imbalance in the computer science sector, according to a CSULB press release.
Port Of Los Angeles Sets Record For Air Emissions Reduction
The Port of Los Angeles set a new record in 2017 for cutting nitrogen oxide emissions, the port announced today. The port's 2017 Inventory of Air Emissions revealed that nitrogen oxide emissions were down 60% compared to 2005 levels, the lowest level so far. The accomplishment was achieved even as containerized cargo trade reached an all-time high. With diesel particulate matter down 86% below 2005 levels and sulfur oxide emissions down 98%, the port achieved its 2023 goals outlined in the Clean Air Action Plan years in advance. "Our port is driving the global economy forward – and showing the world how we can produce record-breaking growth and protect the environment at the same time," Los Angeles Mayor Eric Garcetti stated.
LBCC District Board Of Trustees Approves New Contract For President Romali
The Long Beach Community College District Board of Trustees approved a new four-year contract for Superintendent-President Reagan Romali. During her tenure, Romali has reduced the school's budget deficit from $10.7 million to $300,000, increased summer enrollment and boosted the number of students graduating with honors, according to Board President Sunny Zia. Romali's agreement provides for an annual salary of $275,625, health benefits, a $500,000 life insurance policy and reimbursement of up to $7,500 for job-related expenses.
Assistant City Manager To Discuss Proposed
Budget At 3rd District Community Meeting Tonight
Assistant City Manager Tom Modica is discussing the proposed budget for Fiscal Year 2019 at a 3rd District community meeting taking place tonight, 6:30 p.m., 3rd District Councilmember Suzie Price's field office, 340 Nieto Ave. Financial Management Director John Gross is also speaking, and representatives from different city departments plan to discuss upcoming changes in the district.
Harbor Commission Expected To Appoint
Co-Deputy Executive Directors For Port Of Long Beach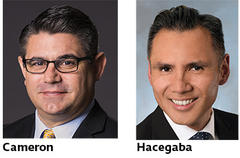 The Long Beach Board of Harbor Commissioners is expected to name two Port of Long Beach employees, Richard D. Cameron and Dr. Noel Hacegaba, as co-deputy executive directors. The board is considering on August 27 the appointments of Cameron to the position of deputy executive director of planning and development, and Hacegaba to deputy executive director of administration and operations. Cameron currently serves as managing director of planning and environmental affairs, and has held a variety of positions since joining the port staff in 1996. Hacegaba serves as managing director of operations and chief commercial officer, and first joined the port as a senior executive overseeing business development strategies in 2010.
Adam Carrillo Leaving DLBA For ETA Advertising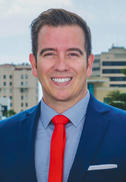 Adam Carrillo, economic development manager of the Downtown Long Beach Alliance, has accepted a position with Long Beach-based firm ETA Advertising, he announced in a letter e-mailed to friends and associates today. Carrillo's last day with the DLBA, the nonprofit association that runs downtown's business districts, is September 4. While with the DLBA, Carrillo helped launch more than a dozen business-centric programs, including the Entrepreneurship Education Series, the Woman-Owned Business Accelerator Program, 1 Million Cups Long Beach and others.