Trade Tensions Cause Cargo Spike At Port Of Long Beach
Cargo volumes moving through the Port of Long Beach increased 10.8% in April compared to the same month last year, the port announced today. Imported container traffic increased by 8.4%, while the number of exports jumped 22%. The number of empty containers being shipped overseas to be re-filled with goods increased 7%. Year to date, cargo volumes have increased by more than 17%, outpacing last year's record growth. Port of Long Beach Executive Director Mario Cordero attributed the increase in part to "anxious shippers" rushing to get their goods to overseas markets as a result of trade tensions.
Downtown Mixed-Use Development Construction Underway
Construction began today on The Place at The Streets, a "20-unit, mixed-use urban stylistic" development across from the former Walmart site on 5th Street and Promenade North, property owner Shooshani Developers LLC announced. "The Downtown area is now flourishing with new activity and growth. We are making every effort to create the right balance of work, eat, live and play at The Streets that will enhance the existing surroundings and appeal to today's audiences," Tony Shooshani, managing member of Shooshani Developers, said. The project is estimated to be completed in spring of next year.
Another "Job Killer" Bill Identified By CalChamber
The California Chamber of Commerce announced today that Senate Bill (SB) 993 has been identified as the 28th "job killer" bill before the state legislature this year. SB 993 would increase business costs by raising taxes on services necessary for day-to-day operations, including janitorial services, according to the chamber. The bill will go before the Senate Governance and Finance Committee Wednesday. Only 22 of the 28 job killer bills remain active for this session, as several missed previous deadlines.
City's Fleet Services Bureau Receives Recognition For Sustainable Transportation
The City of Long Beach Fleet Services Bureau received the 2018 Advanced Clean Transportation Expo Fleet Award in the category of "In It For The Long Haul." The honor recognizes organizations that have demonstrated a permanent commitment to sustainable transportation. The city was honored for its Green Fleet program, which is comprised of vehicles running on alternative fuels. These include hybrid-electric, compressed natural gas, renewable electric gas and battery electric.
Circle K Opens In East Long Beach
Fourth District Councilmember Daryl Supernaw joined Mark and Leanne Tornow last Friday to celebrate the grand opening of their new Circle K store at Palo Verde Avenue and Stearns. Councilmember Supernaw is pictured at center with the Tornows at the new store, which is on the site of a 76 gas station.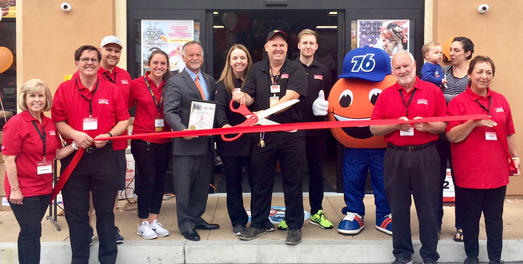 Theatrical Productions Announced
– Charlayne Woodard's "Flight," a play about slavery, opens May 19 at Long Beach Playhouse, located at 5021 E. Anaheim St., and will run Fridays, Saturdays and Sundays until June 16. Click here to purchase tickets.
– Musical Theatre West has announced its lineup of shows for next season. The productions include: "Bright Star," "Oliver!," "Catch Me If You Can," "Disney's The Little Mermaid" and "Elf: The Musical." Click here to purchase a season subscription or call 562/856-1999.
– The Long Beach Opera announced its 40th anniversary season for 2018-19. The season also celebrates the 20th anniversary of Artistic Director Andreas Mitisek's tenure with the opera company. It begins with a production of Steve Reich's "Three Tales" November 3-4. Click here for details.