City Council May Delay JetBlue Appeal Hearing
City staff is recommending that the Long Beach City Council postpone tonight's hearing related to an appeal by JetBlue Airways until June 19, according to Assistant City Attorney Michael Mais. In July of last year, JetBlue requested that 16 curfew violations resulting in $96,000 in fines be exempted from provisions of the noise ordinance governing Long Beach Airport operations due to circumstances beyond the company's control. The request was denied by Long Beach Airport Director Jess Romo in October. JetBlue filed an appeal to the city manager but was denied in December. The company filed its appeal to the city council January 5.
Bill Protecting Ability To Disclose Employees' Harassment Behavior Passes Assembly
Assembly Bill 2770, which would ensure that employers are able to respond to reference check inquiries related to harassment behavior on the part of former employees, passed the state assembly yesterday. The California Chamber of Commerce backs the bill, which would allow employers to disclose former employees' harassment conduct without the fear of being subjected to a defamation lawsuit. The legislation also protects employees reporting sexual harassment from such lawsuits.
Initiative That Would "Gut Prop 13" Postponed To 2020
The Schools and Local Communities Funding Act, which would "gut" Proposition 13 property tax benefits for certain commercial and industrial businesses, will likely be postponed until 2020, according to California Business Roundtable (CBR). "This already is a high-tax state, and Prop 13 offers one of the few protections that businesses and Californians have in terms of tax predictability. We take this one seriously," CBR President Robert Lapsley said in a press release.
Restaurant Chains Must Display Calorie Content
As of yesterday, May 7, restaurants and retail food chains with 20 or more locations must display calorie content for their menu items. Upon request, these businesses must also provide information such as total content of sugars, fat and protein, and other nutritional information.
Closure Of 710 Transition Ramp For Bridge Construction
The transition ramp connecting traffic heading east from Terminal Island to the northbound 710 Freeway will be permanently closed for demolition to make way for the Gerald Desmond Bridge replacement as early as 6 a.m. on June 11. Traffic will be diverted onto Pico Avenue before rejoining the northbound 710 Freeway. The detour from eastbound Ocean Boulevard to the northbound 710 Freeway will remain in place until the bridge is completed mid to late next year. Click here for maps and more information.
Nostrum To Provide Marketing Services For Museum Of Latin American Art
Nostrum, Inc., a California-based marketing agency, is providing services to the Museum of Latin American Art (MOLAA) for social media, donor and partnership development. In addition to a sculpture garden, MOLAA's collection includes more than 1,600 works of art. "Nostrum joining the MOLAA team is a part of our institutional reinvention process directed towards expanding, diversifying our services, establishing alliances as well as strengthening MOLAA's presence in a local and international context," Lourdes Ramos, president of MOLAA, said.
Long Beach Board Of Harbor Commissioners Appoints Project Controls Director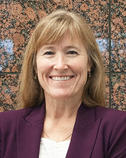 The Long Beach Board of Harbor Commissioners announced the promotion of Marlene Dupras, a civil engineer and manager at the Port of Long Beach, as the port's new director of project controls. This division helps the other branches within the engineering services bureau manage the schedule and budget for the port's capital improvement projects. Dupras began her career at the port in 2001 as a civil engineer.