Realtors Association President Speaks Out Against Proposal To Widen Rent Control
California Association of Realtors President Steve White released a statement today criticizing the proposed Affordable Housing Act, a ballot initiative slated for the November state election that would repeal the Costa-Hawkins Rental Housing Act. Costa-Hawkins places limits on the types of properties subject to rent control. "At a time when California is struggling to build enough homes to satisfy the demands of an expanding economy and its 39 million residents, now is not the time to enact rent control," White stated. "What's more, mandating artificial prices for rental units won't fix the state's housing supply and affordability crisis. It only reduces the supply of rental properties and creates an economic hardship for low-income and disadvantaged families. The solution to this affordability problem is to expand the housing stock in California, not introduce price ceilings."
Port of Los Angeles Receives Two Construction Awards
The Port of Los Angeles was named the recipient of two Project Achievement Awards by the Southern California Chapter of the Construction Management Association of America (CMAA) for recently completed construction projects. The Berths 142-143 Backland Improvement project won in the $100 million transportation infrastructure category, while the Berths 214-220 redevelopment at the YTI Container terminal won in the $11-$50 million transportation infrastructure category. The CMAA promotes the construction management profession and has more than 15,000 members and 29 regional chapters.
LBCC District Citizens' Oversight Committee Seeks New Member
The Long Beach Community College District (LBCCD) Citizens' Oversight Committee, which oversees district bond projects, is seeking a new member to represent the community. Applications are accepted through May 18. Candidates must be 18 years old and live within the district, which includes the cities of Long Beach, Signal Hill, Lakewood and Avalon. The term of service is from July 1, 2018 until June 30, 2020. The committee oversees funds from two bond measures, used exclusively for improvements to LBCCD facilities.
Credit Union Holding Grand Opening On CSULB Campus
LBS Financial Credit Union is holding a grand opening event for its new branch at California State University, Long Beach on May 1 from 10-11 a.m. The 300-square foot branch is located within the campus bookstore, 6049 E. 7th St. Those who wish to attend may RSVP to community@lbsfcu.org by tomorrow, April 27. LBS Financial is a member-owned cooperative credit union that provides savings, checking, insurance and other financial services. The hours of operation for the new branch are Monday through Friday, 9 a.m. to 5 p.m. during the school year. It is closed during the summer session.
Police Commander Alex Avila Appointed To Deputy Chief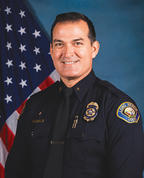 Long Beach Police Chief Robert Luna announced the appointment of Commander Alex Avila to deputy chief. Avila will assume command of the police department's support bureau. He has served the department for 27 years in a variety of positions. Most recently, he oversaw the security services division. He is also the liaison to the chief's Latino advisory group. Avila is a graduate of the University of Southern California Delinquency Control Institute, the Sherman Block Supervisory Leadership Institute, the F.B.I. Executive Leadership Course and the F.B.I. National Academy. He holds a master of science degree in emergency services administration from CSULB.