California's Unemployment Rate Hits Record Low
Data released by the California Employment Development Department (EDD) today revealed that the state hit record low unemployment in October at a rate of 3.9%. In an analysis issued today by Beacon Economics, the firm's research manager, Taner Osman, commented, "October's figures also extend the record highs in the number of jobs in the state and reveal that employers in California have added over 300,000 jobs this year, a pace that exceeds the rate of growth in the national economy." According to the EDD, Long Beach's unemployment rate was 4.8% in October, a slight uptick from September's 4.7% unemployment rate.
Port Of Long Beach Experiences Second-Busiest October Ever
Last month, the Port of Long Beach (POLB) experienced the second-busiest October in its history, moving 688,425 twenty-foot equivalent units of cargo. There was a 2.4% decline in total containerized cargo traffic compared to the same month in 2018, which was a record-breaking time period for the port. This October, exports increased by 9.8%, while imports decreased by 7.4% and the shipment of empty containers overseas slightly decreased at a rate of 0.8%. During the first 10 months of 2019, overall cargo volumes were 5.4% lower than the same period in 2018. "As the trade war lingers, these tariffs continue to impact the U.S. economy and have created uncertainty for the business of importers and exporters," POLB Executive Director Mario Cordero stated. "We are hopeful for a prompt resolution of the tariff situation between the U.S. and China. In the meantime, we are moving forward with capital improvements that should bring long-term growth."
Long Beach Is Again Named A Top 10 Digital City
For the ninth year in a row, the City of Long Beach has been named a Top 10 Digital City in a survey by the Center for Digital Government, a national research organization focused on information technology policies in government. Long Beach was recognized for its efforts to become a "Smart Digital City," including: "integrating foundational technology into the new Civic Center," digitizing paper-driven work, updating surveillance cameras, purchasing body worn cameras for police officers, implementing on online bill payment system and many other initiatives.
Miller Children's & Women's Hospital Names New Chief Nursing Officer
MemorialCare Miller Children's & Women's Hospital Long Beach has selected Susan Herman as its new chief nursing officer. She is responsible for the oversight of nurse clinical care and patient care standards at the hospital, and has also been tasked with creating a model for collaboration across medical disciplines to ensure high quality care. Additionally, she has oversight of the hospital's outpatient specialty centers and the planned Cherese Mari Laulhere Children's Village. Herman has 12 years of experience working in a pediatric academic environment, and previously served as president of the following entities: the Association of California Nurse Leaders, Lucile Packard Children's Hospital and Adventist Health Bakersfield. She holds a bachelor of science in nursing from Pennsylvania State University, a master's degree from UC San Francisco and a doctorate from a joint program between California State University, Fresno and San Jose State University.
Police Commander Erik Herzog Appointed As Deputy Chief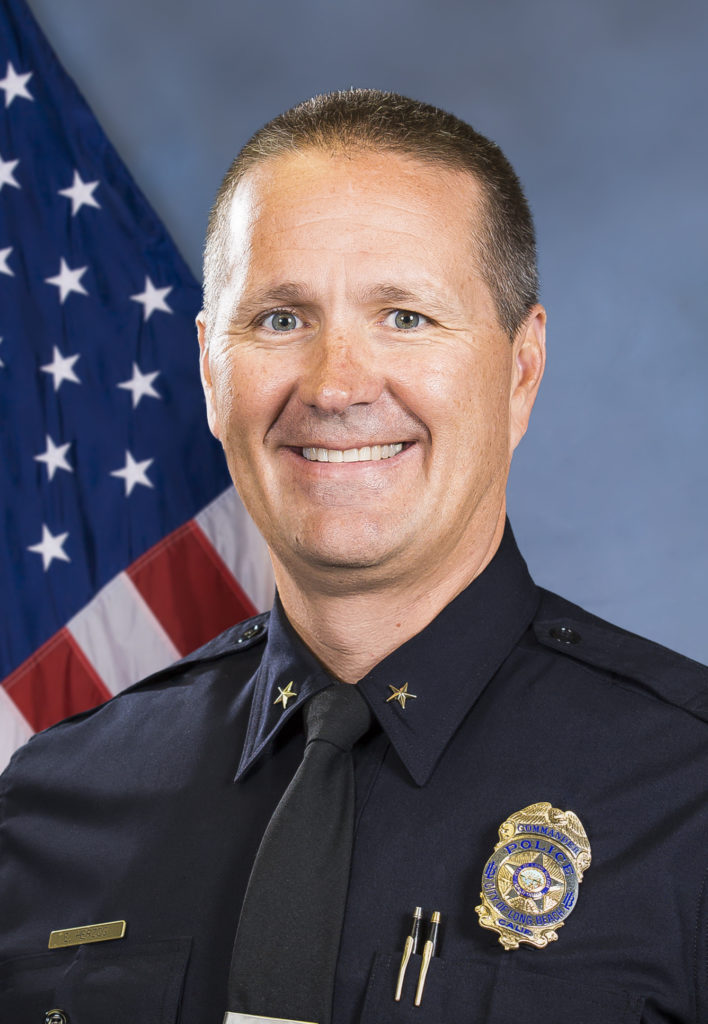 Erik Herzog, a commander and 19-year veteran of the Long Beach Police Department, is being appointed to the position of deputy chief. In his new role, he will command the department's investigations bureau. Herzog has worked in all four patrol divisions, and has previously served as a field training officer and a gang enforcement detective, among other roles. He was promoted to sergeant in 1997, lieutenant in 2016 and commander in 2017. Herzog holds a bachelor of science degree in vocational education from Cal State Long Beach and an associate of arts degree in administration of justice from Golden West College. "Erik's vision and values combined with his excellent leadership skills will make him a valuable member of our executive management team," Police Chief Robert Luna stated in a press release.