Elected Officials, City Staff Take Stock Of City's Progress Before Move To New City Hall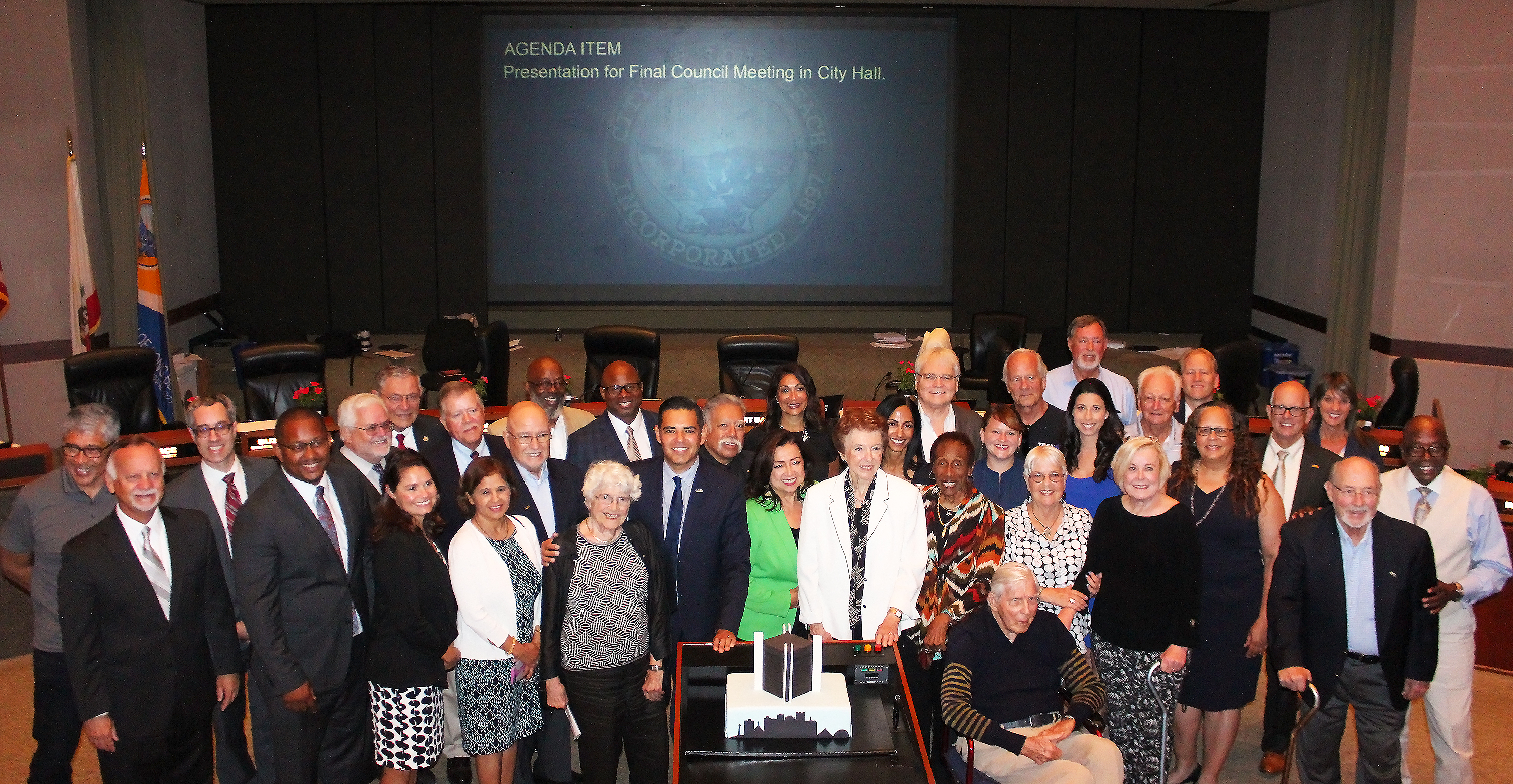 Last night, Mayor Robert Garcia, councilmembers and city staff used the city council's last meeting in its 1970s-era chambers as an opportunity to share their perspectives on Long Beach's history and future. They were joined by past and present local elected officials and city staff, including former mayors Beverly O'Neill and Tom Clark (as well as many others) who took part in a celebratory cake cutting of a pastry shaped just like the old city hall. City staff are in the process of moving to the new facility next door, with a grand opening scheduled for July 29. Future council meetings will take place in the new civic center's Bob Foster Civic Chambers, named after the former mayor. In his speech, Garcia noted that many important debates and decisions took place inside the old council chamber, including on issues such as women's and LGBTQ+ rights.
"All the things that have brought us to this point have built on top of each other. Today, we have a city that is growing, we have a city that is thriving, but also a city that has challenges," Garcia said. "The Long Beach of today is proudly diverse [and] supports all people. The Long Beach of today recognizes and honors our past as important to our future. The Long Beach of today believes that every single person in our community has value." City Manager Pat West compared the city's growth to that of a plant, sprouting from a seed. "Long Beach is now experiencing the successes and the fruits of those seeds planted long ago by each of you in the audience and behind the dais," West stated, before handing out potted plants to councilmembers and staff.
Country's Largest Automated Vehicle Charging Program Coming To Long Beach Port
The Port of Long Beach will soon be home to the nation's largest automated vehicle charging program, manufactured by Swiss-based Stäubli Electrical Connectors, the company announced on Monday. The firm's Quick Charging Connector will be used to simultaneously and automatically charge up to 33 terminal tractors at the port's SSA Marine terminal. Terminal tractors will also be retrofitted with high-power chargers, moving the vehicles from diesel power to an all-electric drivetrain. The project is part of the California Climate Investments program. The statewide initiative invests cap-and-trade program dollars into projects seeking to reduce greenhouse gas emissions, while strengthening the economy and improving public health and the environment, particularly in disadvantaged communities, according to the press release.
Amendments To Tenant Relocation Ordinance Pulled From City Council Agenda
When the Long Beach City Council convened for its final meeting in the old city hall council chambers yesterday, the council's agenda featured a request, submitted by 8th District Councilmember Al Austin, to change a recently adopted ordinance on tenants' rights. The proposed amendments included a provision for the advanced payment of relocation assistance to tenants, further exemptions for owners of four-unit buildings and a provision that would exempt landlords from paying relocation assistance if they notify tenants 180 days before the requested move-out date. Austin requested the item be added on Friday, but ultimately asked for it to be pulled less than two hours before the meeting without explanation or a date set for its return. Prior to Tuesday's meeting, the tenant advocacy group Long Beach Residents Empowered (LIBRE) sent out a call to action asking residents to contact Mayor Robert Garcia, Austin and 9th District Councilmember Rex Richardson to pull the item from the agenda and to attend the meeting to voice their concerns. Garcia's announcement that the item would be pulled from the agenda received cheers and applause from some in the meeting's audience. Tuesday's meeting was the last opportunity to review amendments before the tenant assistance ordinance's effective date of August 1.
Harbor Commission Elects New Officers
Bonnie Lowenthal has been elected by her colleagues on the Long Beach Board of Harbor Commissioners to serve as board president. The board, which is made up of mayoral appointees confirmed by the Long Beach City Council, oversees the Port of Long Beach. Lowenthal is a former state assemblymember, a former city councilmember and also previously served on the Long Beach Unified School District Board. Commissioners Frank Colonna and Lou Anne Bynum were selected as vice president and secretary, respectively. The board is made up of five members. Commissioner Lori Ann Guzmán recently announced she would not be seeking reappointment to the board, and Mayor Robert Garcia subsequently announced former 9th District Councilmember Steve Neal as his pick to replace her. The council has yet to confirm this appointment.
City Council Approves New Main Library Name
Last night, the Long Beach City Council unanimously voted to name the city's new Main Library to the Billie Jean King Main Library. The facility is expected to open on September 21 at the new Long Beach Civic Center in downtown. A Long Beach native, King once ranked as the world's No. 1 female tennis player, earning multiple accolades in her sport. She is a prominent figure in the LGBTQ+ community and campaigned for the passage of Title IX, a 1972 federal law that prohibits sexual discrimination in educational programs and activities. Vice Mayor Dee Andrews said the library's name will inspire youth. ["It's] to honor her, but more importantly to inspire our future generation of young people to be like Billie Jean King," he said. "To work hard, to be the best they can be, to never quit . . . and to live their lives courageously, no matter what people say about you."
National Business News:
FTC Slaps Facebook With $5 Billion Fine For Privacy Violations, Sues Cambridge Analytica
Facebook is on the hook for what is by far the largest-ever penalty in the Federal Trade Commission's (FTC) history: $5 billion. The fine is a result of the FTC's findings that the social media company, which boasts more than two billion users, "violated a 2012 FTC order by deceiving users about their ability to control the privacy of their personal information," according to the federal agency's announcement sent out early this morning. Not only is it the largest-ever fine imposed by the FTC, it is also the highest penalty "imposed on any company for violating consumers' privacy" and is "almost 20 times greater than the largest privacy or data security penalty ever imposed worldwide," according to the FTC. In addition to the fine, the FTC is requiring Facebook to restructure its privacy operations, in part by involving entities other than CEO Mark Zuckerberg in privacy decisions, including a third-party assessor. The FTC will be able to monitor Facebook's compliance with the order, which also applies to WhatsApp and Instagram, apps owned by Facebook.
The FTC also announced today that it is suing Cambridge Analytica, the data company that was revealed in 2017 by a whistleblower to have been given access to Facebook users' private data without their permission. The company then used that information in voter profiling and targeted advertising schemes. The FTC settled with Alexander Nix, Cambridge Analytica's former CEO, and Aleksandr Kogan, the developer of the app used to collect the private data of tens of millions of users. Click here for a look back at our March 2018 Millennial Pulse column on the revelations about Facebook and Cambridge Analytica.
Local Art Events This Week
POW! WOW! Long Beach has returned to the streets of Long Beach this week, with international artists painting murals throughout the city. For a map of where to see them in action through July 28, visit powwowlongbeach.com.
Also kicking off this week is a multi-sensory exhibition called "The Art of Bloom" at the Edison Theatre, 213 E. Broadway. Sponsored by interTrend Communications, the exhibition contemplates the meaning and symbology of flowers through a "shower of petals, light and sound." It runs through September 29. Click here for tickets and to learn more.
Tomorrow, the Museum of Latin American Art (MOLAA) and Mujeres de la Tierra host "Telenovelas In The Park," a free "evening of community theater and conversations about water conservation, plastic pollution, public health and civic engagement."6:30-9 p.m., MOLAA, 628 Alamitos Ave.