Now that the ports of Long Beach and Los Angeles have achieved goals for reducing port-related air pollution nine years ahead of schedule, the ports are looking to update their Clean Air Action Plan (CAAP) for a third iteration to create new strategies for reducing toxic-air emissions even further.
Adopted by both ports in 2006 and then updated in 2010, the environmental plan, considered a "living document," has resulted in unprecedented emissions reductions due to innovative programs that have incentivized and encouraged shipping companies, rail lines, trucking firms and terminal operators to become more environmentally friendly in their operations.
Since the CAAP was launched 10 years ago, the San Pedro Bay ports have reduced emissions of diesel particulate matter (DPM) by 85 percent, nitrogen oxides (NOx) by 50 percent and sulfur oxides (SOx) by 97 percent, according to port officials. During the same time, greenhouse gas emissions have been reduced by 18 percent at the local ports.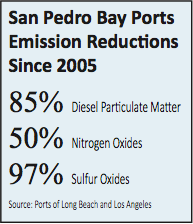 Under the CAAP's goals, which are based on clean air target dates set by state and federal regulatory agencies, such emissions reductions weren't scheduled to be achieved until 2023.
Gene Seroka, executive director for the Port of Los Angeles, told the Business Journal that the San Pedro Bay ports were able to achieve these emissions reductions even though cargo volumes have risen 7 percent. He said the San Pedro Bay ports are revered by port authorities across the world as the "gold standard" for environmental stewardship and future aspirations.
"Cargo volumes continue to grow, yet we are reducing the varying levels of emissions at a much greater rate," Seroka said. "No one has seen that level of emissions reductions worldwide."
Notable programs established under the past two environmental plans include the Clean Trucks Program, which phased out polluting, diesel-burning trucks from terminals, the Port of Long Beach's Green Ship Incentive program, and the Port of Los Angeles' Environmental Ship Index program – both of which provide incentives to ship owners for voluntarily deploying the greenest ships to port.
The ports are now moving forward with new strategies and programs that aim to reduce even more port-related pollution by updating the environmental plan to be called CAAP 3.0.
After announcing the joint effort to develop a new version of the plan, the ports conducted a public workshop in October to discuss achievements and next steps. The ports have also been gathering input from several stakeholders and partner agencies to align with current trends and regulatory mandates.
Rick Cameron, managing director of planning and environmental affairs for the Port of Long Beach, said the updated CAAP will consider issues that have arisen at the ports, such as congestion, and will focus on efficiency strategies within operations to gain as much environmental benefits as possible.
The new CAAP will also consider the ports' supply chain optimization efforts while aligning with the latest regulatory mandates in the region and the state, he said, noting that it will also take into account Gov. Jerry Brown's executive order issued last year in regards to the California Sustainable Freight Action Plan, which is expected to be released in draft form this month.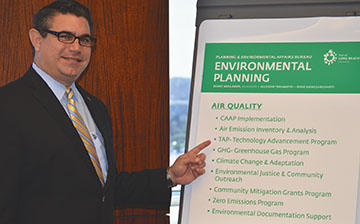 Rick Cameron, managing director of planning and environmental affairs for the Port of Long Beach, points to a list of priorities for the ports of Long Beach and Los Angeles that include developing the next version of the Clean Air Action Plan (CAAP), climate change adaptation, a zero-emissions program and reducing greenhouse gases. (Photograph by the Business Journal's Larry Duncan)
Other considerations for the new CAAP include implementing strategies for zero to near-zero emissions technologies, integrating renewable energy sources and addressing climate change by further reducing greenhouse gas emissions.
"We really want to make sure the next version of our Clean Air Action Plan has some connection to what is happening in the state and the region so we have some continuity and consistency on what the ports can do from an implementation standpoint for some of these high-level strategies," Cameron said, adding that the end goal is to have "efficiency, flow of freight and healthy communities at the same time."
Elizabeth Warren, executive director of Future Ports, an organization that focuses on bringing together business, community and government leaders to build consensus on integrated planning approaches for port-related issues, said lowering greenhouse gases and keeping emission categories at low levels as the ports continue to grow in trade volume will be a challenge.
While there are many new technologies on the horizon and potential for near-zero emission capabilities in the future, there isn't a "silver bullet," she said, adding that if the ports wait for "perfect" solutions, then they could be missing out on "very effective solutions" that could be implemented to further reduce emissions.
Warren called a recent court ruling that denied a rail yard project proposed by Burlington Northern Santa Fe Railway (BNSF) in the Port of Los Angeles a "glaring disappointment," noting that the railroad company had planned to invest $500 million in new technologies to further reduce emissions, but it's unclear if that will happen now.
A new program being launched at the Port of Long Beach is the Energy Efficiency Rebate Match Program, which offers tenants up to $50,000 each in rebates for replacing outdated, polluting and inefficient electrical equipment with energy-efficient technology.
Earlier this month, the Long Beach Board of Harbor Commissioners approved the program, which creates a pool of $500,000 to reimburse tenants up to 100 percent of their equipment purchase costs. The rebates would match Southern California Edison rebates for eligible energy-saving equipment but are capped at the total cost of the products, according to port officials.
The program is an integral part of the port's Energy Island Initiative, a comprehensive strategy for transitioning the port to sustainable, zero-emission power sources and self-generation systems. The initiative aims to enhance resiliency by creating the ability for the port, using solar, wind, geothermal and tidal energy, to independently generate its own energy, stabilizing power costs for terminal operations and further reducing the port's carbon footprint, port officials said.
Cameron said the CAAP 3.0 will consider how the port plans to integrate such innovative energy solutions when considering building new facilities and making operations more efficient. He said the port will be introducing new pilot projects in coming months that will test out a variety of strategies, such as battery storage, fuel cells and micro electrical grids at port facilities.
In addition, the port has recently entered into a contract with the National Renewable Energy Lab (NREL) in a partnership that will examine what the port has accomplished, what the port can learn from past strategies and how to move forward, Cameron said.
There may be possible grant opportunities to cover some of the energy-efficient initiatives, he said. However, Cameron said it won't be cheap, adding that the port phases in environmental strategies in a cost-effective way for business partners to participate.
"I think we've come a long way," he said. "We've had a great start and a great foundation. We just need to continue to chip away at this, and I think that's going to make us successful as a port from a business standpoint in integration and working with our city and our communities."
A draft CAAP 3.0 is expected to be released in July and ready to be adopted by the ports' harbor commissions by the end of the year or in 2017, according to port officials.