The Long Beach City Council recently approved the formation of a new partnership with the MAPLE Business Council, an organization that specializes in promoting economic activity between Southern California and Canada. As a result of the agreement, the two parties are planning to host networking events, expand training programs for business owners interested in working across the border, and arrange for business delegations to visit our neighbor to the north.
The partnership agreement is still under wraps until it has been signed by both parties, but the business council has already held its first event in Long Beach. MAPLE leadership, as well as members of the business council, visited the Port of Long Beach for the council's 49th event since its founding in May 2015. "The 49th is important to us, not only because it's a big number[…] but also because that's a play on the 49th parallel that is the geographic dividing line between the U.S. and Canada," the council's co-founder, Stephen Armstrong, explained.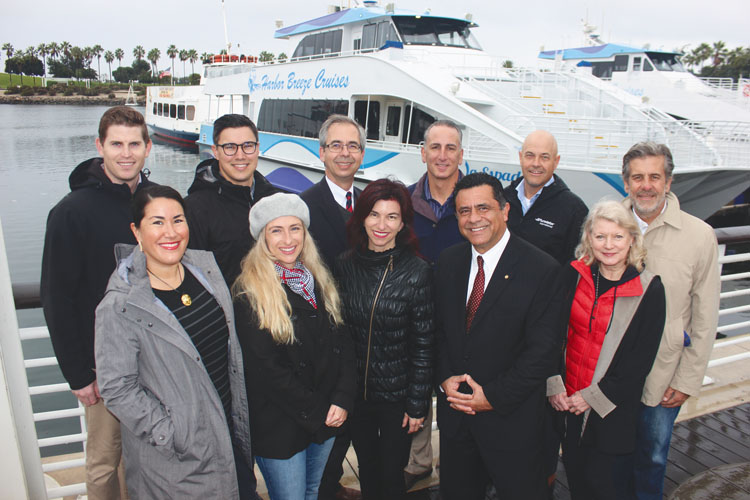 Armstrong and his co-founder, Robert Kelle, were first approached to create a nonprofit focused on stimulating economic relationships between Southern California and Canada by the Canadian consulate in Los Angeles. The consulate had taken notice of an organization for Canadian expats, Canadians in Orange County, which the two had founded in 2009. "Orange County is part of the largest Canadian diaspora in the world," Armstrong pointed out, "We decided it was important to form a separate organization focused on this opportunity [of trade]."
By reaching out to cities and counties across Southern California, the council has been able to grow its network of agencies and companies. Canada is California's second largest trading partner after Mexico, Armstrong said, and despite some competition between the two countries in the lumber industry, he sees great economic potential. "Because of the geographic proximity, the shared language, rule of law, it's an easier market to penetrate than other markets internationally, for someone just starting out," Armstrong explained.
Leah Goold-Haws, statewide director of the Center for International Trade Development at Long Beach City College and member of the Long Beach Economic Development Commission, agreed. She said the countries' shared language and civic structures "is an asset that's really advantageous for companies."
At Long Beach City College, Goold-Haws is hoping to expand the school's existing Business E-commerce Advanced Management (BEAM) program, which focuses on e-commerce businesses, to include more specific training on doing business in Canada. Increased training and awareness could be particularly helpful to smaller businesses hoping to expand their market, she explained. "Those types of companies tend to succeed first in working with countries where English is the native language," she said.
The global trade expert pointed to the recently revived discussion about trade agreements between the U.S. and Canada as an impetus for increased opportunities across their shared border. "I think there's growing interest in how we engage with Canada as a trade partner," Goold-Haas said. She believes that the new North American trade agreement, which was signed by the presidents of Mexico, Canada and the U.S. on November 30, will better facilitate business between the two countries, especially in the e-commerce sector, as it includes more in-depth provisions around data protection and online business activity than its predecessor.
Long Beach Economic Development Officer Seyed Jalali is hopeful that the city's new partnership with MAPLE will help strengthen economic ties between Long Beach and Canada. His department has been granted a $5,000 budget to finance the potential dispatch of a business delegation to Canada. "A lot of businesses may have or do have the potential to expand their market, but they don't know how," Jalali pointed out. "The city obviously does not have the resources or the means to provide these types of trainings, nor are we experts in that," Jalali added, "MAPLE can serve as a conduit to achieve that."
For Armstrong, this mission of connecting Long Beach businesses with Canada, and vice versa, is an opportunity to give back to his adopted home. "It's a wonderful opportunity to celebrate our long-term home in Southern California and our original roots in Canada, and connect our markets," Armstrong said. "We're eager to share our mission with businesses in the Long Beach area."