Duane Kenagy, who has served as capital programs lead at the Port of Long Beach since 2014, officially became the port's interim CEO on September 26. The Long Beach Board of Harbor Commissioners selected Kenagy to lead the port while they conduct a global search for a permanent CEO.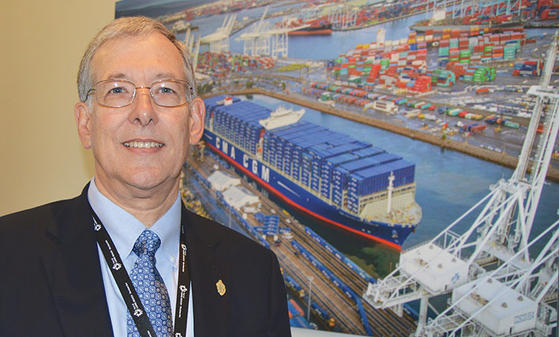 Duane Kenagy was recently appointed interim CEO of the Port of Long Beach. He has served as the port's capital programs lead since 2014. (Photograph by the Business Journal's Larry Duncan)
Current CEO Jon Slangerup, who will remain on with the port until the end of October, announced his resignation earlier in September. He is leaving to head up Mxi Technologies, a Canadian aviation firm, as chairman and CEO.
"Jon is still around. He is still providing support, but the board wanted a clean transition so the appointment was effective on Monday," Kenagy told the Business Journal. "Jon will still be working and supporting and helping with the transition through October 28."
Although Slangerup is leaving, some policies and ideas he has been pursuing will continue forward, Kenagy said. Two such ideas are Energy Island, a plan for the port to generate its own clean energy, and developing an inland port for better flow of goods to and from the Inland Empire and inner U.S. "It's going to be a pleasure to work with the team to continue to carry out those initiatives and I'm quite confident that we'll continue to make progress on all fronts," Kenagy said.
Kenagy will continue overseeing the port's massive capital improvement programs, but with added support. "Things are moving forward and I am very confident that the team will be able to keep things going until I get a chance to return to the capital program," he said.
The port's two largest projects are the Middle Harbor Redevelopment Project, which involves combining two aging terminals into a state-of-the-art terminal able to accommodate larger vessels, and the Gerald Desmond Bridge Replacement Project, in which an aging bridge over the port is being replaced with a higher structure with more lanes.
"We are in to the first of the Phase 2 projects on Middle Harbor," Kenagy said. "Regarding the bridge project, if you have driven out there, you can see it is coming along. . . . The towers are at deck level," he continued. "That's a particularly challenging location because that's where the decks attach to the towers, and there is a lot of mechanical equipment there."
Port staff has been working with the contractors for the bridge project to ensure that the complexity of the work doesn't derail the 2018 completion date, which Kenagy said is still on track.
Kenagy is not applying for the permanent position of CEO. "I am a civil engineer so I am looking forward to being able to give back to my first love, and that's obviously these tremendous projects," he said.
The board of harbor commissioners indicated to Kenagy that they expect the search for a permanent CEO to take four months or longer, he said. They will consider internal candidates as well as conducting an international search.