Since the first Earth Day on April 22, 1970, the event – created to focus on environmental issues and enact positive change – has grown into a movement extending beyond the confines of a single day, with events taking place all over the world throughout the month of April. Now, Earth Day is the largest civic observance in the world, with more than one billion people participating each year, according to Earth Day Network, a global organization with more than 50,000 partners in 196 countries.
The theme of this year's Earth Day, which still takes place April 22, is "Trees For The Earth." Although the theme comes with a pleasant-sounding moniker, a gloomy predicament is behind it. Earth Day Network estimates that 18 million acres of forest, or roughly three times the size of Vermont or the entire country of Panama, are lost to deforestation every year. The loss equates to about 15 billion trees every year.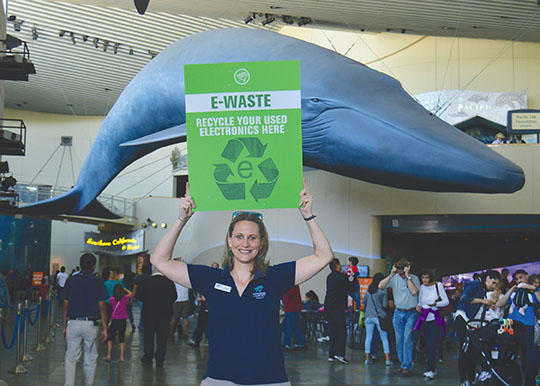 Dr. Jennifer Lentz, education coordinator for the Aquarium of the Pacific, is responsible for organizing the institution's annual Earth Day Celebration. Lentz's favorite part of the weekend is seeing the booths of visiting student groups, who she said always impress her. Lentz's first day of work at the Aquarium three years ago was on Earth Day, which is observed on April 22. (Photograph by the Business Journal's Larry Duncan)
Trees take in carbon dioxide – the main cause of climate change – and in turn use it to make the oxygen we breathe. The Amazon rainforest alone is estimated to produce 20 percent of the world's oxygen. The huge amount of deforestation that takes place each year, including in the Amazon, is held responsible for the presence of 15 percent of all global greenhouse gas emissions, a situation that led Earth Day Network to highlight the importance of trees and reforestation for this year's Earth Day.
"Most people view the Amazon to be the most important forest, which is enormous, in the world. And it has been decimated," Kathleen Rogers, president of Earth Day Network, told the Business Journal. "Illegal logging, then illegal taking of wildlife, and then [replacing forest with] agriculture – it's an endless cycle of destroying what can only be described as the Earth's lungs." This pattern has taken place worldwide at different time periods, she noted.
"The world is sadly in need of billions of trees. They do everything from prevent [water] runoff, give us the air we breathe, absorb CO2, improve property values [and] make life much nicer for people in poor communities," Rogers said. "We're hoping we'll be able to raise money and finance some major tree projects around the world in countries that desperately need them, including our own."
The network has an ongoing program, The Canopy Project, which aims to plant 7.8 billion trees – one for every person on earth – by 2020, which will mark the 50th anniversary of Earth Day.
Trees And Electric Vehicle Infrastructure For Long Beach
Long Beach has many groups, government agencies and institutions taking part in Earth Day, with green efforts aimed at improving the local environment and the quality of residents' lives.
Both the Long Beach Office of Sustainability and the Neighborhood Services Bureau have ongoing tree-planting programs, according to Larry Rich, sustainability coordinator for the city. The tree-planting efforts grew out of the city's Sustainable City Action Plan, approved in 2010, which laid out the goal of planting 10,000 new street trees by 2020.
A grant from the South Coast Air Quality Management District enabled the Office of Sustainability to plant about 1,200 street trees between 2010 and 2013, and the office has since continued to plant about 200 more trees per year. Typically, tree plantings take place on an individual basis when residents call the city and request a tree for the parking strip (the grassy area between the sidewalk and street) in front of their homes, Rich explained.
The neighborhood services bureau has a larger program funded through a $671,200 grant given by the Port of Long Beach in 2013. The program, "I Dig Long Beach," has a goal of planting 6,000 trees by 2020. "As of today, their program has planted 2,463 trees," Rich said. Tree plantings through this program typically take place through community events, where volunteers gather on a set day to plant trees throughout a neighborhood. The next tree planting is scheduled for North Long Beach's Hamilton Neighborhood on Earth Day.
The office of sustainability is also participating in several other Earth Day events held throughout April, including a Green Generation Mixer & Sustainability Project Showcase at the Earl Burns Miller Japanese Gardens on April 21, and the annual Green Prize Festival on April 30.
With the future of the city in mind, one of the office of sustainability's ongoing green-friendly efforts is supporting residents who use electric vehicles. The Long Beach Sustainable City Commission heard a staff report on March 24 outlining the city's current electric vehicle (EV) infrastructure and future need.
While the city's 51 public EV charging stations and 58 private stations are sufficient to serve the DMV-estimated 1,172 EVs owned by Long Beach residents, Rich said the number of EV drivers in the city is increasing. "In Long Beach, 20 new electric vehicles come into our overall vehicle mix every month, and that number seems to be increasing," Rich said.
Southern California Edison recently committed to implement EV charging infrastructure for 1,500 stations across the territory it serves, including in Long Beach. Those stations, coupled with new EV infrastructure planned by the city in three beach parking lots, should double the number of public EV charging stations in Long Beach, Rich said.
Rich and his office have recommended that the city create an EV charging station task force to examine when and where new charging stations should be installed, based on need. Streamlining the building permitting process for the installation of new charging stations was another recommended priority, as was changing city code to require infrastructure for EV charging stations be in place when new developments are built. These recommendations may be presented to the city council as early as May, Rich said.
Long Beach Transit's Ever-Greening Fleet
Long Beach Transit, which offers bus service and seasonal water taxi service, is participating in a number of local Earth Day events, including the Green Prize Festival and Earth Day Bixby Knolls, an April 23 event with environmental exhibits, green-friendly vendors, free document shredding and e-waste recycling, and more. At the Green Prize Festival, LBT plans to showcase the first of its new fleet of battery-powered, zero-emission electric buses, according to spokesperson Kevin Lee. (Click here to see story on these buses.)
When LBT puts its new fleet of 10 electric buses into service in the fall, 70 percent of the agency's entire bus fleet will run on alternative fuel or electricity, Lee said. "Over the next few years, the remaining diesel buses that we have will be retired, along with some of the earlier hybrid buses that we had," Lee explained. "So, over the next few years, that 70 percent will dramatically change and will get closer and closer to 100 percent." LBT continues to invest in vehicles that run on both gasoline and electricity, as well as compressed natural gas (CNG).
"The entire industry is heading towards zero emission technology, and so we're definitely looking at that," Lee noted. Our CNG buses are low emission and that's great, but of course we're going to keep pushing the boundaries and look toward zero."
Local Nonprofit Spreading Ocean Plastic Pollution Awareness
Credited with discovering in 1997 what's commonly known as the Great Pacific Garbage Patch, a Texas-sized field of plastic debris and garbage in the Pacific Ocean, Long Beach nonprofit Algalita has since focused on researching and spreading awareness about ocean pollution. As it prepares to release a 15-year study on the huge garbage patch, which scientists call the North Pacific Gyre, the nonprofit is gearing up to make more of a difference in its hometown of Long Beach.
"Over the past 20 years, we've been doing research and science-based education, but what we know has always been missing is outreach to the community to help change habits and help solve the problem on a community level," Katie Allen, president of Algalita, told the Business Journal.
As a first step, Algalita is changing the front of its office at 148 N. Marina Dr. into a retail store where residents will be able to learn about and purchase reusable goods that are alternatives to plastic products. This effort is currently underway.
"The next step is we will be going district by district helping people understand the waste problem as it relates to their community," Allen said. The organization is starting with District 3, where it is located.
"What that will look like is we will be interacting with not only businesses but we'll also be working with the schools in the districts," Allen explained. "We'll be doing outreach to the homes in that district as well to let them know this is the problem, this is what's happening here in our own community, and here's what you can do to be a part of the solution."
In its 20-plus years, Algalita has long provided educational resources to the local community. Currently, the nonprofit has a Ship-2-Shore Program, where Long Beach high school students board a boat and conduct plastics pollution research within the San Pedro Bay. The organization also visits schools to hold assemblies about ocean plastics pollution, visit classrooms and hold workshops, Allen said.
Each year, Algalita also hosts the Plastics Ocean Pollution Solutions International Youth Summit, a weekend-long event for students and teachers from all over the world to learn about plastic pollution and remediation.
The organization also participates in Earth Day events throughout Southern California, including a festival at Long Beach's Los Cerritos Elementary School, where Algalita will have an interactive booth with activities related to plastic debris in the ocean.
Aquarium Of The Pacific Hosts Annual Earth Day Celebration
For the 16th year running, the Aquarium of the Pacific is holding its weekend-long Earth Day Celebration on April 23 and 24, with informative and interactive booths hosted by major organizations such as the National Weather Service, the U.S. Fish and Wildlife Service and others. Aquarium animals including birds, lizards and snakes will be brought out of their exhibits by experts who will use them as teaching tools.
"Earth Day is very important and close to the Aquarium's heart because it falls closely under our mission statement and the vision for the Aquarium," Dr. Jennifer Lentz, the Aquarium's education coordinator, said. "We want to teach the public about the importance of our ecosystems, particularly marine ecosystems, and teach them how to respect and conserve these environments." Earth Day represents a perfect opportunity to do so, she added.
The U.S. Fish and Wildlife Service booth is always one of the most popular, bringing once-live, stuffed animals to teach about conservation and illegal poaching, Allen said. "National Weather Service does a great job of engaging the public and teaching them about various weather and climatic events, and the difference between weather and climate," she added.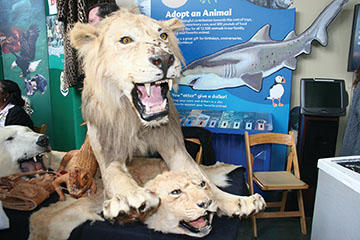 One of the most popular booths at the Aquarium of the Pacific's annual Earth Day Celebration belongs to the U.S. Fish and Wildlife Service, which brings once living, now stuffed animals to highlight the importance of conservation. (Photograph provided by the Aquarium of the Pacific)
Local student groups also operate booths at the festival to teach visitors about their environmental projects. "It's really impressive that kids of that age are so passionate about environmental science and are able to articulate that to guests of all ages and backgrounds," Allen reflected.
The Earth Day Celebration also includes an area for free e-waste recycling in front of the Aquarium. And, as an added incentive, people will receive a $10 coupon off admission for each e-waste item they bring. "That's a really good opportunity for people to be able to recycle electronics in an environmentally responsible way while also getting discounted admission to our festival," Allen said.