The past few years have marked growth for the San Pedro Bay ports. But even as the ports garner an increasing number of containers crossing their docks each year, economists and industry professionals point out that challenges remain – unpredictable trade policy, loss of marketshare, ever-expanding environmental regulations and the likelihood of future labor disputes related to terminal automation chief among them.
"The constant uncertainty of trade policy at the White House throws a tremendous shadow on any forecast for what's happening over the next year or so," Jock O'Connell, international trade advisor for Los Angeles-based Beacon Economics, told the Business Journal. "It's a difficult period in which to forecast anything."
O'Connell was referring to the Trump administration's tactics in negotiating a trade agreement that would address U.S. government concerns about intellectual property theft by the Chinese government and corporations, as well as create a more balanced flow of trade between the two countries. Last year, the White House levied tariffs on billions of dollars worth of Chinese imports and threatened to raise them by another 25% by January 1 if a deal could not be reached. President Trump and China's president, Xi Jinping, agreed to push that deadline to March 1. Trump decided to allow the date to pass without raising tariffs as the countries' trade representatives continued to hash out their differences.
As a result of these anticipated deadlines, Chinese shippers sent imports to the United States in large quantities ahead of schedule in order to beat out expected tariffs, O'Connell explained. "There was a surge during the last quarter of 2018 as importers realized they might, beginning the first of this year, be faced with a dramatic increase in tariffs," he said. "The surge continued through December, and very abruptly started to end in January and February." Additionally, he noted, "While we saw an import surge in anticipation of higher tariffs being imposed here, we have seen a decline in exports going to China because of the retaliatory tariffs that the Chinese have erected."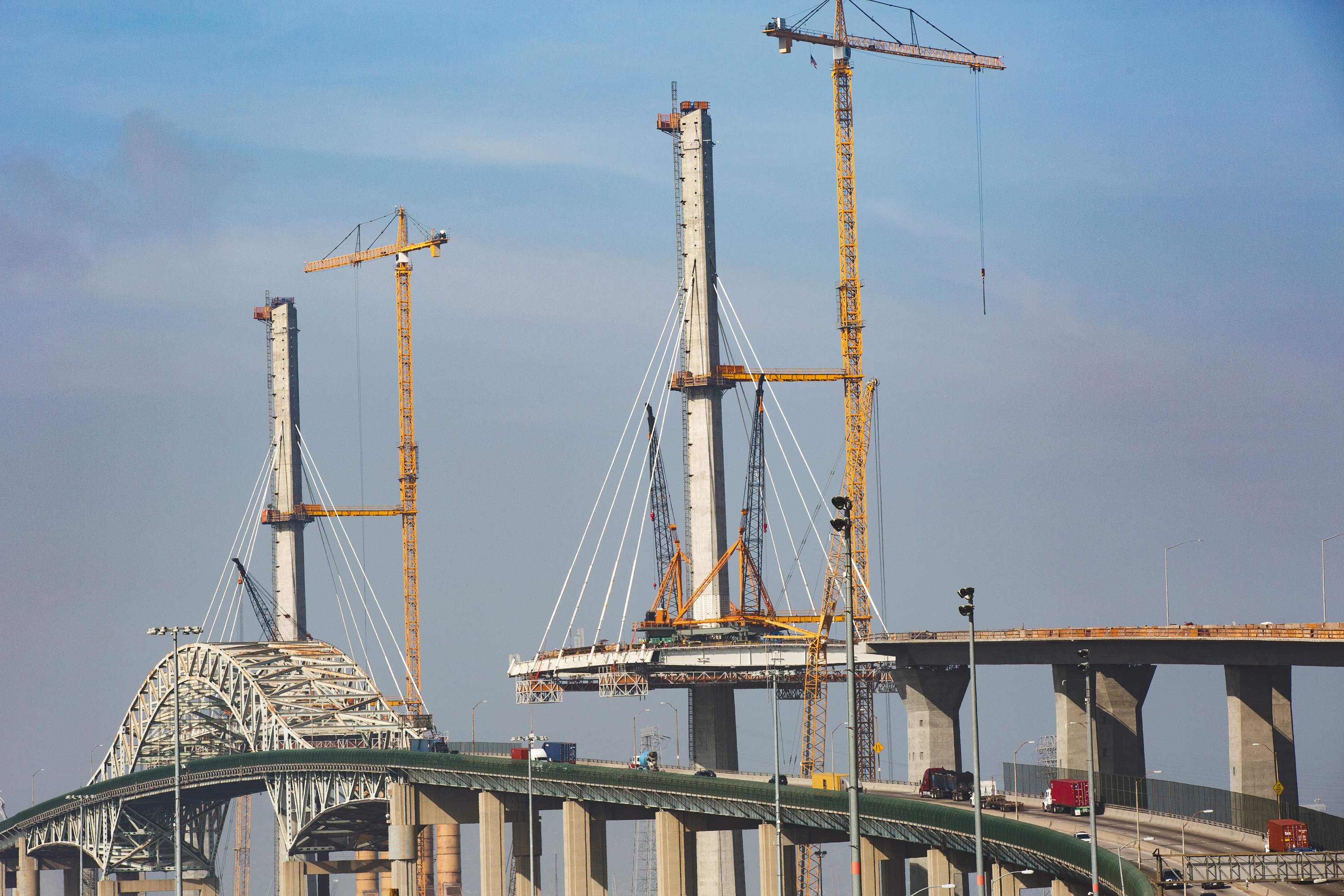 Michele Grubbs, vice president of the Pacific Merchant Shipping Association (PMSA), pointed out that the ports of Long Beach and Los Angeles are doing well despite uncertainties surrounding trade policy. "We see a positive [growth in cargo volumes] of maybe a 2-4% this year, which is good news. Last year we handled over 17 million TEUs here in San Pedro Bay, which was an all-time record," she said. The PMSA is a nonprofit organization representing the interest of West Coast terminal operators and shipping lines serving them.
When it comes to forecasting the outcome of the trade dispute between the U.S. and China, few claim to hold the crystal ball. "We're anticipating that at some point in the next seven days or few weeks that the U.S. trade representative and his [counterpart] in China will release an agreement. And then it's a matter of, well, does this satisfy the president? And does it satisfy his mood today, or his mood after watching a report on Fox News?" O'Connell mused.
John Husing, chief economist for the Inland Empire Economic Partnership, laughed when asked whether he thought the United States and China would come to a resolution any time soon. "You're asking me what I think the president's going to do? I haven't a clue," he said. "I think his tariff policy, frankly, is crazy and certainly not in the best interest of the United States much less just about anybody else." Husing argued that the tariffs imposed by both countries last year are starting to hurt their economies at a time when the global economy's growth is already slowing.
A report released by Beacon Economics on April 17 analyzing newly released trade figures by the U.S. Census Bureau pointed to some negative impacts. Exports by California businesses declined 2.2% in February compared to the same month last year, with shipments of manufactured goods remaining roughly unchanged and non-manufactured exports such as agricultural goods declining, according to the analysis.
But when it comes to these figures, there were factors at play beyond the tariffs. The strength of the U.S. dollar gained 5.6% over the Chinese yuan, Beacon Economics estimated.
Specific to the San Pedro Bay ports, challenges identified by O'Connell and Husing relate to their marketshare of containerized trade among the other ports in the nation and those along the West Coast of Canada. "We have seen a declining marketshare for the West Coast ports generally, and particularly for the ports of L.A. and Long Beach, which does not bode well for the ports long term," O'Connell said. "They will likely continue to see year-over-year increases in container volumes, but their share of the trade will continue to diminish as more and more vessels take all-water routes to East and Gulf Coast ports."
As O'Connell explained it, the ports of L.A. and Long Beach have been at an advantage when it comes to trans-Pacific trade from Asian countries due to their West Coast location and infrastructure capable of handling larger vessels. However, the widening of the Panama Canal in 2016, coupled with congestion issues at the San Pedro Bay ports related both to past labor disputes and changes in shipping trends, have caused some of the trans-Pacific trade destined for the eastern half of the U.S. to shift through the Panama Canal to ports along the East and Gulf Coasts, he explained. This is commonly referred to as the "all-water" route, while shipping goods through L.A./Long Beach to the eastern side of the country requires land transit.
"We always have to keep in mind that while the [San Pedro Bay] ports are important and they are big marvelous facilities, [that] most Americans still live on the other side of the Rockies," O'Connell noted. "Increasingly, decisions are being made to move by all-water routes through Panama, and to some extent through the Suez [Canal], to bring goods directly to East and Gulf Coast ports to bypass West Coast ports in general, and in particular the ports of L.A. and Long Beach."
Husing said that California's environmental regulations could also hamper the competitive edge of its ports. "I spend a lot of time looking at the regulatory environment, where no matter what we do, the state keeps twisting the screws tighter and tighter," he said. As an example, he cited a rule proposed by the Southern Air Quality Management District (SCAQMD) – a state entity that governs air quality monitoring and regulations in much of Southern California. The proposed indirect source rule, which the agency's board voted to begin crafting last May, would indirectly regulate emissions and air quality impacts caused by the movement of goods by assessing regulations on their destination points, such as warehouses, rail yards and airports.
An initial concept floated at a SCAQMD working group meeting in August suggested requiring warehouses to do business with trucking companies that have cleaner air emissions than the California Air Resources Board requires. "It's essentially the air quality management district attempting to do what the law specifically doesn't allow them to do, and that is to regulate the movement of goods," Husing said.
O'Connell said that paying for changes required by environmental regulations is another dilemma. "The ports are going to have to acquire lots of energy efficient, zero-emission vehicles to move containers around . . . and this is going to be a very costly endeavor that has to be financed somehow," he said. "The fear is that if the ports impose higher fees on container traffic, they will drive the container traffic away."
Another pressing matter at hand relates to the question of automating terminal operations. While Husing and O'Connell both identified automation as a solution for moving goods more efficiently, the union that represents West Coast dock workers, the International Longshore and Warehouse Union (ILWU), voiced opposition to the idea as recently as last week. Before the Los Angeles Board of Harbor Commissioners prepared to vote on a permit that would have opened the doors to automation at APM Terminal, so many members of the ILWU showed up in protest that the board's regular meeting location had to be moved. Mayor Eric Garcetti ultimately sent a letter to the board requesting that they postpone their vote, which they did.
O'Connell pointed out that in past agreements with the group representing port employers, the Pacific Maritime Association, the ILWU agreed not to object to automation at the ports. "This is going to be a very contentious issue going forward. In the next round of negotiations, you'll see a revisiting of the automation issue . . . . It's not going to be a very pleasant issue to negotiate as we get nearer to the expiration of the current contract," he said. He noted that if labor disruptions occur, cargo owners could choose other ports, further impacting the San Pedro Bay ports' marketshare.
"One of the big things we're watching is our marketshare. Even though we're growing, we are seeing other ports across the US that are growing at a faster rate," Grubbs said. "We are really focused on right now on the terminals being very efficient, and we are looking to stay as competitive as we can, because this gateway really does produce hundreds of thousands of jobs for the region. It is really critical that we remain competitive."