Effective January 1, 2020, a new regulation issued by the International Maritime Organization (IMO) will impose stricter limits on sulfur emissions by cargo ships traveling through international waters. Sulfur makes up the majority of the diesel particulate matter (DPM) emitted by ships. DPM has been labeled a carcinogen by the World Health Organization (WHO) and has been proven to cause respiratory and cardiovascular disease. The new emission standard will limit permissible sulfur emissions to 0.5%, down from the 3.5% previously allowed outside of protected coastal zones.
Cargo ships and trucks have remained the focus of the ongoing fight against pollution in Southern California, which makes up a significant portion of the environmental efforts pursued by regulatory agencies and private companies in the region. Advocates for clean air initiatives have acknowledged the logistics industry's successful push toward cleaner technology, while maintaining that there's much more work to be done. Industry representatives say they're pushing up against the limits of available technology in trying to reach increasingly ambitious goals.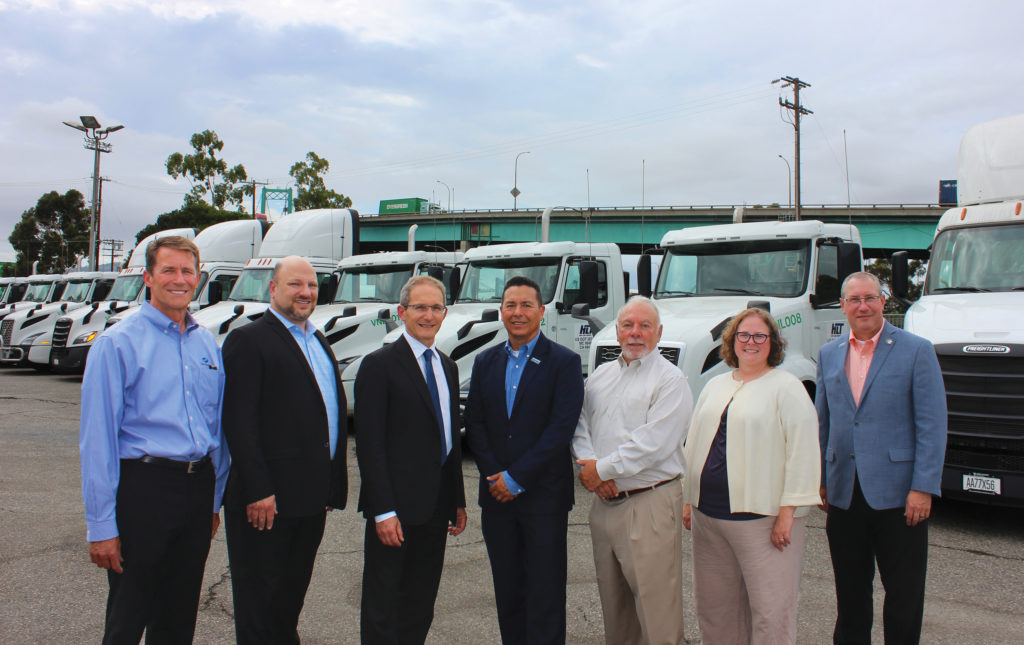 Speaking at an event held to celebrate the addition of 40 near zero emission trucks to the fleet of local trucking company Total Transportation Services, Inc.(TTSI), Coalition for Clean Air President and CEO Dr. Joseph Lyou said the industry has come a long way. "We have made a lot of progress in cleaning up these trucks," Lyou said. But, he noted, "we haven't gotten nearly as close as we need to get."
Weston LaBar, president and CEO of the Harbor Trucking Association, said the trucking industry doesn't receive enough credit for the myriad steps its members have taken to comply with ever-changing environmental regulations. "I don't think the trucking industry gets the credit it deserves," LaBar said. "Too often we're just looked at as these dirty trucks that cause traffic on the freeways, but at the end of the day, these are the folks who are moving the American economy and we're trying to do it in a more sustainable way every single day."
The standards for sustainable practices have tightened over the past decade and emission goals for the future have become increasingly ambitious, LaBar explained, creating a system of moving goalposts that can be challenging to comply with. "If I go out and buy a new piece of equipment today, I shouldn't be asked to buy another new piece of equipment in two years," he said. "Our goal is to make sure that the equipment works, that it's affordable, and that we can be sustainable, both economically and environmentally."
Much of the effort toward cleaner trucks has been focused on the type of fuel they use, as well as fuel alternatives, such as battery-electric technology. Updating their fleets to include lower emission vehicles and phase out old diesel trucks is a costly endeavor for trucking companies, LaBar noted, and many have made use of grant funding available for that purpose. With the help of grant funding, trucking companies have added hundreds of near zero emissions, renewable natural gas trucks to their fleets, LaBar said, and it's important such grants continue to exist for the state and ports to reach their environmental goals.
"If we want to continue to incentivize good behavior, we need to just make sure that the folks who are willing to take the early risks, be the Guinea pigs if you will, are getting some benefit out of that," LaBar said.
Since 2008, the California Air Resources Board (CARB) has allocated $938 million in Proposition 1B funds to local agencies across the state to be used for projects aimed at reducing emissions in the goods movement industry. Through June 2019, CARB has paid out $914 million of these funds to local agencies and for internal administration costs, according to a June 28 report. CARB also offers over $60 million in annual grant funding to equipment owners, such as trucking companies, through its Carl Moyer Memorial Air Quality Standards Attainment Program, the agency's website states.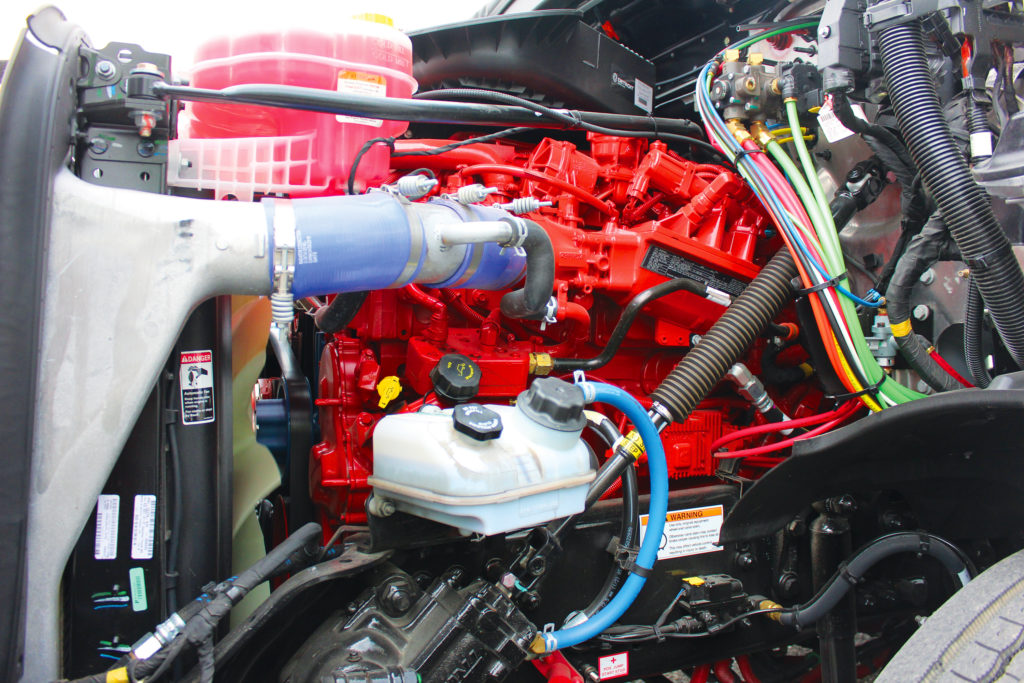 Many of the standards and goals related to goods movement in the Long Beach area are defined by the Clean Air Action Plan (CAAP), a joint effort between the ports of Long Beach and Los Angeles to reduce emissions at and around the port complex. Since it was first adopted in 2006, the plan has set emissions standards for trucks that have resulted in the large-scale conversion of drayage truck fleets, as well as significant upgrades in cargo handling equipment.
The ports' requirements for cargo equipment used by marine terminal operators have also become increasingly ambitious, Pacific Merchant Shipping Association VP Thomas Jelenić said. Like LaBar, Jelenić noted that moving goalposts present a challenge for his association's members, especially as some of the technology required to meet them has not fully matured yet.
In his previous position as an environmental specialist with the Port of Long Beach, where he later became the assistant director of environmental planning, Jelenić was involved in the development of the ports' initial CAAP. "When we did the initial Clean Air Action Plan it was based on known technology, on known costs. While it was insanely expensive, the path to the goal was known, we knew exactly what we needed to do," Jelenić explained. "The latest version of the CAAP, I unfortunately have to describe as faith-based planning. It sets goals for zero emissions technology, when the zero emissions technology has not been demonstrated in port use in any meaningful way. That creates uncertainty and that uncertainty holds back investment in our ports."
Meanwhile, Jelenić noted that many of the Long Beach port's programs, together with state and international regulations have already shown significant results in reducing emissions. "The single biggest change that resulted in enormous emission reductions is simply the change in fuel," Jelenić said. Both the IMO and the State of California have placed limits on the sulfur content and emission levels of ship fuels, which will now be tightened by the IMO's newest regulations. California also requires the use of distillate fuels in its waters, instead of cheaper residual fuels, which have a higher sulfur content.
Jelenić also pointed to the port's voluntary speed reduction program as a success story in emission reduction. By reducing speed, like you would in a car, you save fuel. Saving fuel also reduces emissions," he explained. "Because of the relationship between speed and fuel for vessels, that can provide dramatic results." In 2018, 136 shipping lines met or exceeded the program's required 90 percent participation rate at either 20 or 40 nautical miles, according to the Port of Long Beach. Nearly 96% of vessels slowed down within 20 nautical miles, while 91.14% slowed down within 40 nautical miles.
Requirements for onshore power have also produced notable results, Jelenić said. Since the early 2000s the port – in collaboration with CARB – has implemented incentive programs and regulations requiring all cargo, cruise and refrigerated vessels to be connected to onshore power while docked. Ships need power to keep the lights on, maintain the connectivity of their digital navigation systems and keep containers with perishable goods refrigerated. Without an onshore connection, that power would come from the ship's diesel engine, which emits DPM. "The infrastructure for this takes an enormous amount of money and time to install," Jelenić said. But, he noted, "it's been tremendously successful in reducing emissions."
Overall, the various programs appear to have produced significant results, while cargo traffic has continuously increased. A recent report released by the Port of Long Beach stated that since 2005, port-related air pollution emissions of DPM in the San Pedro Bay have dropped by 87%.
Jelenić cautioned that the pressure to continue at this rate of success will come at an increasingly high price in the future, given the current state of technology available to reach near zero or zero emissions goals set forth by the ports. "Unfortunately the folks in the maritime industry have been the victims of their own success," he said. "We've gotten to the point where we've exhausted the available emission-control technologies."