Across its multitude of neighborhoods, communities and cultures, the City of Long Beach offers a diverse haven for businesses and families to thrive. At the same time, the unique location of Long Beach in Southern California places it at the mercy of significant human health risks caused by both environmental and man-made factors.
Air Pollution
When it comes to air quality, Long Beach and Los Angeles County rank among the most polluted areas in the nation. According to the 2019 "State of the Air" report released by the American Lung Association (ALA) last month, Southern California residents "face the most challenging air pollution levels in the United States."
Emissions from petroleum-burning combustion engines contain particulates and nitrogen oxide, the latter of which – when combined with other chemical compounds in the environment and exposed to heat – turns into smog. These emissions are produced by the vehicles that crisscross the several thousand miles of streets inside the Los Angeles Basin, as well as the ship traffic and cargo handling equipment in the San Pedro Bay ports.
"Long Beach, San Pedro and all communities along the diesel truck routes that lead to and from the ports suffer from increased diesel particulate pollution due to the diesel-powered ships, trains, trucks, cargo handling equipment and other machinery involved in freight movement in Southern California," David Pettit, senior attorney at the National Resources Defense Council, told the Business Journal.
Los Angeles and Long Beach were ranked first in the nation for most polluted ozone, fifth for year-round particle pollution and seventh for short-term particle pollution, according to the ALA report. Dr. Leila Yoonessi, a pediatric pulmonologist at the My Pediatrics and Respiratory Care Clinic, said that small particles emitted by diesel combustion can lodge in lung tissue. Both ozone and particle pollution contribute to lung inflammation and asthma attacks. In the long-term, particles lodged in the lungs could lead to heart attacks, stroke and even cancer.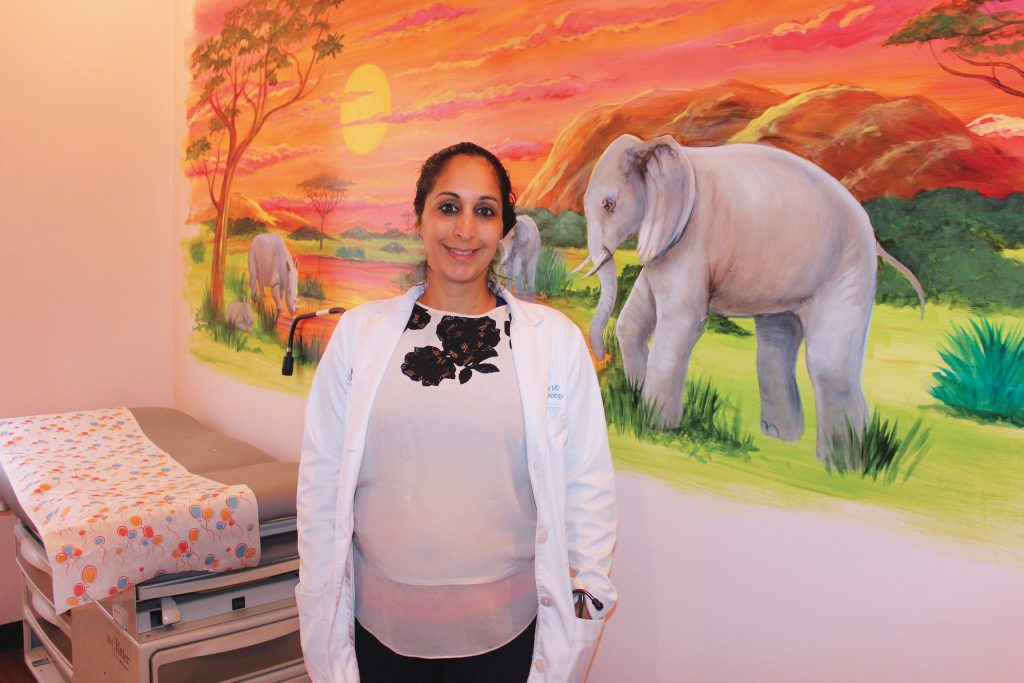 Children, senior citizens, people with asthma and and those living in lower-income communities tend to be disproportionately affected by particle pollution, according to ALA Director of Clean Advocacy Will Barrett. This includes communities living close to the ports and highways, he added.
A major factor influencing the ALA's most recent State of the Air report was the continued impacts of climate change. Barrett pointed out that, during 2015 to 2017 (the years covered by the report), California experienced seven of the 20 most destructive wildfires in its history. "The wildfires in 2017, especially the Thomas Fire, had a real impact on particle levels. For example, Ventura County went from an A [rating] to an F this year, as did Santa Barbara County, because of the impact of the Thomas Fire," he said.
For their part, the Long Beach and Los Angeles ports are working together to reduce air pollution in the San Pedro Bay harbor. The Clean Air Action Plan is a joint effort to cut the emissions of sulfur oxides (SOx), nitrogen oxides (NOx) and diesel particulates. Policies implemented by the ports have thus far resulted in cutting SOx by 97%, NOx by 48% and particulates by 84%, compared to 2005 levels.
The ports are now working to transition to near-zero emission (NZE) and zero emission (ZE) equipment by 2030, and NZE and ZE vehicles by 2035. Renee Moilanen, environmental specialist associate at the Port of Long Beach (POLB), said the ports' leadership believes it is possible to achieve both economic and environmental success without sacrificing the health of the community. "We know that the emissions that are associated with the trucks and trains and ships have an impact on the environmental health of the local community," she said. "We are very much committed to making sure we minimize those impacts."
Barrett said the progress achieved by the Clean Air Action Plan is significant. He also lauded the City of Long Beach for deploying zero-emission buses and redeveloping its districts to be more walkable and bike friendly. He encouraged all city residents to continue finding ways to cut down on vehicle transportation, and to visit lung.org/sota to stay informed about the quality of their air.
Hazards Posed By Oil Refineries
Oil refineries and storage facilities pose additional air quality risks to Long Beach residents, Pettit noted. These risks extend beyond pollution into the realm of physical and potentially lethal endangerment, according to the Los Angeles County Public Health Agency (PHA).
In an April press release, the PHA announced that it is not prepared to handle the injuries that could result from a release of modified hydrofluoric acid (MHA) from refineries located in Torrance or Wilmington. Used in the refining process at the PBF Energy Refinery in Torrance, MHA is acidic and poisonous, according to the U.S. Chemical Safety & Hazard Investigation Board. If fluoride ions absorb into human skin, essential biological processes can be disrupted and result in death.
Were a catastrophic event to release MHA from the refinery, the toxin "could extend up to ten miles from the refinery," putting millions at risk, Angelo Bellomo, director of health protection for L.A. County, said in a public statement. "Emergency responders, emergency rooms and burn centers would be overwhelmed and unprepared . . . due to the uniquely hazardous nature of MHF," he stated.
The South Coast Air Quality Management District (SCAQMD), which approves refinery activities in the Southern California region, has been questioned by advocacy groups for its decision to sign off on refineries that contain such harmful toxins. When asked by the Business Journal if MHF should be phased out of refinery operations, a spokesperson for SCAQMD said discussions on the topic are ongoing.
Water Pollution
The nonprofit Heal the Bay monitors bacteria levels in the coastal waters of Southern California. Heal the Bay Water Quality Scientist Luke Ginger said that Long Beach's water is heavily affected by the debris that washes down the Los Angeles and San Gabriel rivers.
During rainy winters, the effluence that builds up in the streets and homeless encampments gets pushed into storm drains, Ginger said. This is how pesticides, metals, pharmaceuticals and bacteria enter the marine ecosystem. "Long Beach is a highly urbanized area, [and] highly industrial, so there's a lot of surface runoff," Ginger said.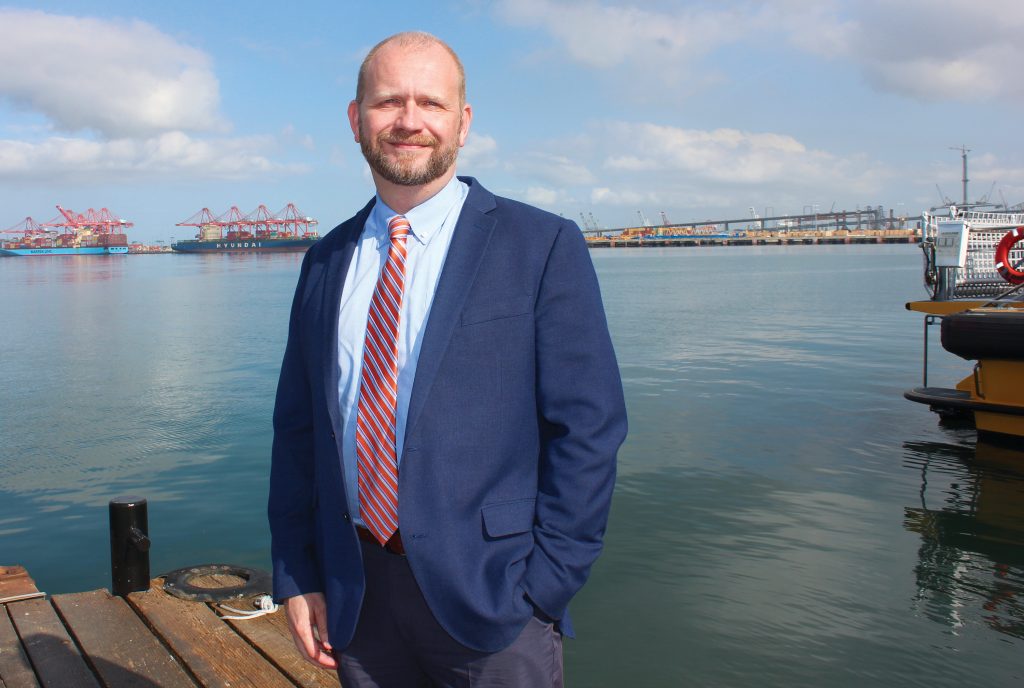 The Environmental Protection Agency requires cities to test for bacteria, in particular the genus of enterococcus, coliform and E. coli. These bacteria can cause gastrointestinal illness and infections, especially in beachgoers with weakened or compromised immune systems, Ginger said.
According to Nelson Kerr, the environmental health manager at the Long Beach Health and Human Services Department, beach cities are required by state law to test their water once per week between the months of April and October. The data reported from these tests is what Heal the Bay uses to create its Beach Report Card, an online tool for checking the bacteria level for California beaches. Kerr said that Long Beach goes beyond the requirements of the law by testing its beach water every month of the year and three to four times per week.
"The city has been so committed to improving the water quality here," Kerr said. He expressed support for the Long Beach Municipal Urban Stormwater Treatment facility, currently in its design phase, which would intercept water from city storm drains to filter out harmful contaminants.
Water quality has been an ongoing concern at the Port of Long Beach since the early 1990s, according to the port's acting director of environmental planning, Matt Arms. "Our mission is to not only promote navigation and commerce but to be stewards of the environment and the harbor. That includes the water and the wildlife," he said.
A combination of state and local programs, as well as careful monitoring by the San Pedro Bay ports, has resulted in a much cleaner marine environment than decades past, he said. The ports of Long Beach and Los Angeles conduct a biological survey every five years to evaluate the state of water, sediments and animals in the area. In the most recent survey, Arms reported marked improvement in sediment-dwelling creatures, as well as new species of fish and abalone.
Other Environmental Hazards
With over 300 employees and a $117 million annual budget, the Long Beach Health Department oversees a wide range of issues, including homeless services, housing, nutrition, chronic disease prevention, beach water contamination and vector-borne illnesses. "Basically, our mission is to protect the public's health by preventing exposures to toxic substances, preventing exposures to unclean conditions and eliminating general environmental hazards," Kerr said.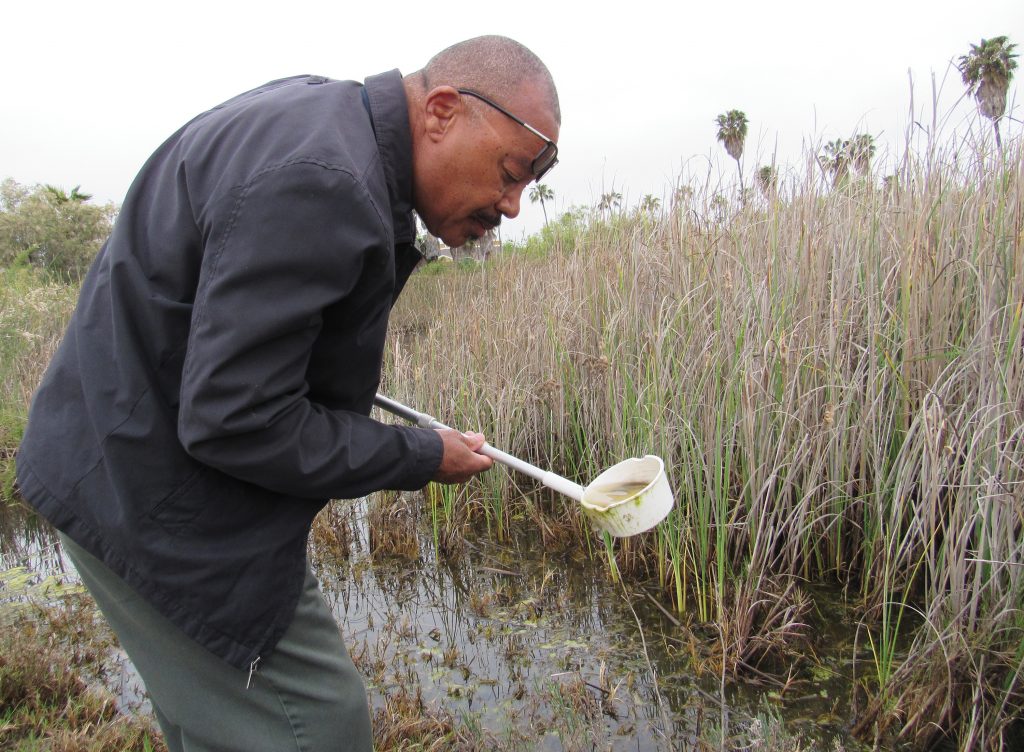 The health department has invested significant effort in eliminating mosquitoes, which can carry debilitating diseases like Zika virus, dengue fever and chikungunya. Of particular danger are the Asian tiger mosquito (Aedes albopictus) and the yellow fever mosquito (Aedes aegypti). "These are aggressive mosquitos and they distinguish themselves because they bite during the day," Kerr said.
Kerr's department has helped reduce the population of these disease-carrying insects by treating them with bacterial sprays and enlisting the public's aid. "We established a mosquito hotline and the community basically helped us find that mosquito," he said. The number for that hotline is 562/570-7907.
Other programs managed by the health department include an Asthma Life Skills Academy for Adults created in partnership with POLB. The program includes in-home asthma care visits as well as quarterly seminars and community workshops to educate residents on ways to manage their asthma.
The department has also developed an environmental lead mitigation program, which has been operating for about 25 years. This is a multi-pronged effort to prevent lead poisoning in children and rehabilitate high-risk affordable housing where lead may still be in the environment. Kerr said it's a program he's very proud of.
This past year Long Beach was awarded a competitive $4.1 million grant from the U.S. Department of Housing and Urban Development. The health department's management and implementation of its lead program over the years has made it a consistently outstanding applicant for the grant – and has been recognized by the U.S. Department of Housing and Urban Development (HUD) for its performance in carrying out its mission.
Because of HUD's program, and the efforts of cities like Long Beach, lead poisoning in children has been reduced from millions to approximately 50,000 nationwide, Kerr said.