As of September 1, there are now higher tariffs in place on a total of $550 billion worth of imports from China, a Trump administration strategy aimed at addressing what it views as unfair practices related to trade and intellectual property acquisition by the Chinese government. In response, China has placed tariffs on U.S. exports and implemented other exclusionary trade policies, such as resolving to cease purchasing U.S. agricultural goods.
Effectively, the September 1 action means that virtually all Chinese imports have now been hit with tariffs. The scope has widened to include consumer goods just ahead of the holiday shopping season.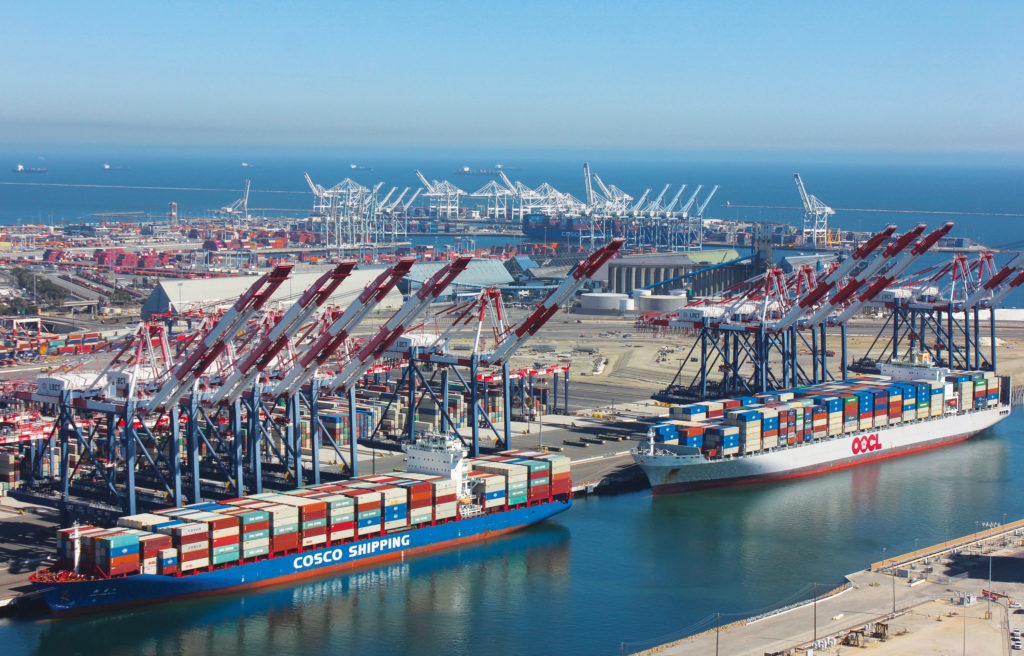 Roughly half of U.S.-China trade moves through the ports of Long Beach and Los Angeles, according to Jock O'Connell, a foreign trade economist and the international trade adviser for L.A.-based Beacon Economics. The majority of goods moving through these ports comes from or is destined for China. As such, as Port of Long Beach Executive Director Mario Cordero put it, the San Pedro Bay maritime trade gateway is "ground zero" for examining the impacts of the tariffs and of the U.S.-China trade relationship.
As of press time on September 5, the ports had not yet released their cargo movement data for the month of August. Through July, however, the overall trend for the year has been that the Port of Los Angeles has been experiencing gains in cargo movement, while the Port of Long Beach has experienced some dips. When figures from both ports are combined, containerized trade has been relatively flat this year compared to 2018, according to O'Connell.
In 2018, the Port of Long Beach broke its all-time record for containerized cargo movement, which increased 7.4% compared to 2017, according to Cordero. This was in part due to a rush of imports sent in the last two quarters of the year in an attempt to beat out impending tariffs, he noted. As a result, "Coming in to 2019, we did not have an expectation of the kind of growth we had for calendar year 2018," he said.
With respect to the disparity between the two ports, Cordero commented: "Keep in mind that for 2017 and 2018, our growth was far beyond that of the Port of Los Angeles. . . . Obviously, this year, at least so far, that dynamic has changed. But that's the history of this port complex. There are months that we do better and there are others that Los Angeles does better, and that is just the dynamic of what occurs here historically."
O'Connell noted that in November, the Port of Los Angeles set aside $2 million in incentives to provide $10 per container to shippers who agreed to participate in a program aimed at collecting data about goods movement. "That helped boost the numbers for L.A. over Long Beach. But $2 million runs out pretty quickly," he added.
Cordero said the trade war with China has clearly impacted American exporters. "On the export side, you have definitely seen a diminishment of agricultural grain commodities. . . . In California, we certainly have felt that," he said. For example, about 95% of the $1.5 billion worth of wine the U.S. exports each year comes from California – a product that the Chinese government has now significantly raised tariffs on, Cordero said. As a result, "We're not able to compete with countries like Australia and Chile who have free trade agreements with China."
The dip in exports leaving Long Beach bound for China has been significant. "A year ago I could tell you that 40% of the exports that went through this port would go directly to China. Today, that number is around 26%," Cordero said.
According to O'Connell, Americans have become heavily reliant on Chinese imports in the form of various consumer goods – goods now subject to higher tariffs, and thus, likely to go up in price quite soon as retailers seek to keep things in the black. "The fact is that you've got an increasing number of companies that are reporting that the tariffs are having an impact on their pricing and their ability to absorb those prices without passing it on to the consumers," he said. "As we get closer to the holiday season, I think the fact that retailers are going to have to pass on more of the cost to the consumers."
One option for American companies that manufacture goods in China or rely on China for component parts for their products is to source those operations in other countries. But that's easier said than done.
"We have seen a substantial boost in imports coming in from Vietnam and other places around the world that U.S. importers are using to substitute for sourcing of goods they formally went to China for," O'Connell said. "The reality is that's happening on the margins and it's likely to increase as companies diversify their dependence on China long term."
As wages in China have increased, U.S. companies have looked to other markets in Southeast Asia to manufacture or source goods – but, according to O'Connell, these countries do not yet have the same infrastructure in place to support that shift. "They don't have the labor force. They don't have the cluster of subcontractors and suppliers that typically surround a major manufacturing facility in China that can support it on a day to day basis. There is also the grave potential for transportation bottlenecks," he explained.
Cordero noted that some American companies are adopting a "China plus-one" strategy, "Which means, essentially, they are going to continue to look at China. But 'plus one' means maybe another country or another region."
Despite decreasing exports and expected dips in imports from China, both O'Connell and Cordero had measured outlooks through the end of the year. "Looking forward, the numbers are going to look flat, but there will still be [goods] coming in through the ports. It's not like they're going to suddenly shrink and go away," O'Connell said.
Cordero noted that the Port of Long Beach continues to invest in infrastructure that will ensure its growth in the long-term. "We're comfortable [about] our long-term future," he said. "You may recall, subsequent to the 2008 global recession, the impact to the Port of Long Beach was the loss of cargo volume to the tune of 29% . . ." he said, noting that this did not cause the port to cease investing in its infrastructure. "I mention that story because we've had challenges before, and we will keep the mindset that we've always had: to continue to be leaders, not only in the sustainable development of the port but also in . . . operational excellence. So I am optimistic in terms of what the future holds for the Port of Long Beach."
Behind The Trade War Strategy
"Clearly there are legitimate issues to address with regard to the business trade relationship with China," Cordero said. "The question is, while the issues are legitimate to have at the table, is this the best course to address those issues?" Cordero didn't directly answer that question himself. "My take is that I am looking forward to that resolution so that the international trade business community can proceed without an environment of uncertainty," he said.
Asked about his perception of the White House's trade strategy, O'Connell noted that he was not sure there was an actual strategy. "The back and forth isn't helpful to international trade or to global economics," O'Connell said. "There are Trump apologists who have grand theories . . . . It's like multi-dimensional chess, and that the rest of us are just failing to understand how he is going to achieve a successful end game, but he knows, and he is playing this out," he observed. "The rest of us are thinking: it's tweet to tweet. It's driven by mood and whimsy and however he feels in the day."
O'Connell pointed out that there has been a need to address problematic trade practices by the Chinese government. "There is a consensus that at some point someone had to stand up and tell the Chinese that they had to stop stealing other people's secrets, that they couldn't manipulate the currency, they couldn't use state-owned enterprises to direct the course of their economy, things like that," he acknowledged.
The Obama administration took more of a long game approach to the matter, as described by O'Connell. When Barack Obama was president, there was hope that multiple countries affected by China's trade practices would be able to collectively leverage their clout via trans-Atlantic and trans-Pacific trade agreements that ultimately did not come to fruition, he explained.
"Trump's initial stance in coming into office was he didn't like multi-lateral trade agreements. He'd prefer to deal one-on-one with each individual country, and so he backed out of all of that and pretty much then started to irritate relations with every major allied country," O'Connell said, noting that this "set us back at some point in terms of developing the kind of formidable alliance of states who collectively petition Beijing to change the way it's doing business."
By making moves without the support of other countries, O'Connell posited that the U.S. government has set itself back. "I think by the time this is over, we will be four years behind the game in terms of trying to create the kind of alliance that might successfully bring collective pressure on the Chinese to do something to reform the way they are operating," he said.
Just how long will the trade war last? Considering Trump's philosophy around the U.S. economy as it relates to trade, O'Connell suggested that it could last for some time – assuming the president is re-elected. The president's philosophy to "Make America Great Again" relies upon bringing manufacturing back to the United States that has been outsourced elsewhere, he explained. "We have to open up those factories again and create lots of blue-collar jobs and essentially try to recreate the economy of the 1950s," he said of Trump's perspective.
"His way to do that was to make it very difficult for companies around the world to sell their goods in the United States unless they were manufacturing those goods in the United States. The whole key to this thing was higher tariffs," O'Connell explained. "It's just not in the context of a long-standing need to try to straighten things out with the Chinese. It goes back to his fundamental thinking about what went wrong with the US economy over the last 50 or 60 years." O'Connell added, "The only way that works is if you're committed to maintaining those tariffs for a very long period of time. . . .  So we're not likely to soon get ourselves out of this predicament."