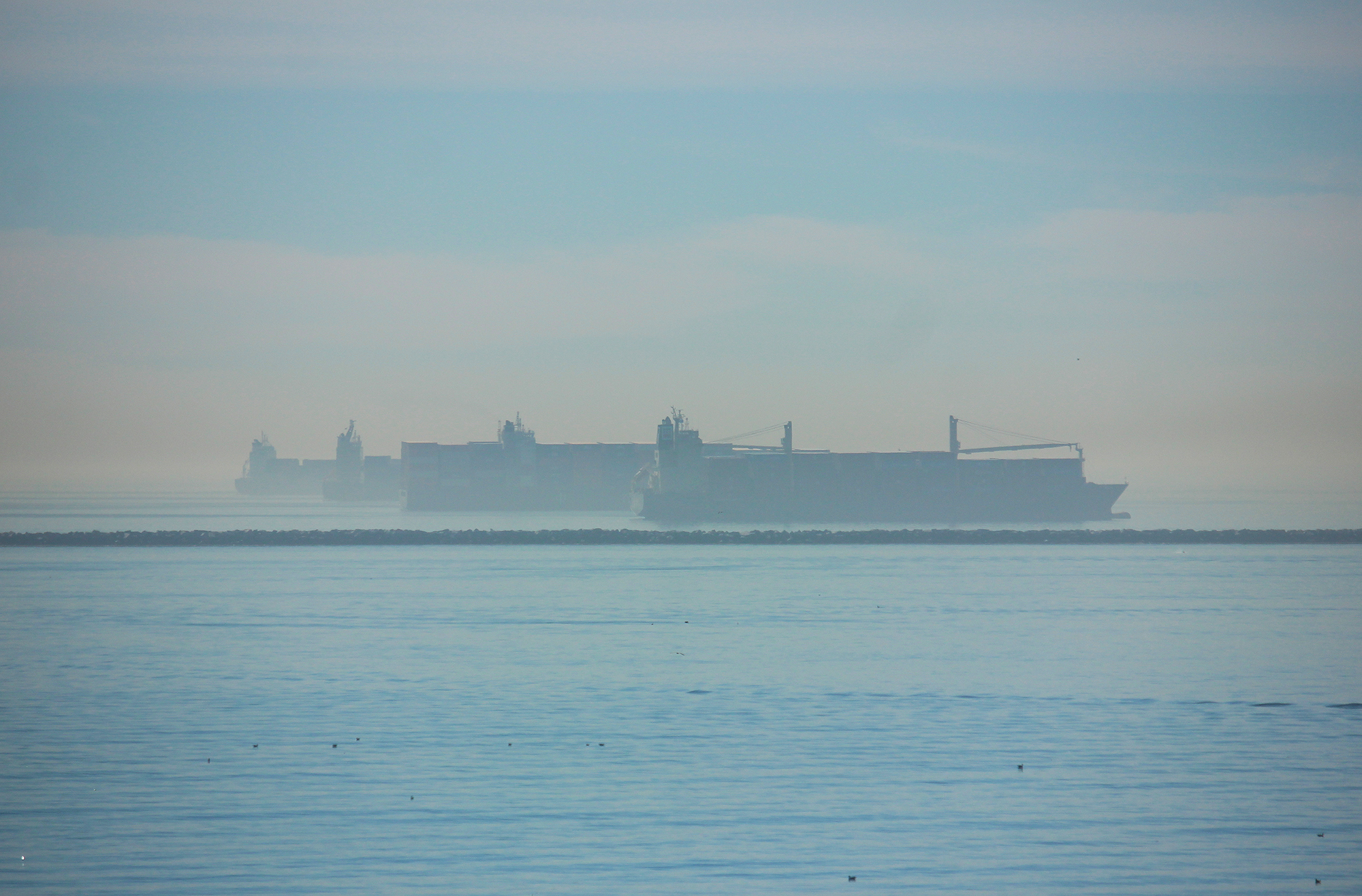 The number of container ships anchored or adrift within 40 miles of the San Pedro Bay Port Complex has decreased significantly—but the backlog persists further out at sea, according to data from the Marine Exchange of Southern California.
As of Wednesday, only 30 container ships were waiting for their turn at berth directly off the coast, down from a record 86 on Nov. 16, according to the Marine Exchange. However, thanks to a new queuing system that allows vessels leaving Asia destined for Long Beach to get in line upon departure, 66 additional ships are anchored farther out to sea or slow steaming toward the Southern California ports.
"Total container ships backed up was 96 at noon," the Marine Exchanged announced Thursday.
Slow steaming is when a ship's speed is deliberately reduced, in this case to ensure the ship does not arrive before its turn in line. The practice cuts fuel consumption and carbon emissions.
While the backlog persists, the decrease in ships directly off the coast means less impact on air quality for residents near the complex, Port of Long Beach Executive Director Mario Cordero said.
"We know that many of our people are concerned that ships waiting on the coast are contributing to air quality issues in Southern California,"  he said during a Thursday press conference. "We understand the number of container ships at anchor on the coast should be zero."
Emissions from the ships at anchor will be assessed during the port's annual air inventory process, Cordero added.
The ports of Long Beach and LA have experienced record cargo movement throughout the pandemic, spurred by a surge in online shopping. Through November, Long Beach had handled 8.6 million 20-foot-equivalent units (the standard measure of containers), breaking last year's record-setting 8.1 million.
The port is on track to process more than 9 million TEUs by the end of 2021, the most of any year in its 110-year history, Cordero said.
Cargo volumes and velocities have caused an excessive amount of containers to sit on docks, taking up precious space, far longer than normal. To incentivize shippers to ensure their cargo gets off the dock more quickly, the ports announced a surcharge for containers that sit too long. Announced in October, the collection of the fee has been postponed four times, now set for no earlier than Dec. 13.
Combined, the number of containers subject to the fee is down 37% as of Thursday, Cordero said.
Within the next six months, Cordero said he hopes a "sense of normalcy" will return to the ports, with the backlog easing after the holiday season. However, future COVID-19 surges could extend that timeline, he added.
Despite record cargo movement and the supply chain crisis, Cordero said the ports remain on track to meet its Clean Air Action Plan goal of zero-emission operations by 2035.