Federal Maritime Commissioner Mario Cordero is expected to be confirmed tomorrow as the new chief executive of the Port of Long Beach. Cordero, a former member of the Long Beach Board of Harbor Commissioners, is scheduled to start in May, according to a port statement.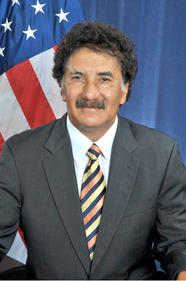 "Mario Cordero has my complete support and is absolutely the right choice to lead our Harbor Department," Mayor Robert Garcia said in a statement. "I'm especially pleased that Mario is a longtime resident of Long Beach. He understands how important it is to grow our local economy and protect our environment."
"I am so pleased to be coming back home to the Port of Long Beach during this time of dramatic change in the maritime industry," Cordero stated. "The broad perspective I gained at the national level, along with my many years of service as a Long Beach Harbor Commissioner and my love for the community of Long Beach, will allow me to hit the ground running."
Cordero, an attorney, was appointed to the Long Beach Board of Harbor Commissioners in 2003. He was named to the Federal Maritime Commission in 2011 by President Barack Obama. He served as chair of the commission from 2015 until January of this year.
Cordero replaces Jon Slangerup, who resigned from the position last fall. The board of harbor commissioners is voting on his confirmation tomorrow at 5 p.m. More information will appear in the April 25 edition of the Business Journal.