Since recovering from the congestion crisis that took place from late summer 2014 to the following February, both San Pedro Bay Ports have been breaking cargo traffic records nearly every other month. But it may be too soon to tell if the growth will be consistent, Gene Seroka, executive director of the Port of Los Angeles, told the Business Journal.
Gains in cargo traffic are often measured on a year-to-year basis, but the ports aren't relying on that comparison for accuracy at this point. "Comparisons year on year are really not appropriate in 2016 thus far, because we came from such epic levels of congestion and dislocations in the supply chain last year," Seroka said.
Year-over-year comparisons might paint an inaccurate picture of major growth, but the long-run cargo traffic analysis is nothing to sneeze at: the Port of Los Angeles just closed out the busiest first quarter in its 109-year history, moving more than two million twenty foot equivalent units (TEUs) of containerized cargo.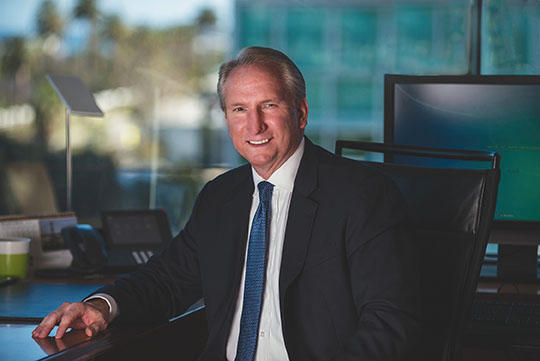 Gene Seroka, the executive director of the Port of Los Angeles, told the Business Journal that joint efforts between the San Pedro Bay ports and industry stakeholders to improve supply chain efficiencies appear to be translating into stronger cargo volumes as cargo owners gain more confidence. (Port of Los Angeles photograph)
Seroka doesn't go by the numbers alone when measuring the port's successes, or its failures, for that matter. The stability of international economies, manufacturing trends, the health of supporting industries and many other factors play into the bigger picture of the port's future growth.
"It's difficult to forecast," Seroka said about whether or not he expects the port to continue breaking cargo volume records this year. "We watch closely the economic indicators from our overseas markets, both for import purposes as well as our exporters," he explained. "We look at GDP growth, purchase order management of our importers, [and] the orders that our exporters are receiving. A lot of this really plays in to how growth will look for the balance of the year."
There are some "concerning" economic shifts taking place in trade-supporting industries like trucking, rail, terminal operations and shipping, Seroka noted. In the shipping industry, the trend of consolidations continues as shipping lines struggle to cut costs and achieve higher returns on investment. In December, CMA-CGM acquired APL for $2.4 billion, and early this year China Shipping and COSCO merged.
With all that considered, Seroka said, "I think it's a little bit too early to say that we're on a consistent path."
For the port, working towards that path means doubling down on the overall efficiency of the supply chain. "With all of the supply chain variables in the equation, it's my belief that we need to keep a focus on each and every one. Should one fall short, it will have an inordinate effect on the supply chain overall," Seroka said.
In early April, U.S. Commerce Secretary Penny Pritzker appointed Seroka to the Advisory Committee on Supply Chain Competitiveness for his leadership in this area.
The ports of Los Angeles and Long Beach have been guiding forces in a Federal Maritime Commission-sanctioned working group focused on supply chain optimization, with stakeholders from all relevant industries represented. "That really is the essence of the work we're doing on supply chain optimization: to make sure that all stakeholders have a meaningful seat at the table for discussions," Seroka said.
Formed last year following the contract resolution between the International Longshore and Warehouse Union and the Pacific Maritime Association, the working group has since primarily been focused on stabilization efforts. "We've seen some good progress being made on stabilizing the supply chain and the port service offering, but we now need to again raise the bar and bring offerings that have been shared with us to reality, and be able to enhance our supply chain processes at the next level of iteration that has been called for by the stakeholder groups," Seroka said.
"I think, simply stated, that the work around supply chain optimization [and] bringing stakeholder groups together to develop solutions is starting to show with that [cargo] volume being reappointed here to Southern California," Seroka said, referring to cargo that had been diverted to the East Coast during congestion and that is now returning.
Seroka views the potential loss of Burlington Northern Santa Fe Railway's Southern California International Gateway (SCIG) project, an intermodal facility that had been planned four miles away from the San Pedro Bay ports, as a detriment to the port and surrounding communities. It would have enabled the port to shift the movement of cargo more to rail than trucks, provided greater access to secondary and tertiary markets, and provided environmental benefits by taking trucks off the road, he explained.
A judge recently ruled in favor of the City of Long Beach and other parties, such as the Long Beach Unified School District, in a suit against BNSF and the City of Los Angeles that claimed the port's environmental impact report for the project was not adequate. The project is now on hold as BNSF decides whether or not to give SCIG another shot.
A recent statement from BNSF expressed disappointment with the decision, which it cited as anti-business.
"I believe that nobody wins in a case like this," Seroka said. With respect to West Long Beach and South Wilmington, which both Los Angeles and Long Beach had argued would be most impacted by the project (L.A. viewing this impact in a positive way, and Long Beach arguing the opposite), "I would really personally like to see a project that would help us move forward in the environmental domain, and, with this ruling, that's not going to be possible at this juncture," he added.
That's not to say the port isn't able to move forward with environmental improvements in general. In fact, Seroka and his counterpart at the Port of Long Beach, Chief Executive Officer Jon Slangerup, decided last year to revisit their ports' Clean Air Action Plan, a guiding document for reducing air emissions caused by port operations (see related story in this edition). "The rationale was we had seen such dramatic reductions and great work that we were at, or nearly had met, the emissions inventories or numbers that we had prescribed and committed to our communities that were due in year 2023," he said.
Revising the Clean Air Action Plan to include new air emissions benchmarks is a process that goes hand in hand with meeting Gov. Jerry Brown's mandate, issued last year, for the state's supply chain and environmental interests to work together to boost competitiveness while forging a path to zero emission operations, Seroka explained.
The port recently faced some scrutiny after Seroka publicly disclosed that China Shipping was behind on implementing its air emission mitigation measures, an issue reportedly related to former Executive Director Geraldine Knatz's decision (not publicly disclosed at the time) to allow the company to run its vessels' engines while at dock instead of plugging into shore power. An audit, initiated by Seroka, revealed China Shipping failed to meet other air emissions mitigation measures as well.
"I disclosed this information about China Shipping being a little bit behind their timelines on implementation of mitigation measures, but the overall air quality inventories are at or below what had been committed to the public and the community," Seroka said. "Now, that being said, there is more work that can be done, which is why I wanted to disclose this area of shortcoming."
Several projects on the port's list of major capital improvement projects include environmentally friendly upgrades, such as electrified terminal equipment being installed at TraPac Container Terminal as part of a larger $500 million upgrade to the entire site. Yusen Container Terminal is adding four new shore power plug-ins for ships, and both Yusen and TraPac are expanding on-dock rail capacity, infrastructure that reduces truck trips and air emissions.
Seroka reflected, "I really like Jon's [Slangerup] leadership, and we are of like mind and spirit to say now it's time to raise the bar once again and focus on areas that would follow the direction of the governor's executive order of enhancing competitiveness, making sure that we work very closely on operational efficiencies, and have a clear path to migration on zero emissions technology."