(Editor's note: This article was written 9/9/16. As of 9/10, the Hanjin Greece reportedly began unloading cargo at the Port of Long Beach)
As was widely reported on Friday afternoon (September 9), a New Jersey judge has granted Hanjin Shipping with provisional protection from its creditors in the U.S. during its bankruptcy proceedings.
The South Korean shipping line financially collapsed weeks ago, and since then its ships have been stranded outside of the world's ports and at sea as they attempt to avoid seizure by creditors. The judge's provisional order allows Hanjin to unload ships in the U.S. without risk of seizure.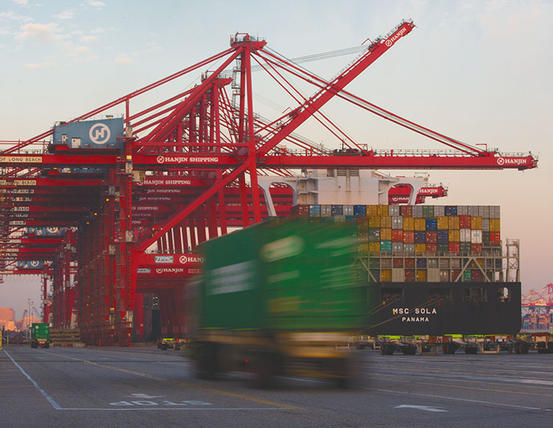 According to Port of Long Beach (POLB) Chief Commercial Officer Noel Hacegaba, there are three affected ships in local waters: the Hanjin Montevideo, which was seized by creditors before the ruling and is currently anchored within the breakwater; the Hanjin Greece, which is due at the Port of Long Beach; and the Hanjin Boston, which is due at the Port of Los Angeles. The Montevideo was already unloaded at POLB about two weeks ago, Hacegaba said.
To Hacegaba's knowledge, about eight Hanjin vessels around the world have been seized. There are 43 Hanjin ships en route to scheduled destinations, and another 39 vessels circling or anchored at ports. There may be as much as $14 billion in goods on all those ships, he said.
Hanjin Shipping vessels have also been stranded because, due to the company's financial crisis, terminal operators have refused to accept them without payment, Hacegaba said. "Many of our terminals in Los Angeles and Long Beach are requiring cash up front in order to work these vessels, and in some cases they are also requesting that Hanjin Shipping pay any outstanding debt on top of the cost to handle these ships," he said.
There are about 283 Hanjin containers on POLB docks at the moment, Hacegaba said. Another 16,000 twenty-foot-equivalent units of cargo – which Hacegaba said amounts to about 8,000 containers – are on board the Greece and the Boston. Once unloaded, those containers may be stuck, thanks to a decision by BNSF Railway Co. and Union Pacific not to transport any Hanjin containers, Hacegaba said.
"Those containers that were destined to go into the interior of the United States via rail are at the terminal," Hacegaba said. "Companies that own the cargo are looking at alternative ways to remove the containers from the terminals." There are three terminals at POLB that handle Hanjin ships, including Total Terminals International (TTI), in which Hanjin Shipping owns a 54% stake, he noted.
TTI is "financially sound," Hacegaba said. Mediterranean Shipping Company, the world's second largest ocean carrier line, owns the minority stakeholder in TTI, he noted. "It's a very desirable terminal operation which is why we're very confident that, notwithstanding what is happening with Hanjin Shipping, TTI will continue to be a world class terminal operation," he said.
There are also about 6,000 empty Hanjin containers already on POLB docks, Hacegaba pointed out. "Any time you have empty containers in the terminal, it takes up space. And it could potentially impact the space that is necessary to unload vessels that are making their way to berth," he explained. He added that he expects those containers to be shipped back to Asia on the vessels that plan to unload at the San Pedro Bay ports.
"This is a time when cargo owners ramp up their imports and get them to the store shelves in time for the holiday shopping season," Hacegaba said. "There is never a good time for something like this to happen, but when this occurs during peak season it makes things even more complicated."
Some of the commodities onboard Hanjin vessels in local waters include big screen TVs, apparel, shoes and furniture, Hacegaba added. Owners of that cargo include Samsung, LG, Ashley Furniture and others. "The impact of having these containers on these ships unable to come to dock is felt across the economy. There is no question about that," he said.
In an update on the situation, the National Retail Federation's vice president of supply chain and customs policy, Jonathan Gold, wrote: "The situation is still very much in flux as retailers continue to work with their transportation providers and other partners to get their cargo. There are a lot of questions about ensuring the vessels will be worked and who will pay for those services. . . . Hanjin continues to get some influx of financing to help to pay for some of these services. Retailers are working as best they can to try to avoid having empty shelves during the holiday season."
Hacegaba is aware of reports that Hanjin's parent company will supply $90 million to get its ships unloaded. "What we don't know at the moment is when the money is going to be in place and how it is going to be allocated," he said. "But we have not received any official announcement from Hanjin Shipping as to when those funds will be available and what those funds will be used for."
Hanjin's impending bankruptcy is one of many shakeups in the shipping industry in recent years.
"The way I would characterize it is this is the latest in a series of major events that have shocked the shipping line industry towards realignment," Hacegaba said. "In less than two years, we have seen two major consolidations. We have seen a major acquisition, and now with Hanjin Shipping we're seeing an ocean carrier filing for bankruptcy," he explained. "In less than two years, we went from 20 ocean carriers to 16."
Also in the past two years, alliances of major shipping companies have been realigned.
"The current alliance structure has four major alliances. Starting in the spring of next year, that number will be reduced to three," Hacegaba said. "What we're seeing is a significant realignment where the industry collectively is attempting to balance supply and demand. And so this situation involving Hanjin Shipping appears to be the latest in a series of major events that reflect this realignment."