The Long Beach Board of Harbor Commissioners on September 9 approved an agreement transferring the lease to operate Long Beach Container Terminal from Orient Overseas International Line (OOIL) to Macquarie Infrastructure Partners (MIP). MIP is acquiring Long Beach Container Terminal, the company that operates the terminal of the same name at the Port of Long Beach, as part of an agreement required by the United States government for COSCO Shipping Holdings to complete its acquisition of OOIL. The sale was first announced in 2018, and has been overseen by a board of trustees appointed by the federal Committee for Foreign Investment in the United States (CFIUS).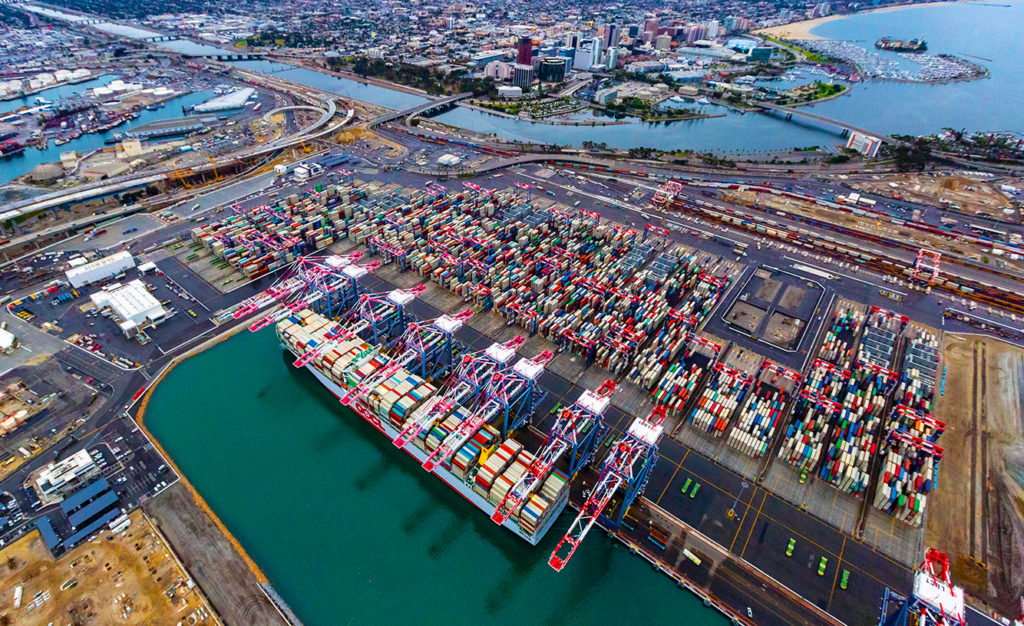 The terminal is located in the port's Middle Harbor, and is undergoing a more than $1.5 billion renovation and expansion that will ultimately allow it to process more than three million twenty-foot equivalent units of containerized cargo annually.
In April 2018, the Wall Street Journal reported that CFIUS had raised concerns about COSCO's takeover of Long Beach Container Terminal – the largest terminal in the nation's second-largest port – due to COSCO's status as a state-run entity in China. The committee required, via a national security agreement, that COSCO divest the asset in order to receive its blessing to acquire OOIL.
MIP made the winning bid, which was reportedly $1.78 billion according to Noel Hacegaba, deputy executive director of the port. MIP is a fund that operates within Macquarie Infrastructure and Real Assets, a subsidiary of Australia-based Macquarie Group Limited.
The Port of Long Beach was responsible for brokering the terms of the assignment and assumption of the terminal lease from OOIL to MIP, Hacegaba said.
"We got involved in the process when OOIL was narrowing down the list of potential buyers. We were engaged to have input into that process because, from our standpoint, we wanted to make sure that whoever came in was someone that could be a reliable partner. We are confident that the terms of this transaction are in alignment with the port's commercial and financial interests," Hacegaba said.
Harbor Commission President Bonnie Lowenthal recused herself from the September 9 vote due to a potential conflict of interest. According to Lee Peterson, head of media relations for the port, Lowenthal has a small interest in Macquarie Holding, another company owned by Macquarie Group. "She obtained her interest in the holding before there was any involvement by those Macquarie companies seeking this arrangement at LBCT," Peterson said via e-mail.
MIP declined to comment for this story. The deal is still subject to regulatory approvals, and the company does not wish to comment while the process is ongoing, according to David Franecki, vice president of corporate affairs for Macquarie Group.
"On many levels, and in many ways, this was not your run of the mill transaction," Hacegaba said. "One of the many complexities of this process was the availability of information. Because this transaction was subject to terms of a national security agreement, we as a port authority were not privy to that, so we were getting our information secondhand," he said, referring to the sale of the corporate entity Long Beach Container Terminal.
According to Hacegaba, the purchase of Long Beach Container Terminal by MIP is a first for the port. "Macquarie's acquisition of LBCT represents a new ownership model at the Port of Long Beach. There are other examples of private infrastructure funds taking ownership interest in marine terminals, but not to this extent," he said. "You won't find, to my knowledge, another terminal in the U.S. that is wholly owned by an infrastructure fund. This may signal a new paradigm for terminal ownership in Southern California and across the U.S. as investors look for alternative investments."
From what Hacegaba understands, MIP intends to keep existing management of the terminal in place.
He concluded, "This is a terminal that continually is raising the bar, and we're very confident that with Macquarie as the new owner this terminal will continue to raise the bar and will continue to perform at a world class level."