The Long Beach Board of Harbor Commissioners is voting on the final environmental impact report (EIR) for the Port of Long Beach's proposed Pier B On-Dock Rail Facility on January 22. Port staff is recommending that the commission adopt what has been dubbed the 12th Street Alternative, the option that would entail the largest project footprint.
The project would help the port move more cargo by on-dock rail, taking more trucks off the road, according to Sean Gamette, the port's managing director of engineering services. This would benefit air quality, he noted. The expanded facility would allow 10,000-foot long trains – the type that take cargo to the Central United States – to be assembled and depart from the port, he explained.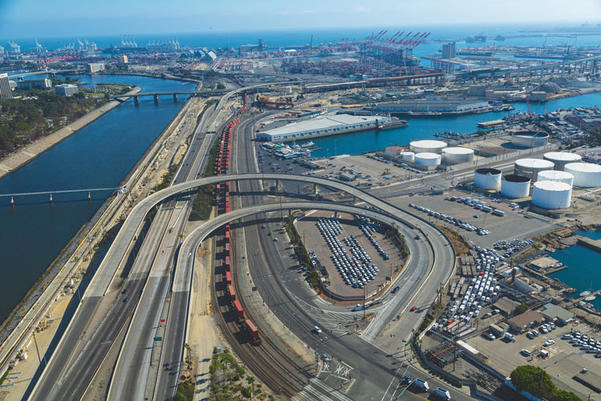 This aerial photo shows a port-adjacent area of Westside Long Beach that would be impacted by the expansion of an existing rail facility at Pier B. Port of Long Beach staff are recommending that the facility be expanded as far north as 12th Street to facilitate the use of more on-dock rail. (Port of Long Beach photograph)
In 2006, the ports of Long Beach and Los Angeles conducted a study of rail operations within the port, and established a goal to eventually move 35% of containerized cargo by on-dock rail. "One of the most significant projects in that recommended program is the Pier B On-Dock Rail Support Facility 12th Street Alternative," he said. "That's what we feel is needed to achieve moving 35% of containerized cargo by on-dock rail."
The original project proposal as outlined in the December 2015 draft EIR sparked controversy among many property and business owners in Westside Long Beach, who said they would be forced to relocate or close their doors. According to Gamette, some changes were made in the final EIR to reduce these impacts.
"We took a closer look at the perimeter of the proposed 12th Street Alternative, and that is the largest, most expansive alternative for the Pier B On-Dock Rail Support Facility," Gamette said. "We looked at ways in which we could reduce the amount of property needed as part of that alternative."
Reductions in the project's perimeter would lessen impacts to a few properties. For example, a light industrial building at 1411 Harbor Ave., which under the original draft proposal would have been acquired by the port and removed, would be able to remain. Additionally, a road that would have cut through a port-owned site leased to Shippers Transport Express near 12th Street and Canal Avenue has been eliminated.
Engineering staff are also investigating ways to create buffer zones along project-adjacent properties. For example, port representatives have met with Superior Electrical Advertising, a business located off of Anaheim Street, to discuss buffers that could include sound walls, landscaping or parking, according to a port spokesperson.
Gamette emphasized that the project's designs are not yet complete, and it might be possible to further reduce impacts to affected properties. If the board of harbor commissioners approves the recommended project or any other project alternative, one of the first things on Gamette's to-do list will be to form a team that "would engage all the local businesses and initiate discussions about the impacts," he said.