When it comes to doing business in the San Pedro Bay port complex, the ports of Long Beach and Los Angeles actively compete for trade. But in matters of environment and security, and how these issues impact surrounding communities, representatives from both ports say they're committed to working together.
"Commercially, we're pretty strong rivals. There's a vested interest in getting the most containers into each other's ports. But from a security standpoint, we're absolutely in lockstep," Casey Hehr, director of security services for the Port of Long Beach (POLB), told the Business Journal.
Tim DeMoss, air quality supervisor for the Port of Los Angeles (POLA), made a similar comment. "While we compete with [Long Beach] for business, we do not compete environmentally," he said. "The staffs of both ports work together very well. We foster that relationship because we know it's important."
The environmental partnership between the ports dates back decades, according to Rick Cameron, POLB's deputy executive director for planning and development. The relationship took a major leap forward in 2005, when the ports' leadership developed the Clean Air Action Plan (CAAP). Adopted in 2006, the CAAP was a response to increasing pollutant air emissions caused by traffic in the port complex. "From the 1980s to mid-2005, container throughput went up about 10-times," DeMoss explained.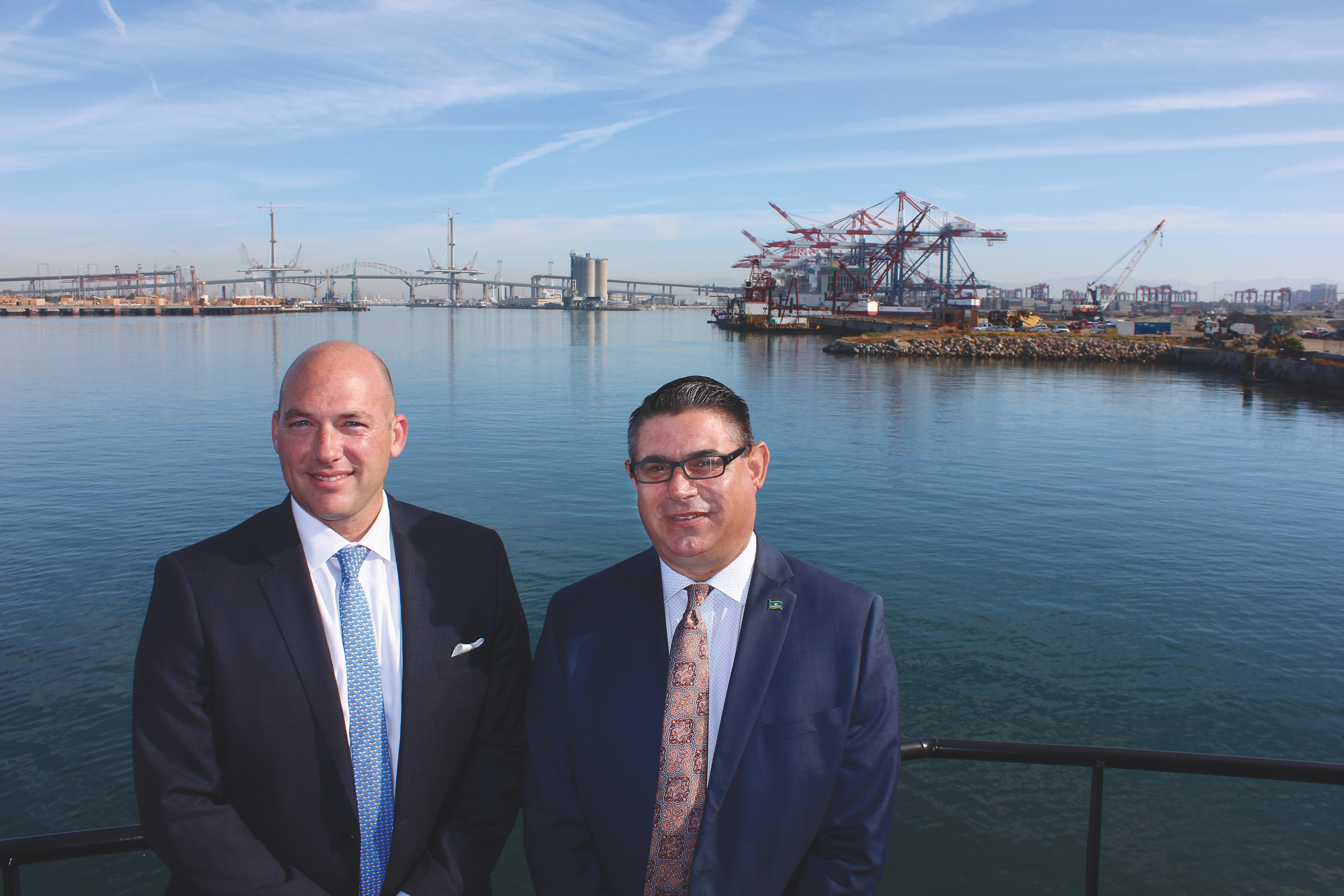 Sean Gamette, managing director of engineering services at POLB, noted that about 40% of imports to the United States and 25% of its exports pass through the San Pedro Bay each year, making it the nation's busiest port complex by container volume. Unfortunately, due to the geography of Southern California, pollution emitted by the ships, trucks, equipment and harbor craft that operate in the ports becomes trapped in the Los Angeles Basin. Complaints about air pollution from the ports grew in tandem with their commercial activity, DeMoss said.
But the ports took those complaints to heart, according to POLA Director of Media Relations Phillip Sanfield. "That's one area where we do work together, reaching out to the entire bay complex community on environmental issues," he commented. "We do community meetings that are joined to get input from all members at the same time."
With CAAP as their guide, the administrations of the twin ports created various incentives and programs to successfully reduce the emissions of their operations. Measured against the ports' 2005 baseline emissions inventory, sulfur oxides have been reduced by over 95%, diesel particulate matter by 85-87% and nitrogen oxides by 55-60%, according to Cameron. In 2017, the CAAP was updated to establish a new goal: transitioning to zero-emission equipment by 2030 and zero-emission trucks by 2035. The ports have received grants from the California Energy Commission and California Air Resources Board to stage demonstrations and studies of alternative fuel technologies. DeMoss said that if these pilot programs prove that near-zero and zero-emission machines are commercially feasible, new incentives and strategies will be created to convince terminal operators to purchase and use them.
To coordinate the CAAP, joint meetings of the POLB and POLA harbor commissions are held at major phase points in the plan, Sanfield noted. "Behind the scenes, it's a lot of hard work between the environmental teams spending countless hours together getting feedback from stakeholders, whether they're terminal operators, truck drivers, railroads, [or] shipping lines," he said.
Due to the ports' importance to the economy, there are even more stakeholders involved at the national level, L.A. Port Police Deputy Chief Randy Allen said. That requires collaboration and communication among the many security agencies that operate in the ports. Locally, that includes the Los Angeles and Long Beach police departments, L.A. County Sherriff's Department, local fire departments and the California Highway Patrol. Federal agencies include the Department of Homeland Security, the Federal Bureau of Investigation and the U.S. Coast Guard, the last of which oversees general operations in the harbor. "As a group, we train together to ensure that when we respond to a major incident, we all have our role," Allen said.
Coordination among these agencies has evolved significantly since the 9/11 attacks, the deputy chief explained. "Law enforcement was given a directive that we shall communicate more, share our resources more, and ensure that there is continuity of operations among all disciplines," Allen said. "We've gotten better at it, but I've never seen it work better than in the maritime world."
In partnership with other law enforcement agencies, the L.A. Port Police established the Los Angeles Regional Maritime Law Enforcement Training Center in Wilmington, which offered its first basic course in 2011. Designed to provide training for all agencies that have jurisdiction on the waterways, Allen said the center has graduated hundreds of officers from the Southern California region. The training center is a major asset, he continued, as it creates a standardized training for law enforcement agents working together in the complex.
In addition to guarding against smuggling and piracy, one of the L.A. port's highest priorities is protecting against cyberattacks, Allen said. "It is a significant factor for us, anything that would cause any kind of slowdown of commerce," he explained. "Because the impact would not only be to the local and regional economy, but literally the nation."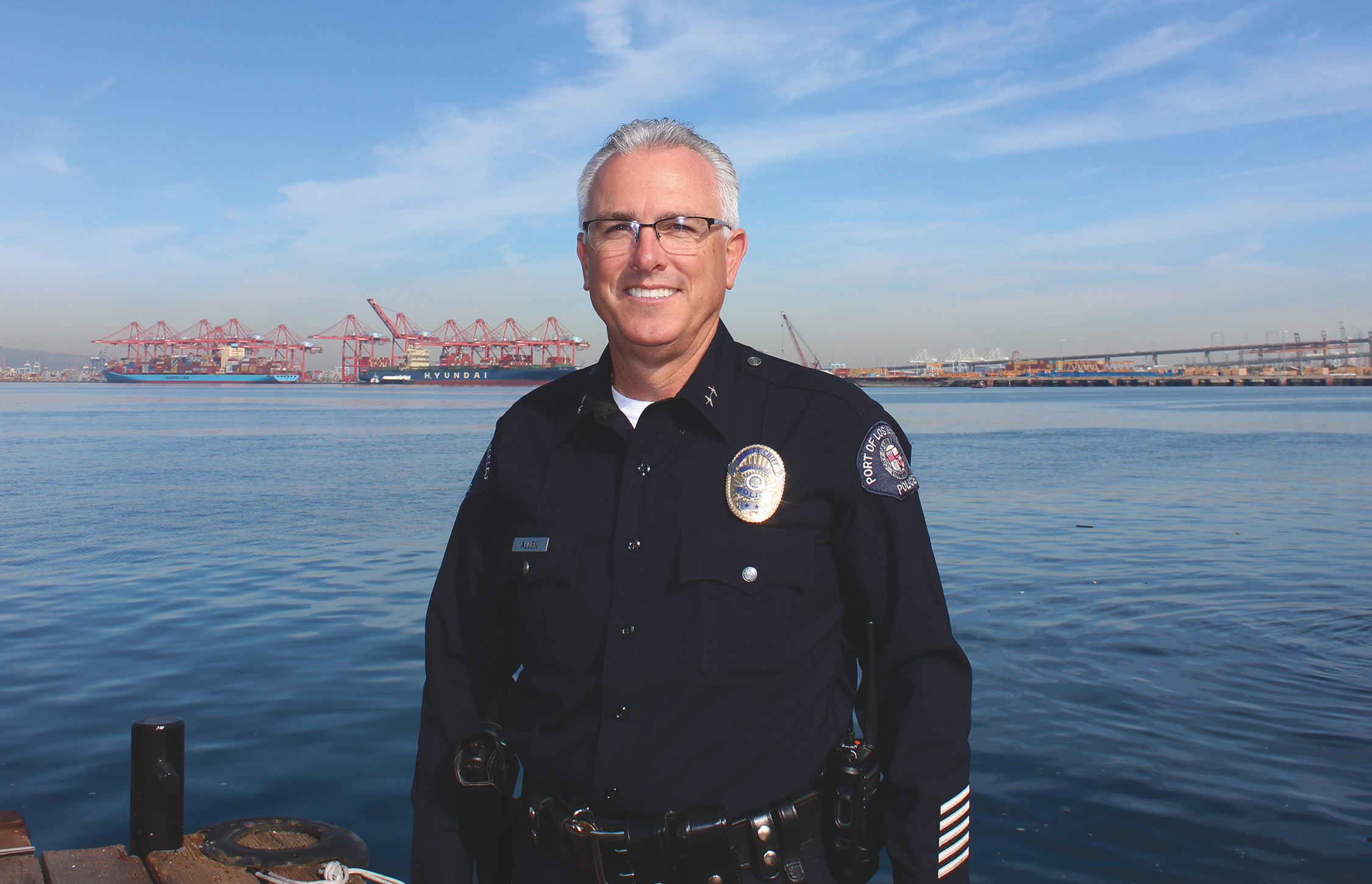 Casey Hehr said that security's top priority is just keeping the ports' stakeholders – employers, laborers and mariners – all working in a safe environment. "Our role is really to prevent something from happening before it happens," he said. To keep operations running smoothly, agencies work together on exercises and drills, and share information gathered via radar and video.
When asked what security is searching for during its inspections, Hehr answered, "irregularities." Ships that enter the harbor weighing over 250 gross tons are required to give 96 hours' notice, he said. This gives individual agencies more time to prepare for the arrival. Ships measuring below this weight threshold are not required to give as much notice, and there are many such vessels to keep track of. "It's really an open port," Hehr said of the San Pedro complex. "You have ships that are 1,100 or 1,200 feet transiting in and out of there, you have tankers with millions of gallons of oil right next to a jet ski or a speedboat. There have been incidents in the past where small boats have been up to nefarious things."
Allen said the partnership among the various security agencies is critical to ensuring business continuity in the region. "The security of this port complex takes many agencies – federal, state, county, local – and all have assets and personnel involved in securing this port complex."
And while the ports remain commercial rivals, Long Beach and Los Angeles continue to work together to keep the business and civic community informed of their operations, co-hosting seminars and education tours. "Both ports will share the responsibility of a tour of the complex so that our elected officials are up to speed on the nation's business complex," Sanfield said. "We work a lot in that respect."