Founded by George Economides, an immigrant from the island nation of Cyprus, the Business Journal has been reporting in the City of Long Beach since March 1987. In honor of National Small Business Week (May 5-11), and the immigrant heritage of this publication, the Business Journal spoke to local entrepreneurs who have traveled over oceans and continents to make this city their home, and who continue to help the local economy thrive.
In the Port of Long Beach, the Maehara family has been serving fresh fish and cold beer at Queen's Wharf Restaurant since 1988. The restaurant, and the adjoining Berth 55 Fish Market & Seafood, was owned by Sam Maehara until his death in 2008. The business passed to his wife Rebeca, who was born in Panama, and she has run it with her son Lawrence ever since.
"She's always been the glue around here," Lawrence said of his mother. "She's always been in the background, even when dad owned it." In addition to being a restaurateur, Sam Maehara also ran a dental practice. This left him scant time to manage day-to-day operations himself, which necessitated Rebeca taking the lead, Lawrence said. "I'm more the face [of the business] but she's responsible for everything. She's doing the paperwork and the insurance and the taxes."
Popular among families and port workers alike, Queen's Wharf has been serving the area for over three decades. "It is a family business, and this is how we want to keep it," Rebeca said. "We have been fortunate to be in the port. The attraction is the boats, of course, and the water. People like to come in and sit down and watch the boats go in and out."
"I think they also come here because of the quality," Lawrence said. "All the restaurants . . . here [are] getting fish from the same places, but my place is by far the best value. I guarantee our prices are the most competitive."
Rebeca also praised the loyalty of their long-time employees, some of whom have worked at the market and restaurant for decades. "Everybody's so familiar with [them]," Lawrence said of the staff. "They're like family, so when [our customers] come here it's like seeing your family."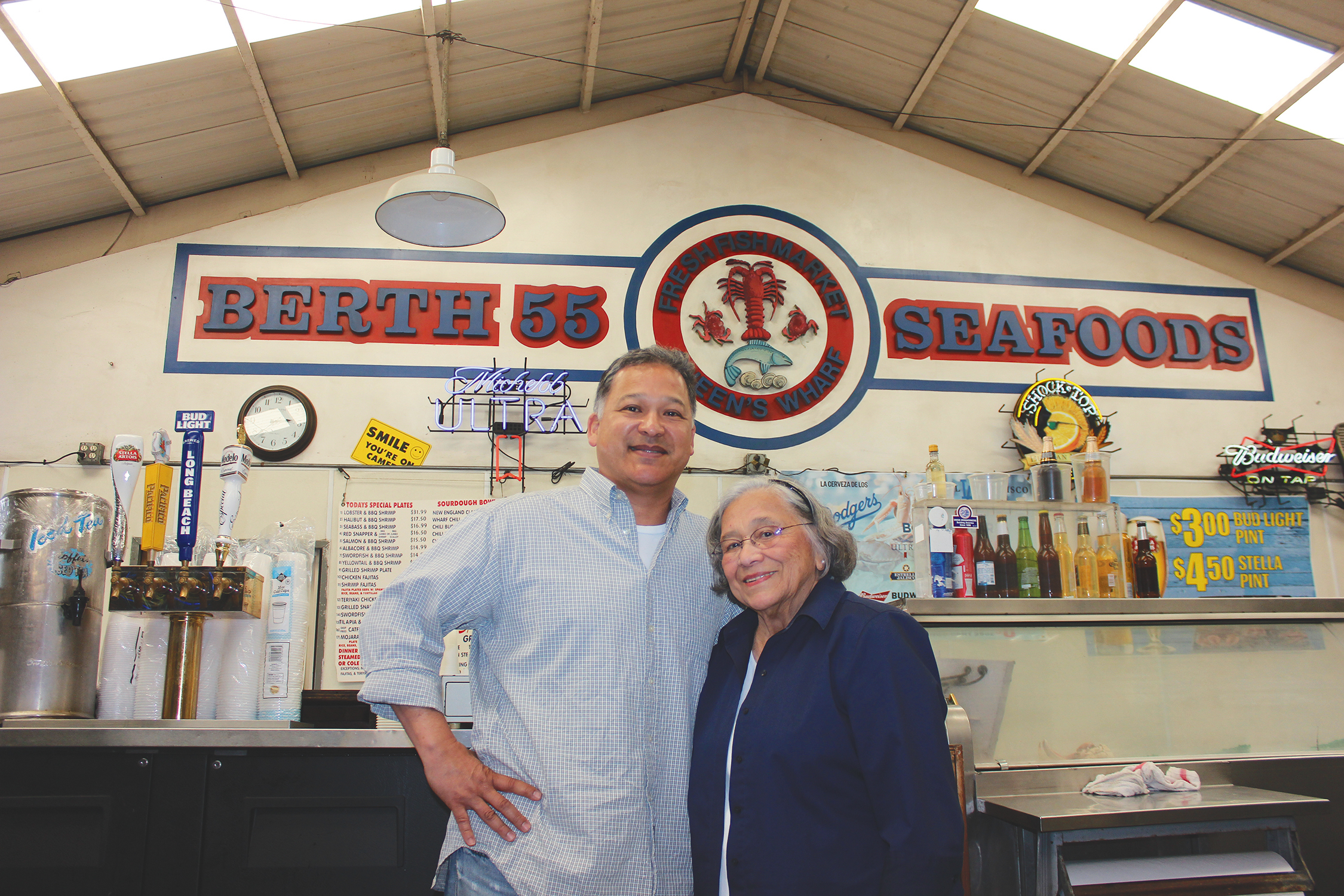 The testament to Berth 55's staying power arrived in 2012, when Long Beach residents rallied on the Maeharas' behalf to keep it from being shut down by the Port of Long Beach. The port, which leases Berth 55 to the Maeharas, originally planned to evict the business to build a new fire station. "They actually gave us a letter to close the business," Rebeca said. "It was the public that kept us alive."
Community leaders came to the Maeharas' aid, pledging to "Keep 55 Alive." Following discussions at city hall with civic, port and community stakeholders, the port ultimately rescinded its eviction request. A new location was selected for Fire Station No. 20 in the port's inner harbor, to be completed in 2021.
Lawrence said that, through it all, he and his family have maintained a good relationship with the port. "They've been letting us continue on and negotiate for a longer-term lease," he said. The family is now planning to renovate their property with a new paint job and fixtures, replace the wood on the outside of the building, and put in new floors and bathrooms.
"He's been involved almost since the very beginning and now he's in charge of it," Rebeca said of her son. "He's the one who has been pushing forward and . . . has [made it] a better place than it used to be."
Located on 4th Street's Retro Row, Portfolio Coffeehouse was founded by Kerstin Kansteiner almost 30 years ago. Born in Bielefeld, Germany, Kansteiner first came to the United States as a business student on a study abroad program. "In the beginning, I did not mean to stay," she told the Business Journal. Used to public transportation and without a car of her own, Kansteiner found it difficult to get around or meet new people. That changed after she opened her first business.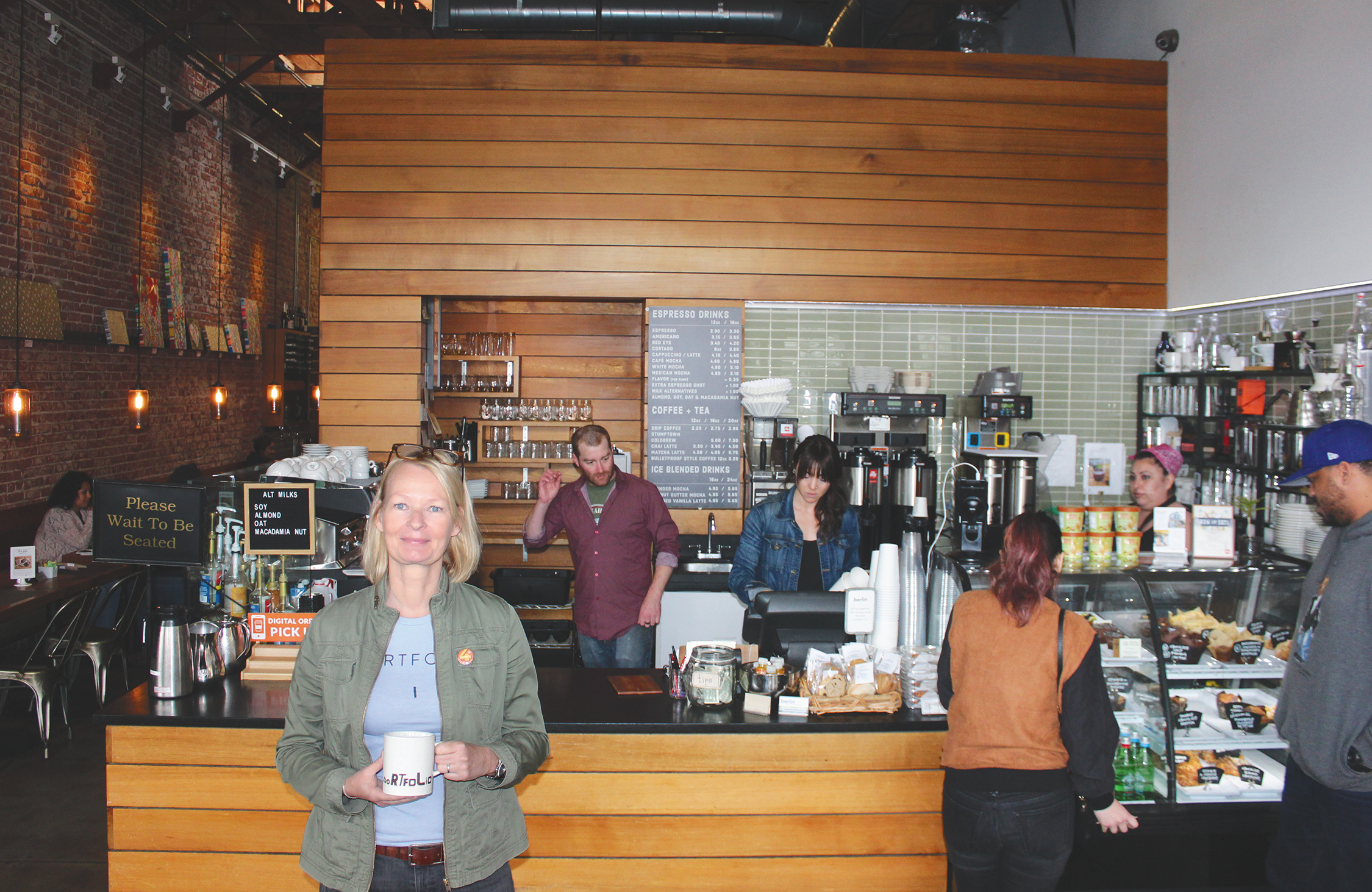 The ease of starting a business in the U.S. compared to her native Germany appealed to Kansteiner. "The process in general is a lot simpler," she said. With Portfolio, Kansteiner hoped to create a place where people could meet and interact, just as she'd wanted to do when she first arrived in Long Beach. "When we opened Portfolio, back then the entire culture of coffee and community didn't exist," she explained. "It's so integral in Europe anywhere you go. If you want to meet anybody or connect with the city you're in, you go to the town center, the cafés, and that's where you hang out."
Portfolio has been remodeled twice in the last 30 years and undergone several internal transformations, which Kansteiner said helps to keep the business thriving. "For any café, and quite possibly for any business . . . you have to reinvent yourself a few times. We've been an internet café, we used to have live music, we had poetry readings. There's always things you have to be open to and see if it works." Kansteiner said that Portfolio is still reinventing itself today.
The former president of the 4th Street Business Association, Kansteiner has gone on to open more businesses, including Berlin Bistro at 420 E. 4th St. and Portfolio FIT located near Olympix Fitness in Olympic Plaza. With her husband, Jan Van Dijs, Kansteiner manages the nonprofit Art Theatre at 2025 E. 4th St. "We enjoy that, and we enjoy that Long Beach is very diverse and that we can add to that with events we're creating," she said.
Long Beach is home to many diverse communities, including its Cambodia Town business corridor on Anaheim Street. Chair of Cambodia Town, Inc., Pasin Chanou, said the origins of the district date back to the 1940s when exchange students from Cambodia stayed in Long Beach to start businesses. These expatriates welcomed refugees fleeing from the Khmer Rouge in the 1970s. Today, the area boasts the largest population of Cambodians in the United States.
The integration of Cambodians into Long Beach was not always a smooth process, according to Sithea San, secretary for the Cambodian Coordinating Council and a member of Cambodia Town's board of directors. San experienced discrimination from Long Beach residents in the early 1980s. "They couldn't distinguish us from Vietnamese," San recalled. "They said, 'You boat people, go back."
Chanou said that Vice Mayor and 6th District Councilmember Dee Andrews was an early advocate for the community. "Any immigrant who comes to a new town . . . usually gets picked on. Dee Andrews took care of us," he said. "He took care of the students there."
Those working in the neighborhood are striving to enhance its commercial appeal, Midtown Business Improvement District (MBID) Executive Director Monorom Neth said. Assessments from property owners in the MBID pay for Platt Security to patrol the area six days per week, as well as steam cleaning for the sidewalks. "We're doing a lot of improvement," Neth commented. "We do what we can to make the place clean, safe and beautiful."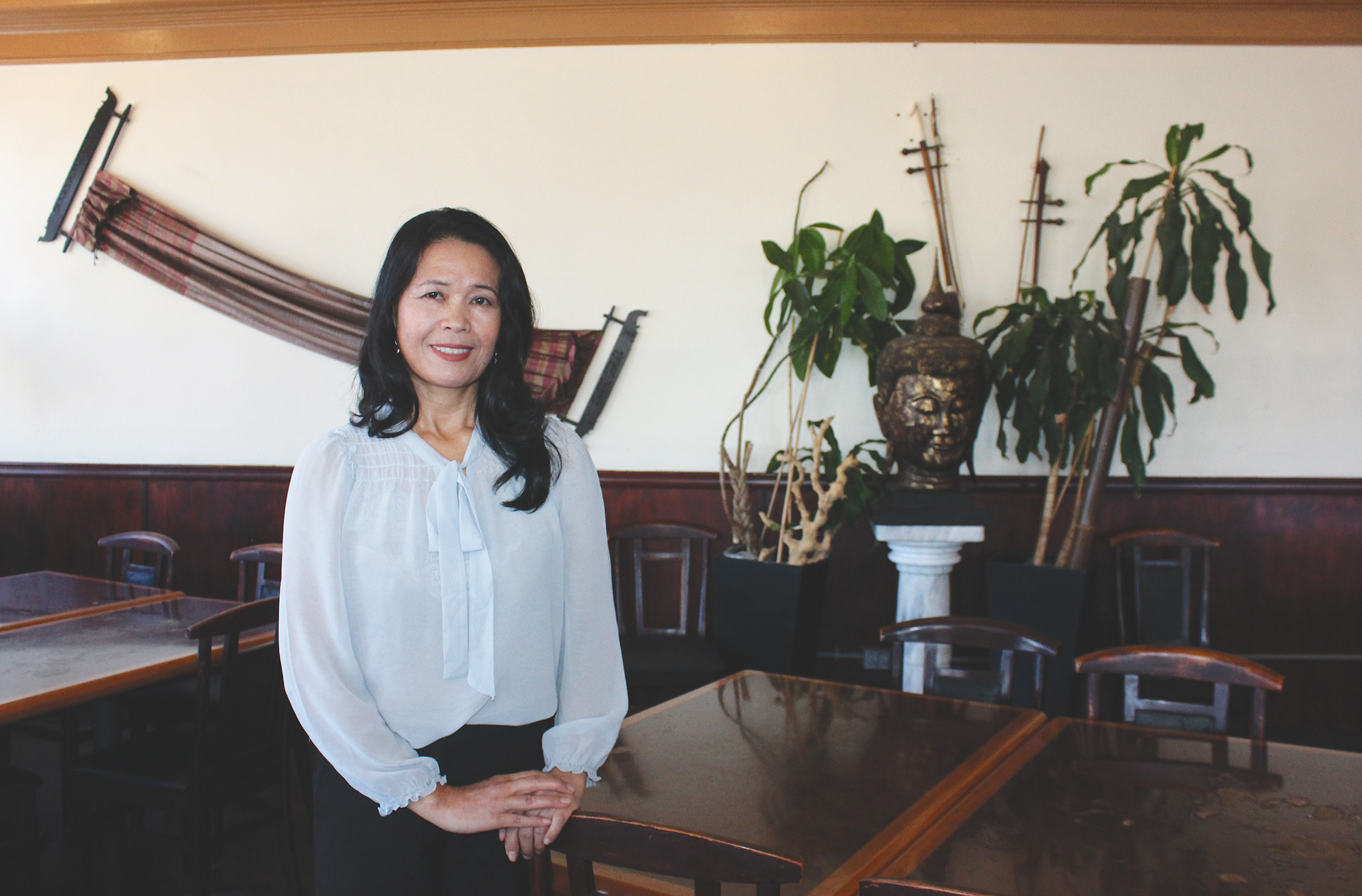 Sophy Khut, the former owner of Sophy's Signature Dishes Thai and Cambodian Cuisine, moved to Long Beach in part to be closer to that culture. Her family settled in Portland after escaping from Cambodia in 1976, but Khut said their fellow Cambodians were more spread out in the city, making it harder to connect. A few years after opening her first restaurant in Portland, Khut became interested in moving to Long Beach.
The decision to leave her family was difficult, Khut said, but the opportunity to live and work with so many fellow Cambodians, and bring her signature cooking to the neighborhood, was irresistible. She opened Sophy's in January 2000 with help from the Long Beach Area Chamber of Commerce and Joe Picarelli, owner of Picarelli's Cucina Italiana. "[Joe] helped me out a lot in introducing me to the locals and what I needed. That's a big plus, and made me feel very comforted," she said. Khut focuses her menu on dishes that might take too long to prepare at home.
Following a diagnosis of breast cancer in 2012, Khut gave up her business to take care of her health. However, she still helps out in the kitchen of Cambodia Town Food and Music, which has replaced Sophy's at 3240 E. Pacific Coast Hwy. "I love cooking, and that's why I went back and helped Cambodia Town use my recipes," she said.