Through partnerships with academic specialists, tech experts, educational institutions and business groups, the City of Long Beach has developed a multitude of innovative initiatives to help small businesses grow and thrive in the city.
One initiative involves a new web-based software program called OpenCounter, which attempts to streamline the city's permitting process. The city officially launched the program a few months ago after an initial test period.
Developed by Santa Cruz-based Open Counter Enterprises, Inc., the application offers a free, 24/7 service for entrepreneurs to receive answers to questions, such as those about permitting costs, online rather than having to meet with city staff in person at city hall. Entrepreneurs may log in to the program by visiting www.long-beach.opencounter.com.
The program saves time for entrepreneurs as well as city staff, making the city's permitting process more efficient, said Seyed Jalali, the city's economic development officer and business ombudsman.
Some permit applications may be more complicated than others, such as those for businesses that sell alcohol or provide entertainment, but all entrepreneurs now have the ability to simply enter the location and type of a prospective business and receive a "ballpark" answer online as to how much it would cost to open, he said.
"It makes it easier for the end-user, the customer, and it internally makes us work more efficiently with some other issues that really require people to be here for a face-to-face," Jalali said. "It's worked out perfectly. It's nothing more than business registration, asking the right questions and getting the right answers."
The city is also working to develop a series of solutions to prepare entrepreneurs for the startup process, helping to make it easier to submit business applications in one day.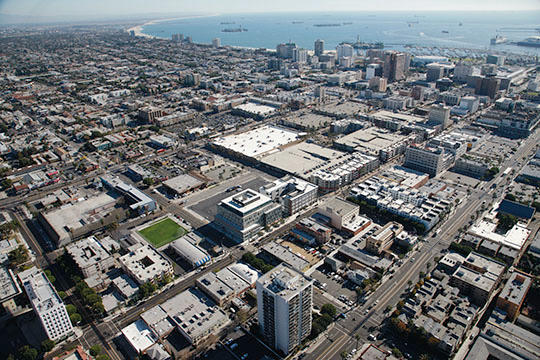 (Long Beach Business Journal photograph by John Robinson)
Through a $50,000 grant from the U.S. Small Business Administration (SBA), the city is planning to launch StartupLB, a comprehensive online tool to provide Long Beach entrepreneurs with business planning resources and to help target business development, according to city officials.
Long Beach is joining a number of other cities in the country to take a public "Startup in a Day" pledge, an initiative launched by the SBA in partnership with the National League of Cities, which represents thousands of municipalities across the country.
Innovation Strategies
The city's "innovation team" (i-team), a group of specialists with skills in various disciplines who have been hired through a $3 million grant from Bloomberg Philanthropies that required a $1 million match from the city, is developing the StartupLB tool as one of five strategies for increasing economic development in the city.
John Keisler, who serves as innovation team director after working for various city departments over the past 10 years, said team members bring a diverse set of academic backgrounds, including industrial design, software development, public policy and cultural anthropology.
"This team is supposed to look at government and this economic development issue in a cross-cutting, interdisciplinary way," he said. "The city has rarely had resources for research and development, and the goal is to have the freedom and the flexibility. We don't have operational responsibilities. We're supposed to understand and investigate economic development in a new way."
Over the past few months, the team has developed a "philosophy" of economic development that is focused on job creation, Keisler said, adding that the team is working to come up with ways to support, promote, attract and grow "job creators."
The i-team's first economic development strategy is creating a clear economic development "blueprint" for the next 10 years while working with the city's economic development commission and contracting with Los Angeles-based Beacon Economics, he said.
Another strategy involves improving "high-tech infrastructure" and increasing broadband internet access by opening up 63 miles of fiber optic cable, used for traffic signals and other government uses, to the private sector, Keisler said, adding that the team is scheduled to request city council approval this month.
Aside from developing the StartupLB online tool, other economic development strategies involve focusing on "branding" the city for business and creating a "center for innovation" targeted to be opened in 2017, he said.
Incentives And Loans
Another city initiative is the "small business recruitment, retention and growth incentive program," an effort to provide tax credits to small businesses that relocate to Long Beach, open a new location in the city or hire additional employees.
The program expands the city's economic development strategies that have been in place for many years, Jalali said, adding that, after the state eliminated redevelopment, the city began taking a more "proactive approach" to helping businesses expand in or relocate to the city by providing tax incentives or other supportive opportunities.
The city has also revived a program for business loans, ranging from seed capital of $25,000 to $35,000 for startup businesses to expansion loans of $100,000 or more, provided through the National Development Counsel's Grow America Fund, he said.
A three-member committee of the city's economic development commission oversees the loans and recommends approval or denial to the city council, with no appeal process, Jalali said. Even though the loans are public funds and aren't from a bank, they still come with interest and have underwriting requirements, he said, adding that loans from the city are merely meant to provide "gap financing" for businesses.
"We are strictly a safety net for those businesses that cannot access the traditional funding from traditional banks or other sources," Jalali said. "A lot of entrepreneurs nowadays have great ideas. They are hardworking people. They have put sweat equity into a venture, and all they need is a little help getting some seed capital to take it to the next step. That's what we do here."
Business Development
An additional resource for small businesses is the Long Beach Small Business Development Center (SBDC), which is hosted by Long Beach City College (LBCC) to provide outreach to businesses in downtown and throughout the city.
The Long Beach SBDC, which operates its main office at 4900 E. Conant St. near LBCC's Liberal Arts Campus and a downtown office at 309 Pine Ave., is one of 11 SBDCs in the Los Angeles County regional network, first launched in 2006.
Collaborating with the city and LBCC, the Long Beach SBDC offers entrepreneurs free services, such as advice on how to create a business plan or obtain financing.
Lou Anne Bynum, vice president of economic development for LBCC and a member of the Long Beach Board of Harbor Commissioners, said the Long Beach SBDC has access to nearly 100 advisors with expertise in anything from marketing and product research to financials, leasing and negotiations.
"We provide business support directly to people served within the City of Long Beach," she said. "The Long Beach SBDC has been probably the most active and has the best metrics out of any small business development center in our entire L.A. network. The purpose of it was to make sure we [are] taking care of businesses in Long Beach."
This year alone, the Long Beach SBDC helped start about 45 businesses, spur job creation for 182 people and bring capital infusion of about $17 million, Bynum said, adding that the center also counseled about 645 people.
She said the Long Beach SBDC provides businesses with hands-on assistance, such as helping to acquire a building or restructuring a business model.
The Long Beach SBDC has partnered with the Downtown Long Beach Associates (DLBA), which administers the Downtown Business Improvement District, to work collaboratively on such programs as providing a five-week, 10-session small-business focus workshop series earlier this year, Bynum said.
The SBDC's downtown office also runs a "young entrepreneurship" program, teaching students how to start their own businesses, she said.
The Long Beach SBDC also hosts the Goldman Sachs 10,000 Small Businesses Program, which has helped hundreds of entrepreneurs create jobs and economic opportunities by providing access to education, financial capital and business support.
In addition to providing opportunities for workforce training, the Long Beach SBDC is now working to create an "innovation fund" to help businesses in "biomedical, alternative green technologies and advanced manufacturing," Bynum said.
The next goal for the Long Beach SBDC is to help create a "commercialization center" in the city to spur growth in these innovative industries, she said, adding that Mayor Robert Garcia and Port of Long Beach officials are committed to helping such businesses grow.
"The Port [of Long Beach] has a lot of new, interesting, environmentally sustainable technologies," Bynum said. "We have a mayor interested in making sure we can create more innovative activity and invest in a better ecosystem here in Long Beach for companies to be attracted to come here."