Securing the Port of Long Beach (POLB) is not just about protecting the port's infrastructure – it's about securing and ensuring the flow of goods. With 40% of the nation's trade moving through the San Pedro Bay ports, threats to the port complex are economic in nature, according to Randy Parsons, director of security for POLB.
Parsons sat down with the Business Journal in a conference room overlooking the harbor at the port's Joint Command and Control Center, a building on Pier F that houses 100 port security employees, 35 Long Beach Police Department officers, a Los Angeles Fire Department battalion chief, the City of Long Beach's lead hazmat unit and other public safety personnel.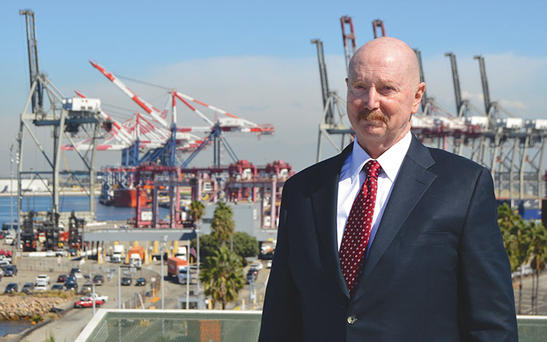 Randy Parsons, a 20-year veteran of the FBI, is the director of security for the Port of Long Beach. (Photograph by the Business Journal's Larry Duncan)
"This is an economic target," Parsons said while looking out at the harbor. "And what we've all learned is . . . if something should happen to these two ports, the national ripple effects are profound," he explained. "Unfortunately, we've got some real-time experience with the ports' operational impact being substantially influenced by collective bargaining issues. We've had incidences where these ports have gone down, and we've learned through real-time experience what that impact is."
This experience came most recently in 2014, when the International Longshore and Warehouse Union was bargaining with its employer group. During that process, which ended in February 2015, work at the ports slowed to a crawl. The slowdown caused a backup of goods felt by retailers and consumers across the nation.
"One of the things I like about the Port of Long Beach is, curiously, the security division is in the commercial operations bureau," Parsons said. "I think that says the Port of Long Beach takes a very serious view of securing the global supply chain and our place in that."
Parsons is a 20-year veteran of the FBI, having served as special agent in charge of the Los Angeles field office's counterterrorism program. He also served as federal security director at both Phoenix Sky Harbor and LAX airports. In his latter roles, positions he took on following 9/11, Parsons became familiar with the careful balancing act between ensuring the safety of people and facilities while maintaining efficient commercial activities.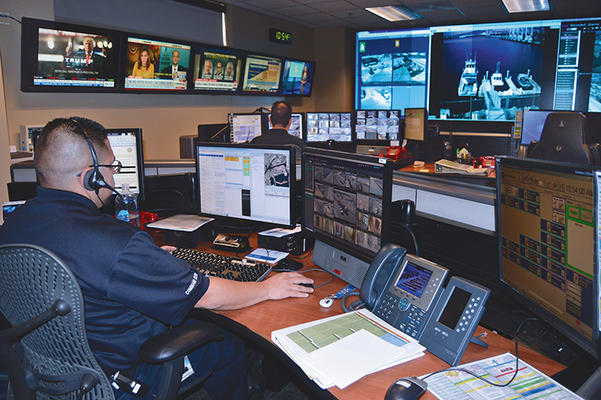 The Joint Command and Control Center at the Port of Long Beach is a 24/7 operation. At the center, port security staff monitor port activity and facilities through live closed circuit television footage, the Virtual Port system, radar and other technological tools. (Photograph by the Business Journal's Larry Duncan)
"Every time you increase security, there's possibly a negative consequence to commercial operations," Parsons said. For example, if the security division decided to inspect every oil tanker coming into the port, it would be "a great security philosophy," he said, but it would also have serious economic implications. "Cars would stop running. There wouldn't be enough gasoline. Oil wouldn't hit the refineries," he explained. "So, efficient and effective throughput is a big part of security."
The San Pedro Bay ports have about 4,200 vessel calls per year, Parsons estimated. "We do together over 15 million containers a year. . . . We have between 12,000 and 15,000 semi tractor-trailers visit [the port complex] every day." He called the amount of traffic and goods movement through the port "staggering."
The sheer volume of containers and vehicles means that the port's security team has to prioritize where its resources are focused, Parsons explained. To do that, the team primarily relies on information, which comes not only from port staff and operations but also from partner agencies like the United States Coast Guard, U.S. Customs and Border Protection, the FBI and Los Angeles's port police, he said.
"We try very hard to have information drive our decisions as to how to use our resources, and by resources I mean both technical and human," Parsons said. Vessel information includes country of origin, identity of crewmembers, prior ports of call and goods on board. Any of those factors can cause a ship to be flagged for a closer look by the security team, Parsons noted.
As in the world of media, in the world of security, the "first surge of information quite often is wrong," Parsons said. Nevertheless, the port takes a proactive posture when information comes in that suggests a potential threat. "Our philosophy is you always take a look," he noted.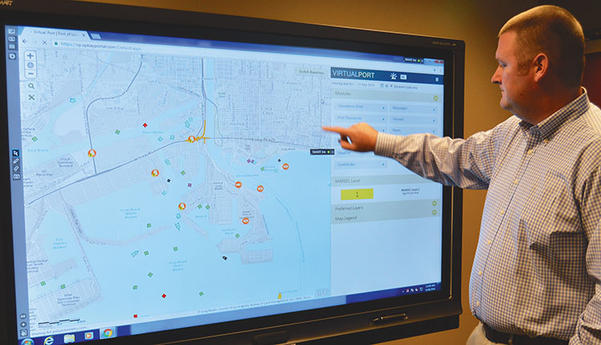 Scott Larison is the supervisor of the Port of Long Beach's Joint Command and Control Center. Here, he illustrates how Virtual Port, technology launched in 2014, is able to map various datasets in real time to aid in port security efforts. Traffic incidents, the location of vessels and even social media comments are just a few such datasets. (Photograph by the Business Journal's Larry Duncan)
For example, after Russian troops entered the Ukrainian territory of Crimea in 2014, a vessel was acting oddly outside the breakwater. Parsons and the security team looked into it, and it turned out that 100% of the crew were Ukrainians. So they took a closer look.
"That's an oddity. Crews are almost never 100% anything. They're a mishmash of nationalities," Parsons said. In that situation, port security gathered information about crewmembers, last ports of call and other data. "We did a more in-depth dive for information, and we found the answer to the situation. And it was nonthreatening," he recounted. The point, he explained, is that the port took notice and ramped up its efforts to analyze information rather than taking a wait and see approach.
The Port of Long Beach has experienced a full range of threats, from on dock fights to illegal narcotics movement to parasitic devices on the hulls of vessels, Parsons said. There have even been instances in which people have tried to traffic U.S. military goods and secrets through the port, he noted. But at the top of Parsons' list of concerns is cybersecurity.
"The big one that has come to the forefront is cybersecurity, because as you look at this operation and how it's run, it's all computers," Parsons said. "We're just struggling with getting our arms around it. I testified before Congress last October about cybersecurity in a maritime environment." Congress directed the U.S. Coast Guard to take the lead on securing the nation's ports from a cyber perspective, he noted.
Technology allows the port security team and its partner public safety agencies to access real-time information about what's going on at and coming into or out of the port.
"The Port of Long Beach has over $100 million in technical security equipment protecting the port," Parsons said. This equipment is primarily financed by the Federal Emergency Management Agency's Port Security Grant Program, with a cost share put up by the port, he explained. Some crucial equipment includes radar and closed circuit televisions. Some cameras cost upwards of $300,000 each. Inside the JCCC's primary surveillance operations room, Parsons demonstrated how a camera atop the World Trade Center in Downtown Long Beach can zoom in on the deck of the Queen Mary across the harbor.
Through grant funding, the Port of Long Beach developed a system called Virtual Port in 2014. The system compiles information from 70 sources, including public safety agencies and commercial partners, as well as geographic information systems data, weather information, the locations of pipelines and various utilities infrastructure, and much more. Port security and its partner agencies have access to the open source system and are able to, in real time, track any combination of factors on a map of the port in order to monitor current events and plan strategically.
The first use for Virtual Port is situational awareness, according to Parsons. "We know what vessels are anchored. We know what vessels are at berth. We know if there's a traffic situation. We know if there's a VIP visit today," he explained.
"For the sake of argument, [let's say] the mayor is here visiting a terminal and he's meeting with other dignitaries," Parsons said. "Rather than having to go to two or three different agency calendars to see if there's anything interesting in the area, you can go to Virtual Port and say OK, the mayor is going to be here. His security detail needs to know about something that's happening right next door."
Virtual Port is also used for incident response purposes. When an incident occurs, the lead agency involved – for example, the Long Beach Fire Department – can determine which of its resources to deploy and where, rather than over-deploying assets and leaving other areas vulnerable, Parsons explained.
Virtual Port also comes in handy for commercial operations. For example, the port allows trucking companies access to specific camera views that show where their trucks are headed.
"They can look at that video shot, and what they can see is the trucks are backing up onto the 710 Freeway," Parsons said. "So they can say . . . let's not send any more trucks down there because that truck is going to have a long wait to get in, and waits cost money." He added, "What we've done is we've turned Virtual Port to the business side of operations."