On a sunny morning at the end of April, elected officials from several South Bay cities, representatives from local businesses and Long Beach City College staff came together to celebrate the launch of the school's new Center for Community and Industry Partnerships.
The center, which was officially launched on April 23, aims to connect businesses, city agencies and local organizations with LBCC students and educators to enable and improve workforce development.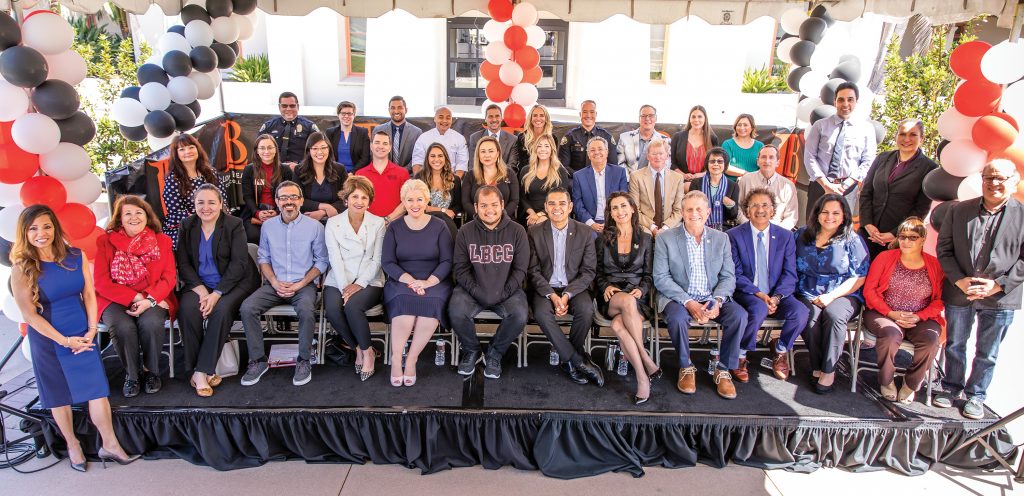 "Our partners will share their experience with our students and provide important guidance that will have a tremendous impact on both their personal and professional lives," LBCC Board of Trustee President Sunny Zia said in her speech on LBCC's Liberal Arts Campus. In return, she noted, "They'll get access to our network of businesses and agencies, and a plethora of exposure in the community for their investment in our students. Because if they succeed, business succeeds. And when business prospers, labor prospers." Zia was joined on stage by numerous industry partners, Long Beach Mayor Robert Garcia, Port of Long Beach Executive Director Mario Cordero and others.
Companies interested in participating in the program are asked to provide internships, scholarships or mentorships to LBCC students, according to LBCC's associate director of communications and community engagement, Stacey Toda. "The center serves as an umbrella for the various ways that organizations can connect with LBCC students," Toda explained. "Whether they want to post career opportunities or internships, serve on advisory committees, provide scholarships, or serve as a guest lecturer on a specific topic area, the center can connect organizations with the team members at LBCC who can move their partnership forward."
Jenna Lippert, managing director with employment agency Nelson and Associates, said her company has partnered with LBCC for several years and welcomes the opportunity to be more present on campus. "They've been a great resource for us," Lippert said. "They've been really open to incorporating what we're looking for into their programs, to make sure that they're funneling that skillset to the workforce."
For now, the center does not have a dedicated campus facility, but staff members from the school's workforce development and outreach teams are working to pursue the initiative's objectives, Toda told the Business Journal.
"When you ask employers today what their biggest need is, they will tell you – across the country and certainly here in California – that they need connections to a skilled workforce," Mayor Garcia said in his speech at the launch event. "I really believe that this new center is going to be the model center in this community to connect people to jobs, and connecting our students to the jobs of the future."
Current partners of the center include the Port of Long Beach, the Long Beach Police Department, Dignity Health and the Boy Scouts of America. Organizations interested in becoming a partner may contact Marcia Parker, Senior Director, Community Relations & Industry Partnerships at mparker@lbcc.edu.