The Los Angeles Board of Harbor Commissions recently approved a 50-year lease for a new complex called the San Pedro Public Market on the site of the existing Ports O'Call Village.
The leaseholder and developer for the site, San Pedro Public Market, LLC, has planned a $150 million revitalization project featuring "restaurants, shopping, fresh food markets and creative office space, outdoor gathering areas, as well as a half a mile of waterfront promenade," according to a statement from the Port of Los Angeles.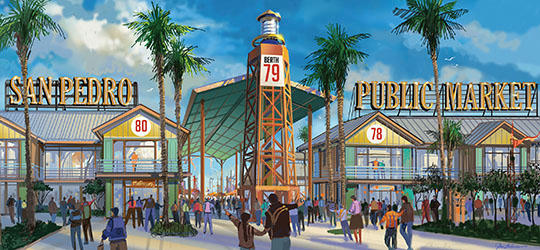 (Rendering of future San Pedro Public Market provided by the Port of Los Angeles )
The leaseholder company is a partnership between The Ratkovich Company of Los Angeles and Jerico Development of San Pedro. The developers announced the rebranding of the 30-acre site as a public market in March.
"We have dreamed for decades of an L.A. Waterfront that brings our entire City together – a place where families, friends, and neighbors can gather to eat, stroll, shop and enjoy the water," Mayor Eric Garcetti said in a May 19 port statement following approval of the lease.
Garcetti continued, "Today, I am proud to say that we don't have to imagine it anymore. With the signing of this lease, we bring these long-awaited plans to life and commit ourselves to the vision of a world-class waterfront in Los Angeles."
Under the lease agreement, the Port of Los Angeles is undertaking infrastructure projects for the site, including improvements to the Sampson Way and 7th Street intersection, a public access dock project for recreational purposes, work on a town square and promenade, and other projects. Port administration expects to invest $400 million toward these efforts over the course of the next decade.
If also approved by the Los Angeles City Council, the project is expected to be complete in 2020.