With one of the largest urban solar projects on the roof of the downtown library and a transition towards alternative fuels for the city's port and public transit fleets, Long Beach has made its intentions clear: the city is going green. Now, city leadership is considering the formation of a Community Choice Aggregation (CCA) program, a change in utility systems associated with more sustainable power sources.
In California, the CCA concept first took hold in the northern part of the state. California residents, shocked by the power outages of the energy crisis in 2000, pushed for more local control and inclusion of renewable energy sources. Two years later, the state legislature passed Assembly Bill 117, allowing the formation of CCAs – nonprofit entities that use existing infrastructure to transmit power to their customers, but negotiate directly with generators of power and set their own rates.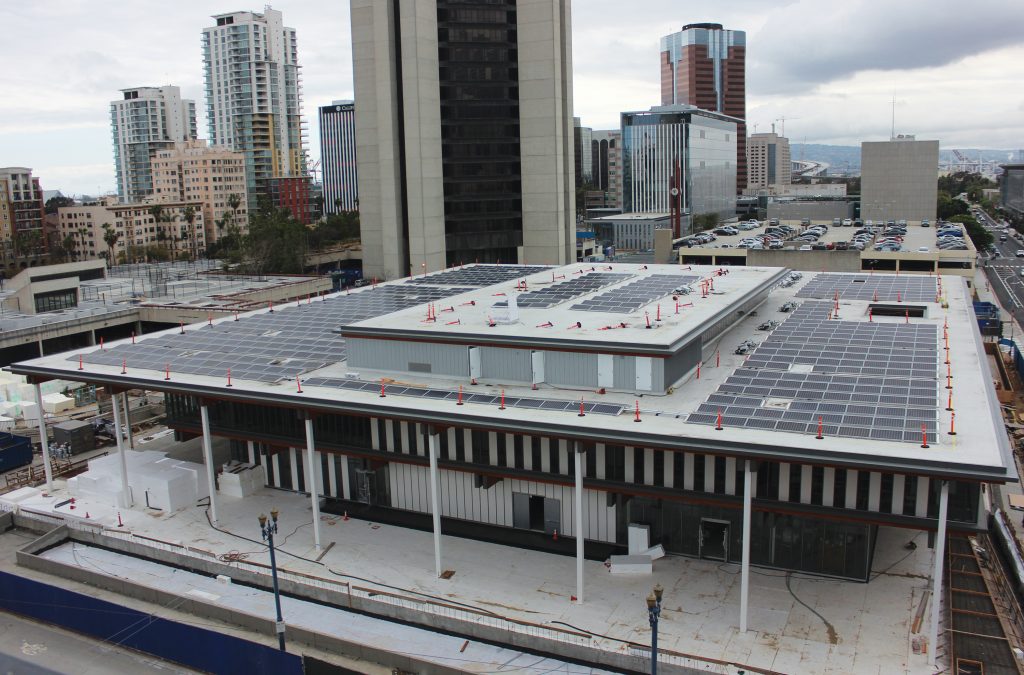 The first such program in California, Marin Clean Energy, launched in May 2010. In 2017, a team of researchers at the University of California, Los Angeles (UCLA), counted eight operational programs in California and noted the growing popularity of CCAs across the state. Today, the California Community Choice Association, a lobbying group that represents a majority of CCAs, recognizes 19 programs in California.
"The original impetus for CCAs came out of the green movement. The production of power is a dirty business. You're either burning coal or natural gas," Tony Foster, business operations manager at the Long Beach Energy Resources Department, told the Business Journal. "The desire was to generate cleaner power, because CCAs can essentially create their own power portfolio."
In Long Beach, the idea of creating a local CCA has been floated around for a while, according to Foster. In 2017, the city began giving serious consideration to the issue, and in October 2018, the city council requested a feasibility study that is still underway. To assess whether the formation of a CCA is a viable option for Long Beach, the city has hired analysts from Oakland-based consultancy firm MRW Associates, LLC. Together with the energy resources department, MRW consultants are reviewing power usage throughout the city to better understand the usage patterns of its 190,000 commercial and residential accounts.
"We have just a few customers, we're talking less than 100 meters, which use nearly half of the electric power in Long Beach," Foster explained. The city's oil and port operations account for a large portion of its energy usage, making their commitment crucial to the formation of a local CCA. "If they opt out, that takes away a huge part of the load that the Long Beach CCA is procuring. That would change the whole rate structure and could put us in a bad spot if these large customers just go to the cheaper rate."
As the port becomes increasingly powered by electricity, moving away from diesel-fueled yard vehicles for example, its impact on the local electric grid is expected to rise, according to Port of Long Beach Media Relations Manager Lee Peterson. The port's Energy Initiative, which includes a $7 million project to install solar panels and energy storage at its security headquarters announced in October 2018, will help secure clean energy the event of power outages. But given the port's growing power needs, these efforts are not likely to impact overall power usage, Peterson said.
Generally, CCAs have been able to provide greener energy at a lower cost than traditional investor-owned utilities (IOUs), according to a 2017 report by UCLA's Luskin Center for Innovation. When the first CCAs entered their contracts with power generating companies over the past decade, renewable energy sources had become much more affordable than they were in the 1990s and early 2000s, when many of the IOUs signed their most recent power contracts.
A large-scale restructuring of the electric industry in the 1990s led to an increased separation of utilities from power plants. Rather than generating power for just one utility, the newly-independent power plants began selling the power they produced to a number of utilities, Foster explained. "When that happened, a lot more independent generators came online, many of them renewable. So that's who the CCAs were going after."
The early adoption of renewable energy by CCAs and their ability to enter new contracts at a time when sustainable power sources were more widely available gave the new providers an advantage. But as the contracts that IOUs like Southern California Edison and San Diego Gas & Electric signed decades ago expire, they too are able to negotiate better rates for sustainably-sourced power. "Now, the shackles are coming off the IOUs and they're starting to be able to compete for renewable power sourcing just like the CCAs, which is making it much more competitive," Foster said.
In 2016, Southern California Edison (SCE) began offering "Green Rate" plans with 50% or 100% renewably-sourced power. Of the utility's regular power mix, 32% is generated through renewable resources, according to SCE's 2017 Power Content Label published by the California Energy Commission. "One of the things that you're seeing is now the big IOUs, in their power portfolio offerings to their customers, are offering similar rates and similar mixes of renewable power that the CCAs almost exclusively offered just a few years ago," Foster said. "So it's become much more competitive and that's the concern of Long Beach."
There are also significant startup costs associated with the formation of a CCA. Cities planning to form their own are legally required to study energy demand and provide proof that they have the financial resources to cover the initial cost, an analysis that's currently underway in Long Beach. "That's why this load analysis is crucial, because we have to know exactly how much power we'd be buying and we have to demonstrate that we have the ability to buy it, so customers don't go dark when the CCA launches," Foster explained.
To ensure competitive pricing that would keep Long Beach's largest energy consumers onboard, the city may consider offering them discounted rates. "You could make prices competitive for those large customer users, but it might be at the expense of the rest of the customer base, so the residential, the small commercial," Foster said. "They might be paying a little bit more than they would otherwise pay in order to direct some of the cost savings to the large industrial customers, but in the totality it might be worth it."
The earliest possible launch date for a Long Beach CCA would be January 2021. By then, discounted pricing for large consumers, paired with the more competitive rates IOUs have been able to offer recently, may have erased the savings for most power users. But cost savings and a shift towards increased use of renewable energy aren't the only selling points, Foster noted. CCAs are nonprofits, setting them apart from IOUs, which have to pay out shareholders. Foster explained, "The profit that IOUs provide to their investors – they put that back into the system, or they can offer programs and provide revenue to cities to enhance other sustainable functions, such as an electric bus system or an EV-charging station system."
MRW's analysts and city staff are planning to return to the city council with a more detailed study of the project's financial feasibility in September 2019, Energy Resources Director Robert Dowell told the city council on April 23. During the meeting, councilmembers and staff discussed the need for more public outreach on the issue in the coming months.
"We're making decisions that the taxpayers are on the hook for for the remainder of these contracts, but we really haven't involved them in this process," Dowell said. "Forming a CCA is a long-term financial obligation for a city. This is very serious, because these contracts are 20 to 30 years out many times, and billions of dollars are involved."