The Port of Long Beach will soon be led by a familiar face – former Long Beach Harbor Commissioner and attorney Mario Cordero. The Long Beach Board of Harbor Commissioners confirmed Cordero's appointment as executive director in a special meeting on April 14.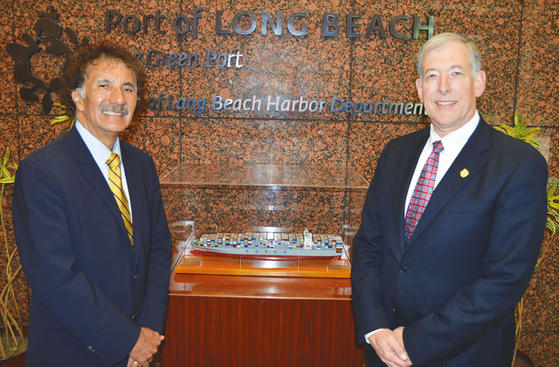 Mario Cordero, left, is set to take the reins next month as executive director of the Port of Long Beach from Interim Chief Executive Duane Kenagy, right. Cordero is a Long Beach local, and no stranger to the port – he served on the Long Beach Board of Harbor Commissioners for eight years. (Photograph by the Business Journal's Larry Duncan)
Cordero is leaving his position on the Federal Maritime Commission (FMC) to lead the Port of Long Beach. He was appointed to the commission by President Obama in 2011 and served as its chair from 2015 to January of this year. He served on the Long Beach Board of Harbor Commissioners from 2003 to 2011.
The board has been searching for a new leader since former Chief Executive Jon Slangerup resigned last fall to take on a position with a Canadian aviation firm. He served in the position from June 2014 to October 2016.
"I am so pleased to be coming back home to the Port of Long Beach during this time of dramatic change in the maritime industry," Cordero stated. "The broad perspective I gained at the national level, along with my many years of service as a Long Beach Harbor Commissioner and my love for the community of Long Beach, will allow me to hit the ground running.
"We have a stellar leadership team in place, and I'll be working closely with the commission and our highly experienced staff in the months ahead to carry out our ambitious capital improvements and ensure that our customers and community members are well-served."
Praise was quick to follow the harbor commission's decision to hire Cordero.
"We congratulate former FMC Chairman Mario Cordero on being selected to lead the Port of Long Beach organization," Port of Los Angeles Executive Director Gene Seroka said in statement provided to the Business Journal. "Mario is a respected industry leader with an extensive understanding of North American seaborne trade, as well as the particular supply chain dynamics here at the nation's largest trade gateway. We look forward to continuing our strong working relationship with the Port of Long Beach team under Mario's leadership."
John McLaurin, president of the Pacific Merchant Shipping Association, also had positive remarks. "Mario brings to the job extensive contacts within the international trade community and understanding of the local community," McLaurin told the Business Journal via e-mail. "He is a very open and honest person. His selection, coupled with new appointments to the harbor commission later this summer, will bring stability and reverse a trend of constant turnover at the senior management position."
Mayor Robert Garcia was also pleased with the selection of Cordero. "Mario understands the Port of Long Beach, the challenges facing the industry, and has a deep love of our community," he wrote in an e-mail to constituents. "I know Mario will manage our growing port economy and ensure we are protecting our air and environment."
Cordero has deep Long Beach roots that go beyond his time on the harbor commission. In addition to his law degree, he holds a bachelor of science in political science from California State University, Long Beach, a subject he previously taught at Long Beach City College. He and his wife, Gloria, are longtime Long Beach residents.
Duane Kenagy, the port's former capital programs lead, has been serving as the interim chief executive since Slangerup's departure. He told the Business Journal he is looking forward to working with Cordero and the commission in shaping his role at the port moving forward. As he understands it, Cordero is likely to take over in mid-May.