Mayor Robert Garcia: Downtown Evolution Is Accelerating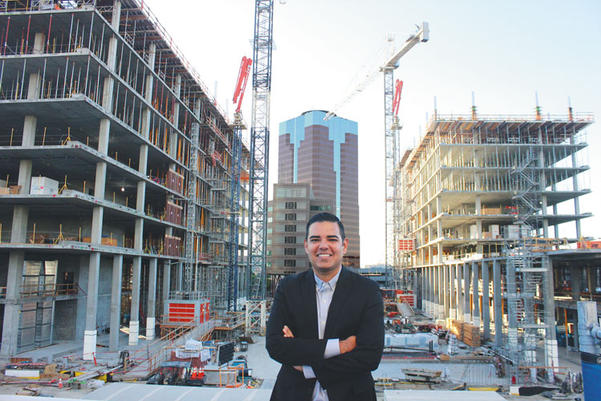 As a homeowner in Downtown Long Beach for more than a decade, I have never been more excited about the progress we are seeing in our neighborhood. Downtown is well on its way to becoming one of the most thriving and walkable places to live, work and play in America. Smart development, increasing economic activity and transportation improvements are transforming our downtown into one of the most desirable neighborhoods in the region.
More than $3 billion of private investment is bringing new homes and business opportunities for local residents and business owners. There are currently five cranes in the downtown's skyline, seven if you also count the two working on the new bridge in the Port of Long Beach. But this is only a start; more are on their way in 2018 as the pace of development continues to accelerate. Our new Civic Center project is leading the way – two new towers that will be our new City Hall and Port Headquarters will top out soon and the outline of the new Main Library is visible as steel and wooden beams are already in place. All three buildings are on schedule to be completed and occupied in 2019.
The three new residential projects adjacent to the Civic Center are also moving forward at a brisk pace – the first should be completed next year. There are over a dozen projects under construction with more to break ground next year. I set a goal of creating at least 4,000 new residential units in the Downtown when I took office and the projects under development today are putting us on track to meet this goal and to bring new opportunities and amenities to our residential market. We need more residents living, shopping and spending money downtown to support our local economy and ensure downtown's continued success. We are committed to building a housing market that supports everyone, including our seniors and working families.  I am proud that more than 600 units of affordable housing are in progress nearby.
Retail development also continues to improve. Pine Avenue is emerging as a culinary destination as several new eateries joined the Pie Bar last year. Romeo Chocolates, Plant Junkie, Crepe Crafters and Pumped Nutrition each bring something unique to the street and join the long-time anchor institutions like the Kress Market, Hamburger Mary's, the Omelet Inn and Made by Millworks, making Pine Ave a key retail and food destination.  These new options, when added to those found in the East Village and the renovated Pike on South Pine, create a downtown that has something to satisfy the needs of every resident and visitor alike.
Key office buildings are also being renovated to strengthen commercial options downtown. Renovations were completed at the Hubb – at the corner of Pine and Broadway – and significant renovations are underway at the World Trade Center and Catalina Landing properties. These changes are attracting new companies like recent arrival WeWork and convincing others to increase their investment in our city. Zwift, one of the top funded tech startups in the region, is growing rapidly and is looking to expand its presence here because they believe in our community and where it is going. Other spaces will join the Retail Design Collaborative and Studio One Eleven in 2018 to increase the options for state of the art new creative office space in downtown.
Downtown transportation options continue to improve. Earlier this year, I was elected to serve on the Metro Board and made improving ridability and safety on the Blue Line a top priority.  One of the first motions I supported allowed Long Beach Police to patrol the Blue Line in Long Beach.  I also fought for additional security services at downtown stations to increase fare enforcement. More than a billion dollars are being invested to replace Blue Line trains, synchronize traffic signals to reduce travel times and make other improvements.  Long Beach is still the only city in Southern California to be in the Top-10 nationally for walkability and bikeability. Downtown was the highest scoring neighborhood in both rankings. Our Bike Share program continues to expand and has more than 20,000 users. Finally, Measure A will make significant investments in infrastructure, including street improvements, lighting and additional bike lanes to improve traffic flow and make life easier for pedestrians.
None of this would have been possible without the great community partners we have. I want to thank the Long Beach Convention & Visitors Bureau for helping us have our best year ever in tourism and the Downtown Long Beach Alliance for the outstanding work they do to clean and program our downtown. They are indispensable partners. Finally, thanks again to the Long Beach Business Journal for their long-standing support of our downtown and the opportunity to share my thoughts with you.
Welcome To Downtown
By Kraig Kojian, President & CEO, Downtown Long Beach Alliance
and Ryan Altoon, Board Chair, Downtown Long Beach Alliance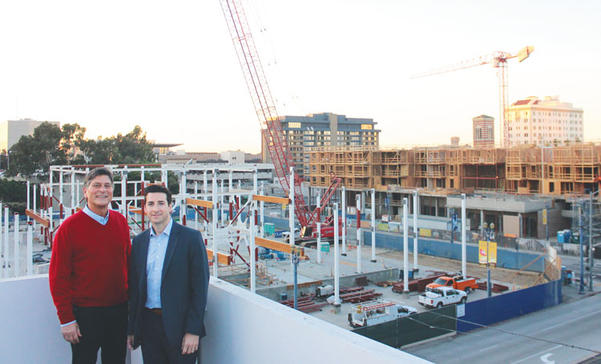 Downtown Long Beach continues on its progressive trajectory to take itself to the next level, yet still holding onto its unique and fun personality that makes our 1.38 Un-Square Miles a destination for business and residents to call home and for visitors to enjoy.
In alignment with this continued growth and open doors of opportunity, the Downtown Long Beach Alliance (DLBA) understands and embraces the need to preserve what makes Downtown special. The businesses, residents, property owners and visitors are all integral in creating the eclectic character of DTLB that we know and love.
This past year, 174 new businesses made the decision to call Downtown home, and the business environment remains healthy and evolving. Additionally, 31 mixed-use residential projects, planned or under construction, are in development. Pedestrian traffic numbers are strong with over 1.6 million people tracked in Q3 of 2017 alone. While foot traffic serves as one great indicator of potential economic benefit for our local businesses, the DLBA strives to implement programs and activate public space to build the appeal of a downtown destination.
At the heart of DLBA is a community-driven, non-profit organization staffed with a dedicated team determined to grow and evolve to suit the needs of DTLB. The Downtown community and DLBA continue to face challenges that push us forward to keep serving and exploring for actionable solutions. As a full-service place management and leadership organization, the DLBA is well-positioned to focus on a variety of core functions including but not limited to advocacy, marketing and special events; business recruitment, retention and job creation; activating the public realm to emphasizing cleanliness and safety that ensures a quality of life for thousands.
Building and fostering a great Downtown is a community effort, and we applaud all our stakeholders and collaborative partners who appreciate the importance of working together and strive to create this one-of-a-kind, thriving Downtown.
Business Executive Perspectives About Downtown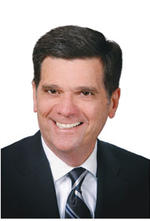 By John Di Carlo, Managing Partner
Windes
Windes employees have been watching Downtown Long Beach grow since we opened our doors in 1926.  New construction, most notably the new Civic Center Plaza, is a significant addition to the continuing revitalization of downtown. The vast array of significant construction projects of commercial, residential, and mixed-use properties add to the vibrancy of the area and make downtown Long Beach an attractive and magnetic workplace for our employees, both current and future.
A great city is distinguished by its live performance and arts scene, and Long Beach, by that definition, is a great city with its multitude of festivals and cultural events. The Aquarium of the Pacific, the annual Long Beach Grand Prix, and the hundreds of events held at the convention center and Rainbow Harbor each year bring tourists and locals here to contribute to the economy and vitality of our city.
Proposed renovations to the Queen Mary complex, including the summer home of the Long Beach Symphony Orchestra, are promising improvements that will add to the vibrancy of downtown from across the bay and throughout the region.
Our office is centrally located in downtown (Ocean Blvd. and Pine Ave.), which offers a great working environment for our employees. We have a big-city experience with a small-city feel and the vista is stunning, especially the sunsets during winter. The boom in downtown housing allows our workforce to consider the opportunity to live and work in close proximity. A variety of high-end restaurants and casual eateries make downtown an excellent place for business lunches and after-hours gatherings for families and singles alike.
We are proud of our 91-year residency in downtown Long Beach as we continue to experience, and be a part of, its growth and development.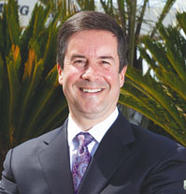 By Steve Goodling, President & CEO
Long Beach Convention & Visitors Bureau
There are so many positive forces at work in Downtown Long Beach that are helping to push it to a new level. With new residential units opening in the next 24 months, there will be even more people living in and enjoying the downtown. Residents are walking their dogs, meeting friends, and dining in our restaurants alongside visitors and convention attendees, thus creating an eclectic and dynamic environment. We can expect that trend to continue to grow next year and beyond.
In addition to more residents downtown, the $60 million investment in repositioning the Convention Center creates an energized urban vibe that appeals to convention and conference attendees. Clients are responding positively to the new "networking" environment that has been created inside the convention center, as well as its new turnkey special events venues. Furthermore, new local businesses have been discovered through social media and enlisted to provide their products at many of the conventions this year. We see this trend continuing as more of our clients make personal connections with our community, finding locally owned and operated businesses to support their conventions.
Upcoming renovations in downtown hotels, and the addition of several new hotels including a new boutique hotel, are creating excitement within the meetings industry. Several planners have asked for increased hotel inventory and have been thrilled to learn of these new developments.
Overall, the synergy between visitors, conventioneers, and residents continues to grow stronger as they all visit local businesses in downtown and the adjoining areas of Long Beach. A vibrant urban core, coupled with a convention center that is designed to facilitate and enhance networking, are amongst the key points that planners are seeking for tomorrow's conferences.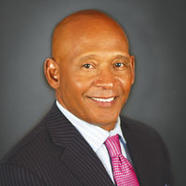 By Kenneth McDonald, President & CEO
Long Beach Transit
The cityscape of Long Beach is undergoing a once-in-a-century transformation that envisions livable neighborhoods, creative workspaces and vibrant entertainment centers.
Long Beach Transit (LBT) visualizes this transformation occurring where residents use clean efficient and frequent public transportation. With hundreds of residential units either approved or in the planning stages, and a downtown annex for CSULB in the works, thousands of new residents will be putting down roots where asphalt parking lots and old commercial structures used to take up space.
 Many people already reject the convention that defines freedom as car ownership. The new urbanites embrace freedom as the absence of a car and see car ownership as an unnecessary expense.
 Reimagining a new downtown lifestyle is easier to do if a whisper quiet, zero-emissions LBT battery-electric bus can be accessed with a block or two of your starting locations and ending destinations.
 LBT continues to be an engine that propels a higher quality of life for residents and visitors of Long Beach. With low and zero emission clean air vehicles, LBT is focused on being a good corporate citizen by reducing its carbon footprint.
 LBT's mission is "dedicated to connecting communities and moving people…making everyday life better." Working together with our downtown partners and the communities we serve, our transit system has become a model and leader that drives better economic and community opportunities.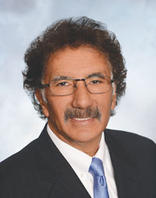 By Mario Cordero, Executive Director
Port Of Long Beach
Looking at the bustling construction site for the new Civic Center, with the concrete frames for two buildings already rising several stories into the sky, it's not hard to imagine the completed Harbor Department headquarters, side by side with the new City Hall, open for business.
The Port of Long Beach awaits the day when we have moved into our new home in Downtown Long Beach. That day is coming in 2019, right on schedule, and our move will fulfill a commitment by the Long Beach Board of Harbor Commissioners.
In early 2014, the Harbor Department pulled up stakes from the venerable antique-yellow building on Harbor Plaza in the Port, and opened our Interim Administrative Offices building within view of our friends at Long Beach Airport.
When we relocated, the Port continued to thrive. We guided our developments, engaged with the community, and worked to serve our customers. Port industry-related conventions, conferences and other events continued to stream to the Long Beach Convention Center, helping to bring business to Downtown hotels and restaurants. We still had many personnel stationed in or near the Port.
Although we are well-equipped to oversee the Port from a few miles away, we are looking forward to moving Downtown.
And why not? As the nerve center of a vibrant, dynamic city, Downtown Long Beach is an ideal place for our organization. We will be close to the Harbor, close to the Downtown business community, and close to our partners in City Hall. We will have an excellent view of the new span that is replacing the Gerald Desmond Bridge.
The future of Downtown Long Beach is also the future of the Port.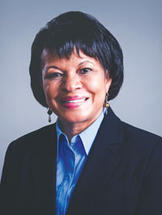 By Carolyn Caldwell, President & CEO
Dignity Health – St. Mary Medical Center
Downtown Long Beach is thriving with new partners facilitating various redevelopment projects, not just in the areas of residential and commercial business, but also in necessary housing for veterans and the homeless population. Just as the City of Long Beach and Mayor Robert Garcia have pledged the importance of assisting those in our community whom are poor and disenfranchised, so is the mission of Dignity Health. St. Mary has been serving the health care needs of the homeless for many years and looks forward to increasing its specialized services through a partnership with Mental Health America (MHA) Los Angeles, which will identify the most vulnerable emergency department (ED) patients and provide them with comprehensive case management services and housing resources.
You can't visit Downtown Long Beach without recognizing the prominence of the Port of Long Beach and acknowledging their contributions to aid in the needs of our community. The Port has been a long-time supporter in combating the health needs of Downtown residents as it relates to respiratory and cardiopulmonary disease. Thanks to the Port, St. Mary Medical Center has just launched the Respiratory Rescue Program, a three-year, multidisciplinary approach to help reduce the risks associated with asthma, Chronic Obstructive Pulmonary Disease (COPD) and Congestive Heart Failure, all conditions common among older adults.
Dignity Health – St. Mary Medical Center has been a vital resource for Downtown Long Beach and the surrounding area for 95 years and will continue to do so well into the future with greater community engagement, physician alignment, and excellent care for all. As a faithful believer that strong partnerships make for a stronger community, I am proud of the great relationships built over time, the support of the City of Long Beach, and the fact that Downtown Long Beach thrives in its diversity.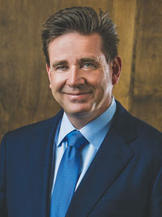 By Henry Walker, President
Farmers & Merchants Bank
Downtown is finally reaching a tipping point of firmly moving in the right direction. And the reason for that is that we have a housing boom going on in California. The downtown areas are interesting to singles and couples, so there is a strong interest of living in an urban environment.
We have hit a critical mass point in the downtown area, so that the businesses can now look at surviving on a local economic base. That is critical. And that local economic base isn't tied to the ports, the Navy, or retirement – it's tied to higher paying jobs.
As the city fathers look at the downtown areas, I think it's critical that we get in the right density of housing. Probably one of my disappointments is that I see some lower density housing projects going in what really should be high density [areas]. We need taller buildings downtown – 20 to 30 stories of good housing. And then we truly end up with a local business [environment] and a walking community, which is exciting to see. We have some of that going in, but I also hear that there are some that are fighting that, which is disappointing. Getting the right economic base own here to live is really important.
I think it's going to turn into a very good working and living environment down here. And I think we are going to continue to see old housing stock be retired and new housing stock put in its place. So I am bullish on downtown. It's probably the best I have seen it in the 30 years I have been down here. And that's a comment that I have also heard from many of my constituents who have also worked downtown for over 30 years.