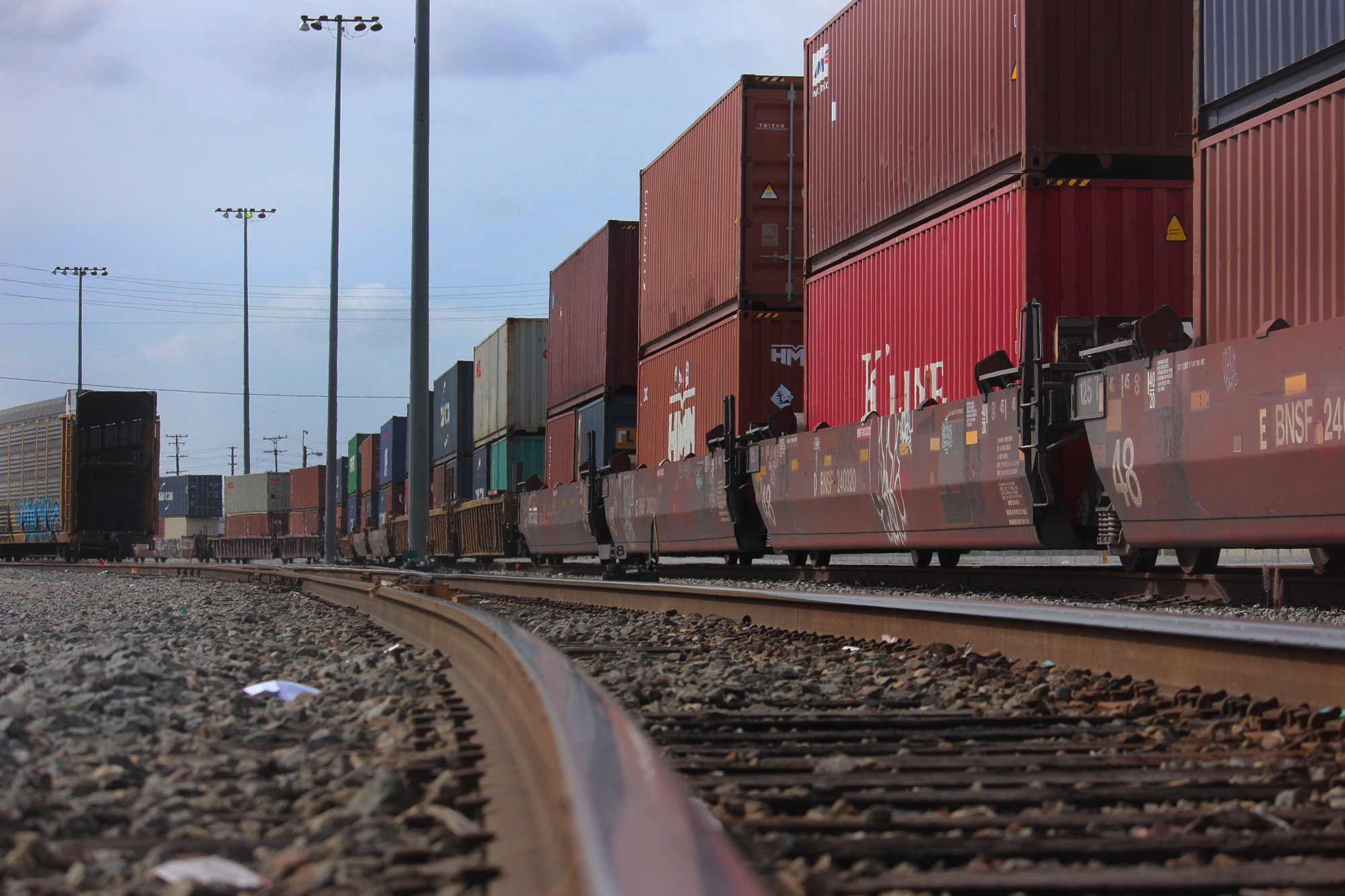 The Port of Long Beach was awarded a $52.3 million grant in federal funding to help pay for a massive rail project at the port complex in West Long Beach, officials announced Wednesday.
The Pier B On-Dock Support Facility, launched a decade ago, is an $870 million rail project that will reconfigure 171 acres of land southwest of Anaheim Street and the 710 Freeway to improve cargo movement via a rail system.
The on-dock rail will directly transfer containers to and from marine terminals by train, which would reduce truck traffic and pollution. One double-stacked train, for instance, would eliminate 750 trucks off the road, port officials say.
The U.S. Department of Transportation's Maritime Administration or MARAD, the federal agency awarding the Port of Long Beach the grant, is also still reviewing a lengthy  Environmental Impact Report, which must be approved before the port could receive more funding from MARAD. Port of Long Beach spokesman Lee Peterson said in an email the final EIS is nearly complete but there is no final date for approval.
"This is great news to hear at the end of what will be our busiest year ever," Port of Long Beach Executive Director Mario Cordero said in a statement. "It will help to move cargo more efficiently through the Port, getting needed products and goods to homes and businesses across America faster."
Previously, Peterson said that the port was awarded other federal funding for Pier B, including more than $10.9 million in 2013 from the Federal Regional Surface Transportation Program, and about $5.3 in 2015 from the Federal Congestion Mitigation And Air Quality Improvement Program, both to pay for construction.
MARAD's Port Infrastructure Development Program is providing the grant for Long Beach as well as a $5.2 million in grants for the Port of Oakland, according to government officials. The funding program's funding is specifically designed for capital improvement projects at U.S. seaports.
"California's ports are the busiest in America and are the gateways for the bulk of products moving in and out of the United States," Sen. Alex Padilla said in a statement. "The pandemic has underscored the importance—and the urgency—of modernizing our port infrastructure."
Construction for the Pier B On-Dock Rail Support Facility is scheduled to begin in 2023, with the first set of tracks expected to be built by 2025. More tracks will come in 2030, followed by project completion in 2032, according to the port.
There are 175 shipping lines connecting Long Beach to 217 seaports, with Long Beach handling $200 billion in trade annually, according to the port.
Visit the Port of Long Beach's website for more information on the Pier B On-Dock Rail Support Facility project or to sign up for upcoming port updates and meetings.