In October of 2014, right as cargo flow into the ports of Long Beach and Los Angeles began to surge ahead of the holiday season, the twin ports experienced a crisis. The use of larger cargo ships, a change in the ownership of chassis, and a labor dispute between West Coast longshore workers and their employers left the San Pedro Bay filled with idling ships. In an interview with the Business Journal at the time, Jon Slangerup, then-chief executive at the Port of Long Beach, described the situation as "horrendous." Port of Los Angeles Executive Director Gene Seroka said congestion had reached "epic levels."
Speaking to the Business Journal five years later, Seroka still recalled the urgency of the situation. Together with David Libatique, the port's deputy director of stakeholder engagement, Seroka devised a plan to aggregate cargo data in a way that would help the various companies operating at the port to streamline and sync their processes. In January of this year, the General Electric (GE) Transportation Port Optimizer was rolled out at the Port of Los Angeles, and the port has been busy onboarding marine terminals and shipping lines since.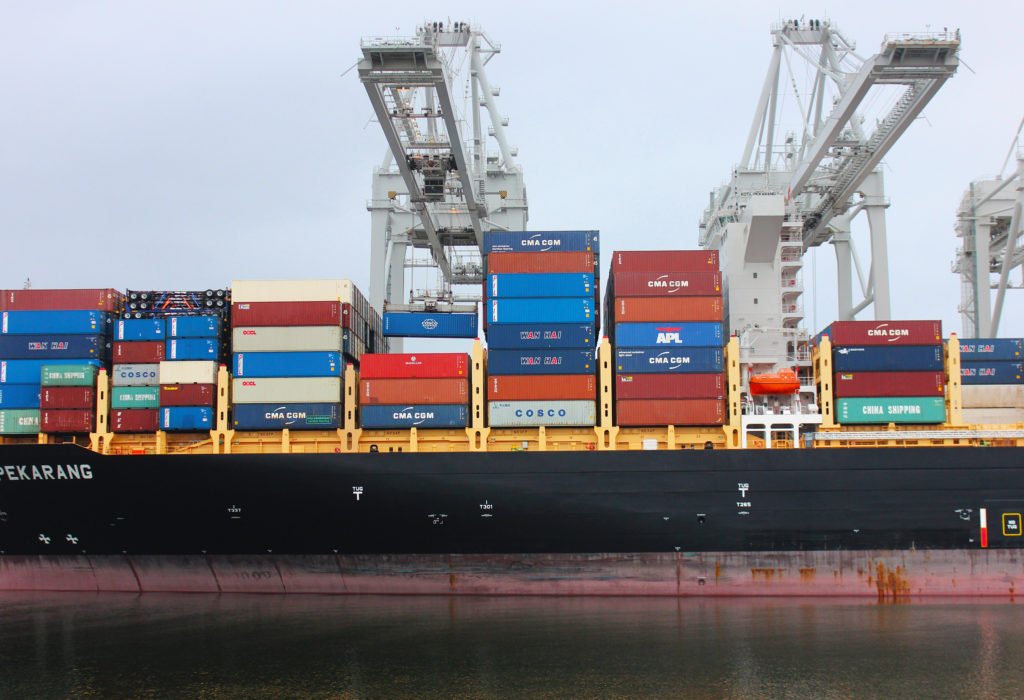 Systematic data sharing among all parties in the supply chain is important to ensure that the San Pedro Bay ports remain competitive, Seroka explained. Despite solid growth in cargo volume, the ports of Los Angeles and Long Beach have been consistently losing market share since 2002, he noted. "Folks have tried to de-risk from the uncertainty and rising costs of doing business on the West Coast, and specifically in Southern California," Seroka said. Streamlining processes to avoid congestion was one way to fight back, he argued.
As of now, participation in the project is voluntary. Shipping lines that can prove above average cargo growth qualify for a financial incentive of $20 per 40-foot container, up to $2 million total per year, if they agree to share their data through the GE Port Optimizer. According to Seroka, the Port of L.A. has paid out $6.5 million to qualifying participants so far.
For the project to have a significant impact on the competitiveness of the port complex, however, the Port of Long Beach will have to be involved, Seroka argued. "In my opinion, it's imperative that they join," he said.
The Port of Long Beach completed a pilot program with GE in 2018, but has yet to move forward with a permanent implementation of the Port Optimizer. "We continue to evaluate different technology platforms used by our terminal operators and assess how these facilitate the movement of cargo and interact with a community portal system," the port's deputy executive director, Dr. Noel Hacegaba, told the Business Journal.
"We are encouraged by the adoption of technology being used by our industry partners to facilitate the sharing of data that ultimately enables the movement of cargo," Hacegaba said. "We see the value of an information portal and we will continue to work with our board of harbor commissioners to define the path forward for the Port of Long Beach." In the meantime, commissioners recently approved an incentive program similar to that implemented by the Port of L.A., minus the data sharing requirement imposed by its neighbor, effective October 1.
The main objective for implementing the portal was to combat congestion across the San Pedro Bay port complex, Seroka said. In a series of meetings sparked by the 2014 crisis, port staff asked companies and industry associations what needed to be done to prevent congestion going forward, Seroka remembered. "The singular response was: we need to share information better, as a port community," he said.
In 2016, the Port of Los Angeles announced its decision to partner with General Electric Transportation for an initial pilot program to "digitize marine shipping," according to a press release, by offering an information portal that would aggregate cargo data from operators who choose to participate. The pilot program officially launched in May 2017.
"The innovative steps being taken in Los Angeles will demonstrate the value of new IT systems to ports and shippers, and help catalyze the voluntary implementation of these systems at ports throughout the U.S.," Penny Pritzker, U.S. secretary of commerce at the time, said in a November 2016 press release. "We commend the Port of Los Angeles and GE for launching this visionary initiative."
Since then, participation in the portal has varied by industry sector. Most of the major shipping lines and almost all marine terminal operators have bought into the program, according to Seroka. Chassis operators, smaller shipping lines and trucking companies are still largely holding off or declined to comment on their participation in the program.
Out of the three chassis operators that formed the Port of L.A.'s "pool of pools" following the crisis of 2014, two said they are not currently using the portal to support their operations. The remaining operator, Trac Intermodal, did not respond to a request for comment. John McLaurin, president of the Pacific Merchant Shipping Association, which represents owners and operators of marine terminals as well as U.S. and foreign vessel operators, said he did not have sufficient insights to comment on the project at this time. The two rail lines currently transporting cargo to and from the Port of Los Angeles, Union Pacific and BNSF, declined to comment and neither responded to a request for comment.
As for trucking companies, many of the drayage firms active at the Port of Los Angeles have taken matters into their own hands by exchanging data directly with marine terminal operators, according to Harbor Trucking Association President and CEO Weston LaBar. By using application programming interfaces (APIs), parties can exchange information, such as cargo data, and integrate it directly into their existing software applications instead of feeding it to an outside portal.
"We're just doing that on a terminal-by-terminal, trucking company-by-trucking company basis right now, but there's still a lot of value in an entity coming into the fold that could essentially be a single integration point for everybody," LaBar explained.
Such an effort would be especially beneficial if it led to greater standardization of the different systems, allowing them to communicate more easily, LaBar noted. "Data standards and API standards are something that, as an industry, we really need to work on, so we're all singing from the same sheet of music," he said. "But it's something that we haven't put a whole lot of work into."
LaBar said his organization has worked closely with GE staff to provide input on the types of services its members would find beneficial, but noted that the integration of industry sectors will likely mirror the movement of containers through the port: from shipping lines to marine terminals, on to chassis operators and trucking companies. "First, they needed to get the data flowing from ocean carriers and marine terminals, before it even made sense to bring it to the trucker," he explained. "Once we get through that, I assume in the next phase [the focus] will be heavily on the trucker and the cargo owner."
Steve Trombley, managing director of APM Terminals-Los Angeles, said the portal has allowed "stakeholders to convert endless streams of raw data into actual useful information," but noted that integrating thousands of small companies and truck owner-operators in the region will take time. "As an example, there are about 9,000 truckers that service the harbor during a typical work week," Trombley said. "It has been our experience that some of these stakeholders have fully embraced the portal, while others are still catching up with recent advances in information technology."
Seroka said he's pleased with the project's results so far, but recognizes that there is still plenty of work to be done. "It's been stated by other observers that this is the most ambitious digitization project in the country for the supply chain. So we're going to keep a steady hand on the tiller, bring in as many people as we can who find value in this system and continue to push the envelope on what it means to be the gateway of choice in the United States," Seroka said. "If we fail in certain areas, we're going to fail fast, pivot and keep going."