High school students interested in global logistics and international trade have a new pathway to help guide them through their education and into a career.
The Port of Long Beach (POLB) has partnered with the Long Beach Unified School District (LBUSD) to repurpose the business academy at Cabrillo High School into the Academy of Global Logistics, set for a soft launch at the start of the 2016-2017 school year.
"Instead of having a broad outreach in regards to education, we wanted to really focus our efforts and have the greatest impact," Mario Gonzalez, manager of community relations for the port, said. "That is why we decided to focus on those students at Cabrillo and really try to help these teachers fill in that gap to provide a pipeline in global logistics from high school to Long Beach City College [LBCC] and to Long Beach State [CSULB]."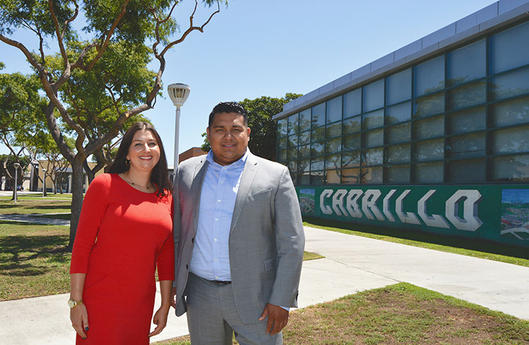 Renee Shipman, the Linked Learning Mentor district coordinator for the Long Beach Unified School District, left, and Mario Gonzalez, manager of community relations for the Port of Long Beach, are pictured in the quad of Cabrillo High School in West Long Beach. Cabrillo is the location of the school district's new Academy of Global Logistics, which the port is helping to develop, and will continue to work with teachers and students for the duration of the academy. The program is set for a soft launch at the start of the upcoming 2016-2017 school year. (Photograph by the Business Journal's Larry Duncan)
Every high school student in the LBUSD is placed into a small learning community, also called pathways or academies, each having a specific focus. For example, at Lakewood High School, the Odyssey Academy focuses on marine studies, while Poly High School's Program of Additional Curricular Experiences, or PACE, is broader, allowing students to focus on either STEM (science, technology, engineering and mathematics) or economics and entrepreneurship.
Some programs, like PACE, have strict requirements for their students, such as a minimum grade point average that must be maintained to remain in the program. However, the new logistics academy at Cabrillo will not have such requirements.
"Because of our partnership with the Port of Long Beach, it's really filling a current need in our community that we don't have in any of our pathways," Renee Shipman, the Linked Learning Mentor district coordinator for LBUSD, said. "We're really focusing on logistics and trade and how that network of businesses work together to service our community here in Long Beach."
The current business academy has roughly 135 students enrolled in each grade level, meaning around 540 students will take part in the beta phase of the new program, according to Shipman. These initial students will have opportunities to go to industry events, work with industry business partners on campus and work through a new, integrated curriculum.
"We'll get their feedback and input for the following year," Shipman said. "The hope is that the program will grow to capacity, which is about 700 students, but we'll see how long that takes."
The academy's grand launch will be with the incoming freshman for the 2017-2018 school year. As for this year, Shipman said the district hopes to continue to develop the curriculum, refine the vision and the mission and really hone in on what the pathway is going to be.
According to Gonzalez, the LBUSD approached the port a year and a half ago with the hopes of creating a new pathway based on similar models in Nashville, Tennessee.
"That's what inspired Long Beach Unified and us at the port: how each business sector had adopted a small learning community at different high schools," Gonzalez said. "[LBUSD] wanted to form something similar to Nashville but make it Long Beach focused."
Earlier this summer, the port sponsored a weeklong externship for teachers involved with the new academy. The externship took place at CSULB in tandem with the school's Center for International Trade and Transportation (CITT). Shipman explained that the center is providing a lot of the industry expertise in developing the four-year curriculum.
Gonzalez said teachers had six- to eight-hour days of seminars and had the opportunity to meet industry partners who are going to help them finalize their unit plans, as well as be a sort of industry mentor to help them throughout the school year while piloting the academy.
"Every day after each session, we provided [teachers] with a survey," Gonzalez said. "Overall, it's been a very positive experience, but some of the teachers wanted a lot more time with our industry partners."
Shipman described the current LBUSD curriculum as being different than traditional education. She said in the past each subject stood alone and there was no connection or collaboration between teachers.
"What's different now is that each grade level works together to plan their curriculum," she said. "What's happening in English is being built upon in history, is built upon in science and math, so students can really experience a cohesive, integrated, thematic experience at each grade level."
Of their six-class schedules every year, each student will continue taking their five core classes, namely English, math, science, history and typically a foreign language. However, Shipman said in place of an elective course, students in the academy will take a Continuing Technical Education (CTE) course that ties into trade and logistics, such as international business, accounting and finance or logistics courses, and all core classes will be related to the theme.
When discussing the choice of Cabrillo High as the location for the new academy, Gonzalez said the choice was simple. He said other schools were suggested, but ultimately Cabrillo was chosen as the best fit because of its proximity to the port.
"It's in the lower Westside; the port is in their backyard," Gonzalez said. "I grew up around Cabrillo, so I know what the students are seeing every day with trucks, containers and the cranes. It was definitely a no-brainer for us to partner up with Cabrillo."
The roughly $50,000 going into the forthcoming academy is not the port's only educational effort. According to Gonzalez, the port's annual budget for education is around $340,000, not including its college internships, which vary year to year.
In May, at its third annual Celebrating Education event, the port announced $59,500 in scholarships to be awarded to 40 students from Long Beach high schools, CSULB and LBCC. The port also named high school students who have been selected out of hundreds of applicants for summer internships.
"We hire 27 high school students every summer," Gonzalez said. "They are paid about $2,400 for the eight weeks they are here. Even though we are focusing our efforts at Cabrillo, we still have opportunities and programs for students all throughout the school district."
Also included in the port's annual education budget is $15,000 for its Women in Trade event, $15,000 for industry events and $50,000 for the construction and content creation of academy.polb.com.
Both Long Beach Unified and the port are looking forward to the continued partnership and hope the new academy will have a positive and lasting affect on the city and its students.
"It's a really amazing opportunity for our students and provides great experiences while they are still in high school," Shipman said. "Our goal is to prepare them for college and career and for being successful citizens. I'm really excited about what this partnership between the port and Long Beach Unified will provide for students."
Gonzalez added, "We're just excited to be a model for other industries in Long Beach and can hopefully make an impact on students in the city."