Stepping into the shoes of a major shipping line executive, Jordan High School teacher Jodi Irish had to decide which U.S. West Coast port to bypass in order to get fresh food from Italy to consumers in North America three days faster than a competing supplier.
Her task was to omit one of four ports along a trade route that includes Long Beach, Oakland, Tacoma and Portland, taking into account container volume, terminal limitations, port restrictions, regulations, security, fuel costs and other factors.
While port executives might deal with such complex problems on a daily basis, for Irish, solving the real-life dilemma gave her a newfound perspective on the international trade industry and will serve as the basis for a lesson plan for her students this year.
"I've done projects with business partners, but I have never done anything like this with the Port of Long Beach," Irish told the Business Journal, adding that the lesson plan will help integrate math, geography, history, communications and vocabulary.
Irish and other high school teachers participated in the Port of Long Beach's Academy Externship Program, a five-day summer study session and seminar in which international trade professionals connected with teachers, giving them an overview of port operations and helping them develop lesson plans based on port-related issues.
The lesson plans are part of Long Beach Unified School District's (LBUSD) efforts to incorporate "Linked Learning," a new approach to public education that combines core academics with career pathways by involving private business and real-life situations in education to prepare 9th- to 12th-grade students for college and future careers.
Linked Learning is incorporated through small learning communities (SLCs), also known as a "school within a school," at high schools throughout the district that offer rigorous courses based on specific careers and college studies.
The port came up with the summer externship program about two years ago during outreach with teachers to get feedback on how best to promote port-related careers. The first session for teacher "externs" took place from June 22 to 26.
Port spokesperson Michael Gold said 13 high school teachers participated in the program this summer, adding that all the lesson plans that were developed will be available on the Port's website, www.academy.polb.com, for future use.
In developing a lesson plan, Irish, who teaches media production, communication and Spanish at Jordan High School, teamed up with David Thuney, who teaches social sciences at St. Anthony High School.
Both teachers then worked with Brandon Lecou, manager of operations for major shipping line Hamburg Süd, who came up with the industry problem to solve.
According to the lesson plan, which will be implemented in late fall or early winter, students will be expected to work collaboratively as a member of a research team to solve the international freight problem by researching certain aspects of U.S. ports of call.
During the summer externship program, the teachers also took tours of the port and attended seminars led by Thomas O'Brien, director of the Center for International Trade and Transportation at California State University, Long Beach.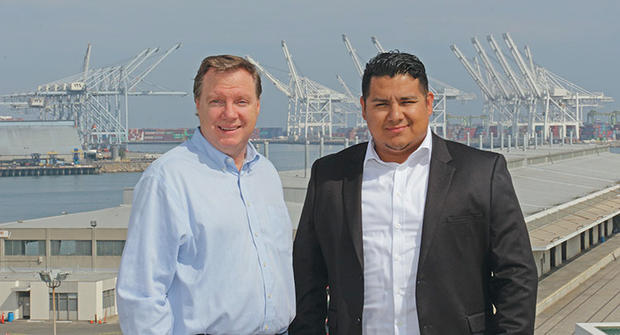 Thomas O'Brien, left, director of the Center for International Trade and Transportation at California State University, Long Beach, gave local high school teachers a lecture on global trade during the Port of Long Beach's summer externship program this year. Here he is pictured with Mario Gonzalez, manager of port community relations. (Photograph by the Business Journal's Evan Patrick Kelly)
Topics covered throughout the program included the history and globalization of world trade, the supply chain, logistics, different types of ports, environmental impacts of port operations, jobs and industry trends, among other subjects.
"Our goal is to take what teachers are teaching in the classroom and bring those lessons to life with examples from the port," Gold said.
He added that the ongoing Gerald Desmond Bridge replacement project is a good example of how students interested in a career in engineering can learn about the profession firsthand through a major local infrastructure project.
"We've got this great project where we're building a bridge, which of course requires a lot of engineering," Gold said. "So why not develop a program where the students can learn about something in real life?"
The hope is that, by integrating real-life situations into curriculum, students will become more aware of the jobs and careers offered in the international trade industry, he said, adding that the Port of Long Beach has a vast number of employment opportunities in a variety of fields.
"We cite the statistic that one in eight jobs in Long Beach are attributable to the port," Gold said. "So that's not just the people working on the docks moving the cargo directly . . . You've got the freight brokers, U.S. customs, truck drivers and warehousing people. There is a whole industry of people locally who are involved in moving cargo from the docks to its final destination."